Academy Award Inspired Cocktails, Halekulani, Honolulu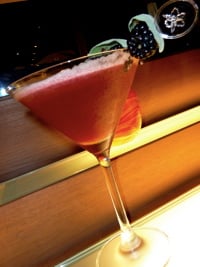 Cocktails for the Oscars!
The Halekulani hosts the Hawaii International Film Festival's Oscar Night next Sunday, and in honor of the occasion, Lewers Lounge mixologist Tim Rita (below left) has come up with five contenders of his own. Five cocktails, each inspired by a film nominated for top honors.
The Fighter, the story of Irish boxer Mickey Ward, inspired our personal favorite of Rita's concoction, Ward's Corner. It's an updated Old-Fashioned with Irish whiskey, Orange curacao and Maraschino cherry liquor, touches of lemon and Peychaud's. This drink should stay on the menu.
True Grit inspired a drink with Maker's Mark and prickly pear juice (actually soursop from Tahiti).
Toy Story 3 was actually Rita's favorite movie this year, but coming up with a drink took some creativity. Rita finally decided to do an adult variation of a Hawaii childhood favorite: Playful Punch, a mixture of fresh fruit juices given a kick with orange and spiced brandies.
Social Network really brought out some inventive thinking. "What's Facebook without friends?" Rita asks. And for that matter, Friends of Friends.
So Rita came up with a "Network of Vodka," a trio of mini-vodka martinis: one sweet and spicy, one that's organically herbal, and another that's highly spirited. "Because everyone has a sweet friend, a spirited friend and a green friend."
However, the drink that looks to destined for top cocktail honors was inspired by the thriller, Black Swan. "La Danse Noir," a deep blackberry cocktail, was a huge hit in an informal tasting. "Beautiful" was the standard response, followed by "yummy."
The Oscar cocktails are available through Sunday at Lewers Lounge, and at the HIFF Oscar Gala.
In case you'd like to create your own "La Danse Noir," here's Rita's recipe.

1.5 oz. Spiced Brandy
1 oz. Marie Brizard Blackberry
1.5 oz. Fresh lime and simple syrup
.5 oz. Egg white
4 leaves of fresh sage
Muddle / shake / strain into a martini glass and garnish with three blackberries wrapped in a sage leaves.
Lewers Lounge, Halekulani, 2199 Kalia Road, (808) 923-2311