A Visit to Kahuku's Ho Farms with Alan Wong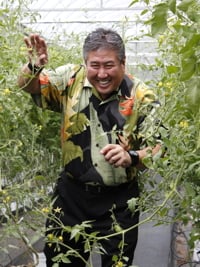 Baby tomatoes everywhere, all colors and sizes. Vine-ripened and hand-picked.
Ho Farms in Kahuku grows eight different varieties of baby tomatoes: cherry and black cherry, baby Roma, golden and green grape, Kahuku golden, yellow pear and tiny, dark red currant tomatoes.
A worker sits and patiently sorts and mixes them. Then she packs them as "Family Tomato Medleys," in a bulk pack for Costco, and a one-pound pack for Foodland.
The bulk pack also goes to restaurants like Alan Wong's. As part of our new Biting Commentary television show (more on that here), Wong and I use Ho Farms tomatoes to make dishes from his new, award-winning Blue Tomato cookbook.
But it's always illuminating to see where your ingredients come from. Trailing a video crew, the two of us drove out to Kahuku. At the farm, we're greeted by Shin Ho, who's 29, looks younger, and sports a "Kahuku's Finest" T-shirt.
You think of Oahu as all urban, but Ho Farms has 40 acres, 30 planted in tomatoes, Japanese cucumbers, long beans and squash. Ho Farms has invested in technology to minimize fertilizers and pesticides, and is one of the few Food Safety Certified Farms in Hawaii.
"Farming is a lot of work," says Shin. "We could grow more crops, but we often don't have time." That's even though the farm provides employment for 20 workers.
Most of the tomatoes grow in three 1,000-square-foot greenhouses. "We built those even though we lease the land," says Shin. That's the plight of farmers in Hawaii. Arable land here is scarce and in high demand for other uses.
"For food security, for protecting the environment, for having good natural foods, it's critical we support the farmers we have," says Wong. We cruise down the rows of tomatoes, popping ripe ones in our mouths like candy. Then we search under the leafy fields for ripe cucumbers.
Originally from Laos, the Ho family escaped to a refugee camp in Thailand in 1987 and made their way to Hawaii. The family's patriarch, Wei Chong Ho (pictured here with Wong and daughter Shin), had no farming experience. He educated himself in modern farming techniques. For instruction, he even traveled to Taiwan to learn in Chinese. "My English not so good then," he says.
Shin and her brother Neil are young, second-generation farmers– an increasing rarity in Hawaii.
"All of our farmers are getting old," says Wong. "And the kids look at how hard the parents work and how thin the margins are and wonder, is it worth it?"
Over the last 20 years, Hawaii's chefs have stepped up to support the farmers (and get better ingredients in the bargain). It remains to be seen if Hawaii consumers will step up as well.
Ho Farms produce is available at Costco, Foodland, Down to Earth and at a number of Oahu Farmers Markets.