A Retro Wilhelmina Rise Home With a Jacuzzi and Views Overlooking Kāhala
Open house pick of the week: This Wilhelmina Rise home has a huge lot that gives you room to expand.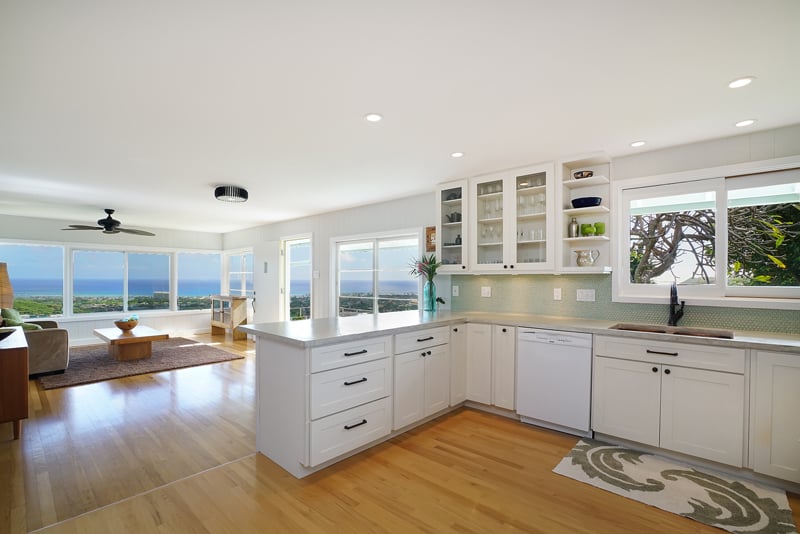 Photo: Courtesy of Coldwell Banker Pacific Properties
A lot of townies complain that to get a decent-sized home they can afford, they need to move out to West O'ahu, but that's usually for newer construction. If you look for an older home in town, you'll probably find a hidden gem, like this week's open house pick.
Built in 1948, this two bedroom, one bathroom home on Paula Drive has classic kama'āina ambience inside and out, but was renovated with modern touches so it doesn't feel old at all. The interior has wood floors, recessed lighting, updated cabinets and counters, and a very open layout.
The home is 952 square feet, but the lot is a whopping 4,916 square feet, giving you room to expand. On one side, you'll find a newly built covered lānai with a Jacuzzi; on the other side is a large, enclosed yard.
The level, rim lot property has unobstructed views overlooking Kāhala and all the way to the ocean, since it's perched on the hill with preservation land frontage.
And, even better for people holding on to their townie card, this house on the hill is under $1 million.
This new listing will be open on Sunday, March 20 from 2 to 5 p.m. Click here for details. Happy house hunting!
Money talk: $938,000 fee simple
MLS#: 201604016
Contact: Michael Shower, Coldwell Banker Pacific Properties, 375-4811, michaels@cbpacific.com
Got a suggestion for our real estate blog? Know of a fabulous open house? Fascinating story? We want to know. Shoot us an email at realestate@honolulumagazine.com