A Preview of the August Issue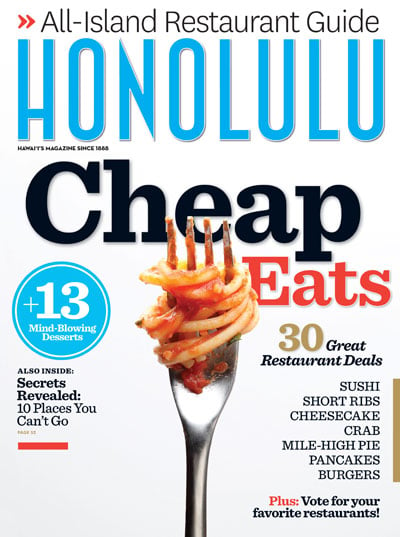 Dear Friends,
August is one our favorite issues, because we get to hit the streets to research the best dining experiences to in Hawaii. This year's Restaurant Guide features:
• 30 Meals Under $30. We don't mean single dishes; we mean entire meals, with a drink included. These are terrific values at real restaurants.
• Poke, Past and Present. We explore the story behind poke, a dish with a uniquely Island pedigree.
• Save Room. 13 mouthwatering desserts.
• Supporting Characters. Hear about unusual restaurant jobs, including pizza-oven-stoker.
• Critter Wines. Humorist Charles Memminger takes a wry look at a bestiary of beverages.
We take you places in our regular August issue as well:
• Did you know there are caves under Moilili? Check out "10 Places You Can't Go" for sneak-peeks into Oahu's most locked-down locations.
• Speaking of places that are tough to get to, do some armchair travel to the Northwest Hawaiian Islands via a powerful photo essay by Wayne Levin.
• Go back in time through the history of mele, the chants that accompany hula.
• Ride along with a Hawaiian Humane Society investigator on his daily patrol.
A. Kam Napier
Editor