A Preview of Next Month's Issue
Introducing our April 2010 issue.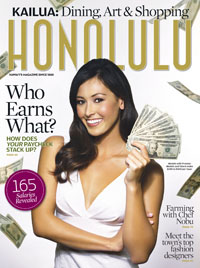 Dear Friends,
Money and sex have one thing in common—no one wants to reveal how much they have themselves, but everyone wants to know how much everyone else has.
So, this month we wrote about … money.
More specifically, we report on 164 salaries for jobs statewide, from cashier to CEO.
How does your paycheck stack up?
This is just one of the ways we take you behind the scenes to show you how things work in this town. Salaries are interesting, but even more fascinating to us is what people do on the job that keeps the town going. To that end, we have:
+ Kathryn Wagner, interviewing four influential local fashion designers—Roberta Oaks, Anne Namba, Katrina Cordova and Sig Zane—to tell us about their work, their inspiration, their design ambitions.
+ John Heckathorn, accompanying internationally renowned chef Nobuyuki "Nobu" Matsuhisa as he checked in on Nobu's in Waikiki. Global truly meets local in the article as Heckathorn describes a visit by Nobu to Ma'o Farms in Waianae. This innovative agricultural program hires area teenagers who can't afford college and pays for part of their education while growing the organic, specialized ingredients sought out by Honolulu's high-end chefs.
+ Our annual Kailua Magazine insert, which focuses on the artists who make Kailua home. What is it about the town that has made it such a haven for creative people? Well, for one thing … there's the light itself. (That will make more sense after you've read what the artists have to say, trust me.)
Also, read about the latest businesses in Kailua, and take a look at events and festivals coming up in Kailua that are not to be missed.
Enjoy!
A. Kam Napier
Editor