A Preview of Next Month's Issue
Introducing our July 2010 issue.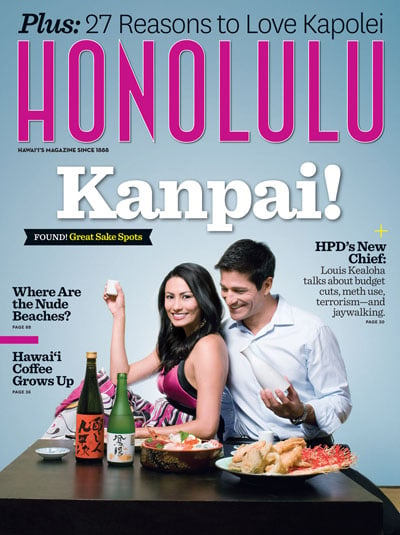 Coming in the July issue:
Wondering why HPD is so hot on jaywalking? Check out our Q & A with the new chief of police. We asked him about his plans for the department, crimes rates, homeless issues, meth problems and more.
We'll also take you out west in July with "Exploring Kapolei." Our writers found a lot of cool little restaurants and surprising gems. Kapolei is home to a bowling center, an in-line hockey arena, the new Family Court building, an aerospace training center, the Ewa train—you won't find these things anywhere else. You will find lunch wagons throughout Oahu, but Kapolei seems to have a lunch wagon scene all its own, concentrated around Campbell Industrial Park.
In our quest to help readers enjoy the finer things in life, we'll have John Heckathorn's "In Search of Sake" dining column. Honolulu's sake scene is evolving—as you'll read in Heckathorn's column, a couple of places had a hard time staying open while others are doing great—but foodies and oenophiles are embracing sake like never before.
And our "Farm to Table: Coffee" guide shows that local coffee comes from more than just Kona. There are now 11 different coffee producing regions in Hawaii. Pour yourself a hot cup full and enjoy!
Did You Miss?
In our June issue, we listed 325 of the best doctors in Hawaii. Writer, Tiffany Hill looks into a new program that is transforming law enforcement in Tough Love. And, look into Hawaii's past with Joe Theroux's Kamehameha IV and the Shooting of Henry Neilson, and Charles Memminger's fun piece on Hollywood in Hawaii.