A Preview of Next Month's Issue
Introducing our June 2010 issue.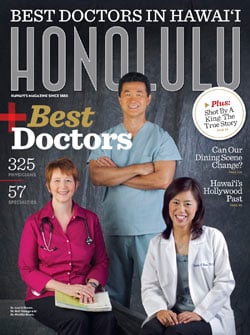 In our June issue:
It's the return of one of our most sought-after issues—the Best Doctors in Hawaii. If you need a good doctor, you're in luck: On our list, you'll find 325 physicians in 57 categories, all of them vetted by their peers as the best in their fields.
Of course, some say laughter is the best medicine. Charley Memminger penned "Hollywood in Hawaii," a fun trip through 90 years of Tinseltown's very peculiar relationship with the Islands. Find out which director's incessant swearing led to a crew insurrection, the true origin of the famous kiss in From Here to Eternity and lots more juicy movie gossip.
Also in June, read the story of how in 1859, King Kamehameha IV, Alexander Liholiho, shot his friend and personal secretary Henry Neilson. It was a royal scandal of historic proportion, yet the tale has been largely forgotten. Until now.
And, meet some of the hotshot young chefs in town. Can they shake Hawaii Regional Cuisine up and change the Hawaii dining scene?

Did you miss?
HONOLULU Magazine ranked 257 schools in our "Grading the Public Schools" chart. And in "The Maryland Lesson," senior writer Michael Keany looks to the state that has the No. 1 public schools, for ideas on how Hawaii can improve its system. We also talked with baby boomers who find themselves both taking care of elderly parents and still looking after children of their own in "Caught in Between." And, for lighter fare, don't miss "Bugs," a fascinating trip into the hidden world of the Bishop Museum's entomology department.
Don't miss an issue! Subscribe Now.