A New Dating App Helps You Find Your Perfect Match
(Sponsored) This new app lives in the moment and bases your matches on common traits such as shared frequented locations.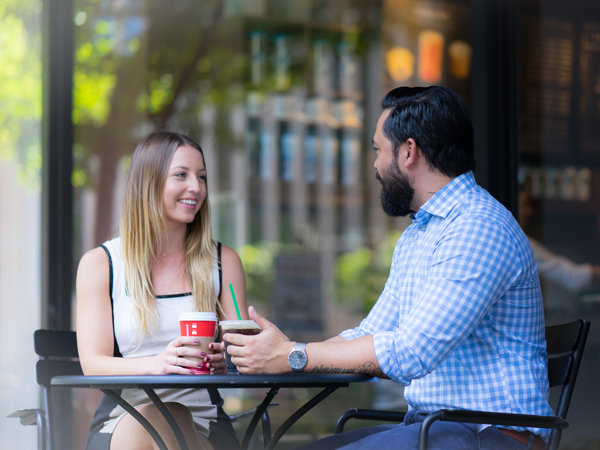 T-minus three days 'till V-Day. You've got the bottle of Champagne, the box of chocolates and the steaks ready for grillin'. You're totally looking your best and have your charming conversation game down pat. There's just one problem: Sunday's lookin' solo dolo.
Normally, you could call up any one of your booty calls or buds to share your bounty (who would turn down steak and bubbly with you?) but everyone's already scrambled to pair off and you're finding yourself short of a Galentine or Valentine. What's a person to do?
Take heart—and take matters into your own hands. Moment Romance is the newest mobile dating app with a brand new system designed to put users in the right place at the right time to meet someone special. (Yes, we mean both new pals and new partners.)
Online dating can be time-consuming and stressful. Moment Romance, however, is all about creating an environment that brings users out of the digital world and back into real life, with real face-to-face connections based on qualities that—yep—actually matter. (Not just how many miles away that dude is from you.) And you're not signing your life over, we promise. Moment Romance basically lets you keep doing your own thing, with just a little extra push to help you connect with people you may not even have realized you have things in common with.
Here's how it works: App users can view a map showing where their personalized potential matches are located, but they can only interact while they are both on-site. Hello, direct and timely communication, and goodbye, ping-pong messaging that could stretch for weeks on other apps before a successful face-to-face meeting takes place. (We've all been there.)
Plus, Moment Romance provides a secure mobile-dating experience, with no Facebook login option, only disclosure of what you decide to share, so you don't have to worry about the sketchies of the world creeping on your info. In the chance that things do get a little, er, weird, (we've all definitely been there) there is a seamless opt-out function, making your profile and any information linked to it instantaneously disappear for other users. In other words: It's a "thanks, but no thanks" option any time you want.
It's like Mama always said: There are a lot of fish in the sea. There is someone out there for everyone. The trick? Acting at the right moment, lest the possibility slip right by without you even noticing. And now doing that is as easy as downloading an app. This is your Moment.
Download Moment Romance today for iOS or Android.
Visit www.momentromance.com for more information or visit the app's Instagram, Twitter and Facebook.