A Modern Home Surrounded by Tropical Lush Landscaping in Mānoa
Open house pick of the week: Appreciate nature in a sophisticated environment.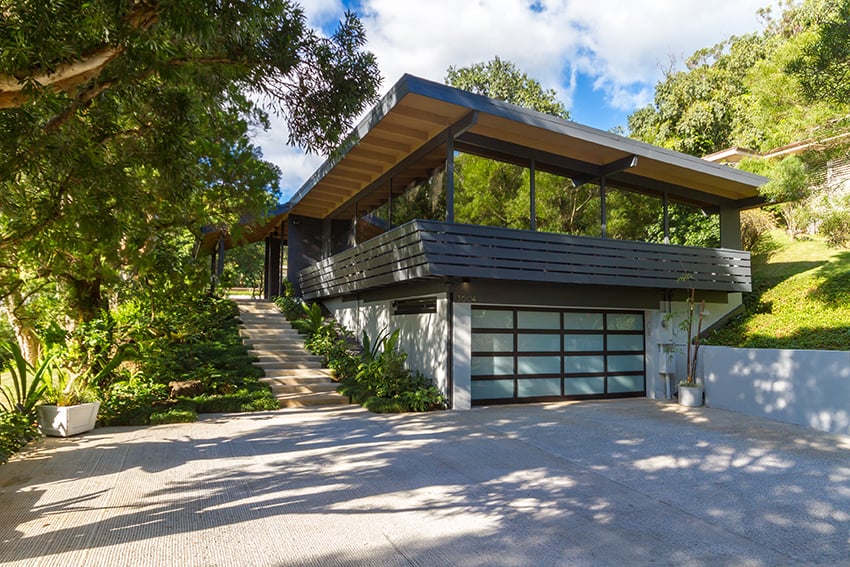 Photo: Courtesy of Berkshire Hathaway Home Services Hawai'i Realty
So you want to live in a historic Mānoa home, but would rather not be in a stuffy colonial-style house? This week's open-house pick may bring the best of both worlds to you.
This listing at 3604 Woodlawn Terrace Place was originally designed by renowned architect Harry Seckel, who also designed 53 of the original mid-century-era houses in this area, of which 50 are still standing.
Built in 1960, this house emphasizes the surrounding, and Seckel considered the lānai to be the most important spot in the home. Due to the thoughtful design, one can peacefully sit in the 128-square-foot lānai and enjoy nature, hear birds singing (Hawai'i people take this for granted) and see the city lights at night in the distance. The current owner added lush tropical landscaping to enhance the lānai living.
It was also restored recently to meet today's modern lifestyle needs, including top-of-the-line appliances, a wine fridge, flamed black granite counters, refinished concrete floors and restored wood floors. (Detailed restoration list available.)
The lot is huge, at 10,886 square feet, and the home is 1,964 square feet with three bedrooms and two bathrooms. Click here for details.
In the old days (about 1868 to 1918), the land here was part of the Dillingham Woodlawn Dairy. Woodlawn Terrace has been selected as the first subdivision to be surveyed for the new protocols for the Historic Preservation (50 years or older), to give the new owners an option to put their home on the Historic Registry.
This home will be open on Sunday, Feb. 28, from 2 to 5 p.m.
Happy house hunting!
Money talk: $1,898,000 fee simple
MLS#: 201603311
Contact: Suzy Hemmings, Berkshire Hathaway Home Services Hawai'i Realty, 342-0077, suzyh@bhhshawaii.com
Got a suggestion for our real estate blog? Know of a fabulous open house? Fascinating story? We want to know. Shoot us an email at realestate@honolulumagazine.com