A Leather Goods Shop in Chinatown Has Become a Reliable Anchor of Men's Accessories
Hide and Sea.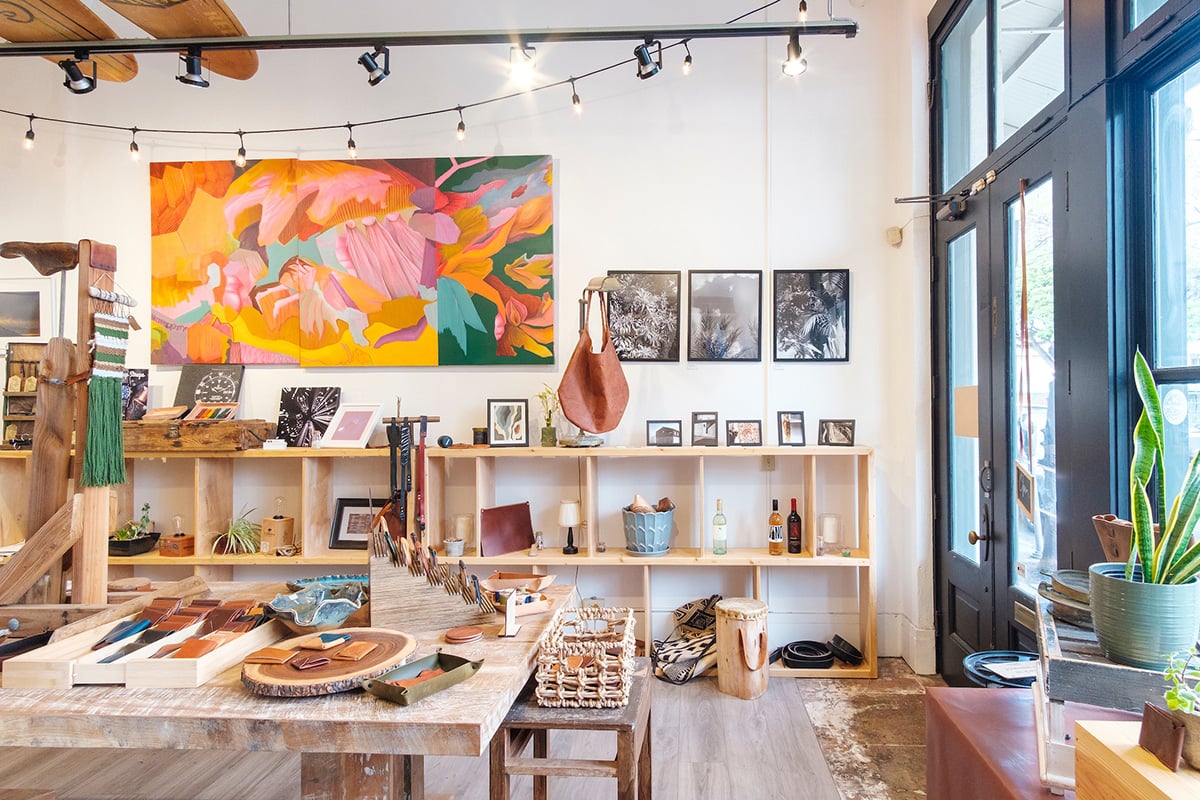 While stationed in El Salvador, Michael Bluth, then a foreign language analyst for the Navy, repeatedly wore out his leather shoes on the cobblestone streets. "I would take the shoes to the local cobbler to have them resoled," he says. Things were lean financially, so "after watching the process a few times, I figured I could probably learn and do it myself. I bought an awl and some waxed thread, and the rest is history."
He applied what he learned working with footwear to create another essential accessory for men that reflects his life. "In 2015, I started making wallets that maintain an interesting aesthetic and utility. In most of the designs, there are asymmetric angles that represent the peaks of the Wasatch Mountains in Salt Lake City," Bluth says (he's originally from Utah). The leather, however, comes from the Conceria Walpier tannery in Italy. "Our process is simple: cut, fold, punch stitch holes and stitch. We eliminate seams and use folds whenever possible."
And when Bluth says "we," he means it. We popped by his Chinatown shop, Open Sea Leather, and saw a woman at the checkout counter pounding holes into a piece of leather with a hefty mallet. Her petite frame (compared to Bluth's hefty He-Man stature) made it impressive to watch. "Most of my staff is trained to make wallets," Bluth says. "Shoppers are shocked that they can pick their own colors and have a custom wallet made in less than 10 minutes."
Ready-to-be-fashioned hides peek out from a wall of cubbyholes alongside a brilliant spectrum of stitching threads. It's a thrill to see the colorful options that can flow together. Scattered around the sunlit space are leather pieces from the retired sailor, including his worn-in, classic messenger totes displayed in the front window.
Shelves and tables display a gold mine of artwork—ceramics, wall art and leather goods—from local creatives invited by Bluth. "O'ahu has an amazing art community," Bluth says. "All the artists we feature keep everything they make from their sales. I'm an outsider here, so giving back locally, in this small way, is my contribution."

Wallet prices range from $49–$89, 15 N. Pauahi St., (808) 859-2204, opensealeather.com, @opensealeather
---
Clay Club
At Open Sea Studio, Bluth is contributing to the local arts community by creating a member-based ceramics workplace, complete with prep stations and leading-edge kilns. "After getting to know some of the local ceramicists personally, it became apparent that most of them had nowhere to work," says Bluth. Members who have joined love the studio's 24-hour accessibility and that clay and tools are readily available. Bluth also partners with Fishcake's "fishschool" art classes and plans to host a variety of other ceramic workshops and private lessons. Classes fill up fast so keep a (tako) eye out for updates.
1192 Smith St., (808) 859-2203, openseastudio.com,@openseastudio