A Leasehold Holding its Value: Admiral Thomas in Makiki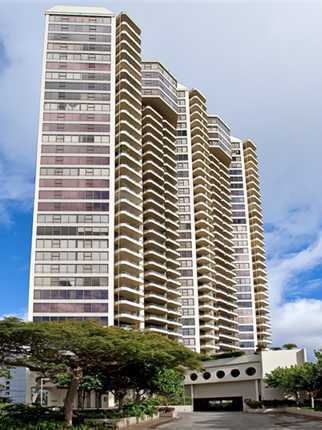 Not all Honolulu leasehold properties are losing value as rapidly as the nearing-its-expiration-date Kahala Beach apartments, which I discussed in a recent post. In fact, units at the Admiral Thomas in Makiki are still a good get thanks to the longer lease (the expiration date is Dec. 2046), spacious digs, in-town location and moderate pricing.
The 34-floor building, which was built in 1980, sits on more than 2 acres and has 149 units with an approximate owner-occupancy rate of 69 percent. The building lessor is the neighboring Methodist church. "The church next-door owns the land and people are still hoping the church will sell," says Sachi Braden, the owner, president and principal broker of Sachi Hawaii-Pacific Century Properties. Amenities at the pet-friendly, secure building include barbecues, a swimming pool, recreation area, meeting rooms and tennis courts.
There are currently six units listed, with the most expensive coming in at $699,000 for a two bedroom/two bath with 1,602 square feet, a spacious lanai and city, mountain and ocean views. The most affordable unit is a one bedroom/one bath with 813 square feet on the 11th floor, which is listed at $249,900. "The Admiral Thomas still retains its value," says Braden. "The units are a good size, it's a good location and there are still 35 years left on the lease. Some people will take that chance and say it's long enough."
Sachi Hawaii has a two-bedroom/two-bath unit (pictured below) listed for $600,000. The high-floor apartment has 1,634 square feet with city, coastline, Diamond Head, mountain and ocean views. The unit is being sold furnished and comes with two parking stalls. "The interior square footage is about 1,600 give or take and it has an open lanai, so it's a really good size," says Braden. "If that was sold by the square foot, the price is $367 dollars. If this were fee simple, they could probably sell it for $550 to $600 per square foot, so about $898,000. And that's the difference. If you have a decent lease period left, the unit is still saleable but you do have to come down in price. That's a more than 35 percent price difference between fee simple versus leasehold."
To give you a sense of your monthly upkeep costs, the maintenance fees, which cover central AC, cable TV, electricity, hot water, sewer and water, are $1,159, property taxes are $259 and the lease rent is $129. However, at the end of the year, the lease rent will increase to $156, which it will remain until 2016 when it's renegotiated. So, altogether, you're looking at about $1,500 in monthly upkeep, or almost $19,000 per year.
Contact: Listing agent Yoshiko Kasuga, Sachi Hawaii-Pacific Century Properties. 596-8801, yoshiko@sachihawaii.com.