A Hawai'i Home Divided: Who Gets the Family Home?
Many young adults believe their only chance of owning a house on O'ahu is if they inherit their childhood home. But what happens when you aren't an only child, or your parents want to sell?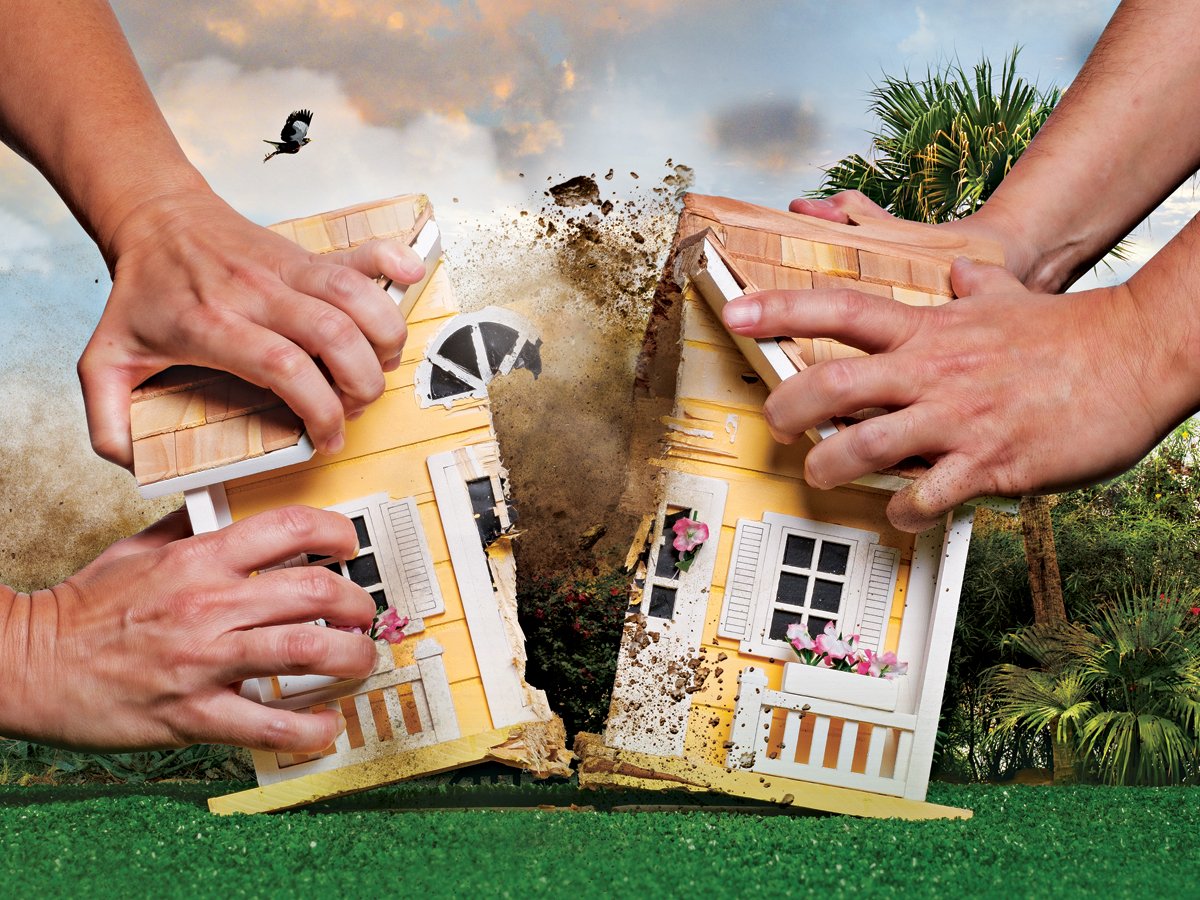 It was already crowded for Julie Lacerdo and her fiancé at her parents' home in Mililani Mauka: They had two small children and her fiancé's teenage son when they learned another baby was on the way. Her parents didn't want their only daughter and her family to move out, but they were also tiring of climbing the stairs in the two-story home and wanted to find a place with just one level. But Lacerdo and her fiancé, Wisly Butler, didn't have the cash or other equity to buy the property—she works for O'ahu Transit as an occupational safety and environmental protection specialist and Butler owns a general contracting firm called Pacific Construction Builders—so her parents could purchase a single-level home for themselves.
It's a dilemma faced by many families—how can grown children hold on to the family home when their parents want to move, or when they pass away? With O'ahu's median single-family home price topping $1 million, and no sign of prices going down anytime soon, it's a challenge for young people to pay market price to buy their childhood homes. It can be an even bigger challenge when there are multiple children and just one home. That's when it can get ugly.
Cherie Tsukamoto, broker-in-charge of Hawai'i Life's East O'ahu office in Hawai'i Kai, recalls that years ago an attorney gave a presentation to a group of Realtors; he asked how many would like to invest in real estate with one of their siblings, which would mirror the situation many parents leave to their kids when they pass down the house. Only one hand went up. "And then he says, 'Why are you creating a situation where your children basically become investors in the same property?'" she says. "It was just very eye-opening for me; I'd never quite thought of it that way. And yet, you don't have a lot of choice."
Options and opportunities
Estate planning is the No. 1 thing local families can do to ensure a smooth transition for their real estate, no matter who gets the home. Consulting a trust attorney and a financial planner or accountant is essential. Having a will or trust that lays out what happens to a home after the owner dies is extremely important, but not everyone thinks ahead to the possible scenarios after they're gone. "In my experience, people have not planned well," Tsukamoto says.
The biggest problems occur when parents don't leave clear instructions of what to do with their house, even if the property is placed in a trust and there is an option for one sibling to buy out the others. "It can be very problematic in terms of them coming to terms and it can be very divisive," she says. "Families break up over it and I've seen that happen a lot."
Ideally one family member has the wherewithal to step in to buy the home. Then, if it was owned by the parents free and clear of any mortgages, the beneficiaries walk away with cash.
That's why Chad Takesue, a partner at Locations, a local real estate company, says that whenever he gets a potential listing for a family home, the first thing he asks is whether any family members are interested. It may not be one of the children—maybe a cousin or an aunt or uncle wants the home. If a family member who's also a beneficiary wants to buy, they can count on their share to help with financing as equity in the property. "You always want to explore that first, before you go on the market," says Takesue, who is also the 2022 president of the Honolulu Board of Realtors. "I always tell my clients if they have the opportunity, to buy the siblings out," using their portions of any inheritance.
SEE ALSO: The Best Real Estate Professionals in Hawai'i 2022
Shannon Heaven, a broker with Property Profiles Inc. in 'Aiea, says she also tells her clients to buy their siblings out using their portion of the equity in the home, because often it means they can get a nicer home than what they could afford on the open market. But sometimes the value of the home may be inflated by a sibling or siblings who want a larger share of the inheritance. She recalled one client who was upset after her sister insisted their parents' home in Salt Lake be valued at $1 million, back before prices really exploded. "She was not happy," says Heaven. "And I said, you're buying a house in a great neighborhood that's remodeled and it's costing you $500,000. You need to buy that house."
Multigenerational living also poses challenges, Tsukamoto notes. Oftentimes it involves one sibling who lives in the home with the parents, while the other siblings live independently in their own homes. When the parents die, the independent siblings often want to sell the home, which displaces the sibling who lives there. "That sibling often doesn't have the money to buy everybody out and then it can become a bit of a nightmare," she says.
If siblings can't agree, or if one sibling is still living in the home and there is no agreement to sell, it can force a partition sale in which a judge orders the property to be sold and the proceeds divided among the siblings. "The other siblings want to sell the property, but that person doesn't want to because they've been living well," Heaven says. "The other siblings want the money, so they'll force the sale." Partition sales often result in a lower price.
Some people also believe that they can't buy another home if they sell the family home. Tsukamoto says she tries to help them "paint a vision of the future, and help people see past where they are, and then maybe what the options are going forward." With O'ahu's median single-family home prices so high, many family homes are sitting on a ton of equity, which means more cash to split if the house is sold. When Tsukamoto explains to a client who is reluctant to sell a home that is worth, say, $2 million, and split the proceeds with three siblings, she reminds them they will each receive a half million dollars from the sale, "and that's not a bad problem to have."
A dream may have to die, however. "It's painting a very realistic picture, sometimes giving them the cold hard facts, and being real and just helping them see that so that they can move forward," Tsukamoto says. "I have seen siblings buy each other out. I have seen siblings stuck where the one sibling ends up in the house and nobody moves forward because they don't want to uproot brother or sister and they end up immobilized and they just don't sell. All you're doing is perpetuating the problem.
"You're going to have the problem," she says. "You're just deferring it to a later date."
Inaction can also lead to unintended problems. If siblings delay disposing of the family home, whether it's one sibling buying out the others or selling to an unrelated buyer, the home is no longer owner occupied and won't qualify for a real property tax exemption. What's worse is that when a house is no longer owner occupied it then falls under the City and County of Honolulu's Residential A tax rate, which is higher than the rate for owner occupants, notes Jon Whittington, president of Compass Home Loans Hawai'i. For a home worth $1 million or more—as many homes on O'ahu are—the tax rate is three times the owner-occupant rate.
"Residential A is intended to tax the wealthy because they have second homes in Hawai'i, but the unintended consequence is it actually taxes out local families that just have an inheritance issue and they can't figure things out," Whittington says.
What Else Can Be Done?
Families also have options if parents want to downsize or move to a single-level home. Some properties have 'ohana zoning, which allows for a second home to be built on the property for a family member, while other areas allow accessory dwelling units, or ADUs, to be built for family or tenants. The second unit could be for the children or the parents, says Bonnie Oda, a certified aging-in-place specialist with Graham Builders in Honolulu, which specializes in multigenerational housing.
And people need to consider how to pay for any additions or renovations—the parents may have savings they want to use, but Oda cautions that that cash may eventually be needed for health care or long-term care expenses, so a home equity line of credit may make more sense.
Whittington says a lot of parents are also using their equity to help their children buy a home, whether it's the family home or another property.
Lacerdo and Butler, the engaged couple in Mililani Mauka, along with Lacerdo's parents, decided they would buy Lacerdo's childhood home and her parents would move to a new place. Lacerdo and Butler had the income to qualify for a mortgage, but they didn't have cash or other equity for a down payment, so she needed a way to buy out her parents with no money down. They worked with Realtor Sandy Lau of Locations and a loan officer at Compass Home Loans Hawai'i, who came up with a solution in the form of a gift of equity.
SEE ALSO: Small-Kine Homes: How 4 Local Families Make the Most of Little Spaces
After agreeing on a purchase price, Lacerdo's parents agreed to take only the amount that would be financed through a mortgage, with the remainder a gift of equity, says Lau. It helped that Lacerdo is an only child and didn't have to negotiate with siblings. Lacerdo and Butler had to qualify for the loan amount, and they had to hire an appraiser—fortunately the house appraised for higher than the purchase price. "It worked out for both, because the parents got to get cash out to purchase a single level home," says Lau.
Meanwhile, Lacerdo's parents were able to buy a new home on the Wai'anae Coast near the beach that's big enough for all their grandchildren to visit. "We're very lucky that my parents did the gift of equity," she says. "We wouldn't have been able to buy this house at market value. Just that little cushion, that little boost from the gift of equity, it was a tremendous help."