7 Tips for Planning the Best Summer From 7 Award-Winning O'ahu Teachers
Thrive, don't just survive, this summer with ways to bump up your summer fun with a little entertaining education.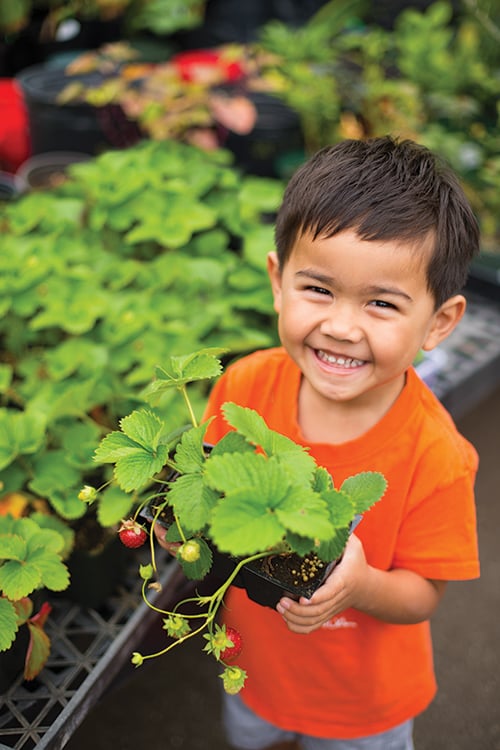 Ah, summer. For kids, it's the most anticipated time of the year. For parents? Not so much. If you're looking at your summer with a touch of anxiety—for whatever reason—we're right there with you. There are a lot of hours to fill, a lot of kids to keep in line and a lot of learning to encourage. So we asked some of the island's award-winning teachers their best advice as educators and parents to plan for your family's best summer yet.
Try New Things, Digitally
Summer is a time to try new things. An interesting piece of advice from one of our educators is to consider ending limits on screen time. (No, she's not joking). Feel like your little lunatics may take over the asylum? Hale Kula Elementary School library media specialist Michelle Carlson Colte says to have no fear: Kids learn important skills from developing digital literacy.
And this is an opportunity to teach your kids self-control. If we don't let kids on the computer, "we don't teach the kids to start limiting their own screen time. They have to learn to self-regulate. I talked to a psychologist once and he says so many of his kids in his practice never learned to control their video game play time and many dropped out of college," she says.
"This is the world our kids are growing up to. It's important for us to learn to interact with that world." Instead of focusing on how much time they're spending on tech devices, "we should think about what kind of screen time kids are having. They shoot some video, they watch it, they edit themselves and they shoot it again. It's that iterative process and they're choosing their subject matter and their tools are accessible." The computer can teach kids to communicate. To be creative. To connect math and science through play. That's not a bad day's work in summer.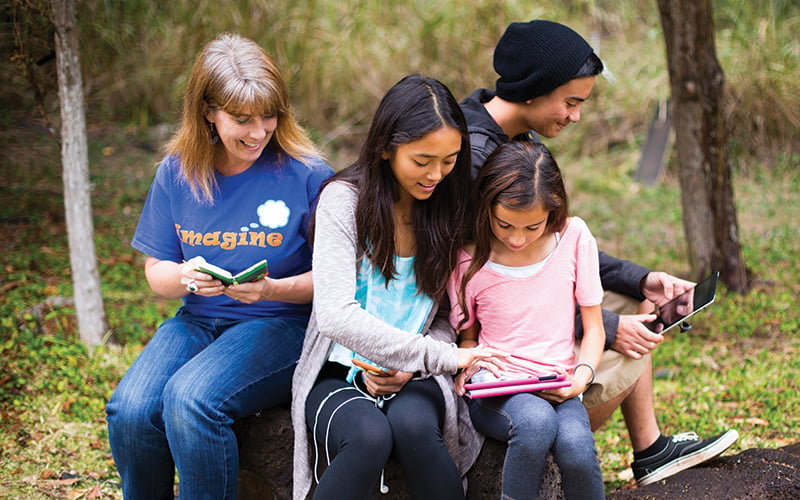 Photo: karen db photography
Your kids will jump for the chance to create something online, Colte says, cautioning that we should limit passive pursuits like watching TV. Find great educational games that encourage problem solving and creativity. Or look at your own online life for inspiration. "Memes are really popular. I invited my middle-school daughter to make some memes. It's just snapping pictures and making funny phrases. She'd never thought of it before." And for the little ones who are obsessed with your cell phone photos, "you can ask them 'what should the caption be for this photo on Facebook?' Or you can let them take photos and then they're learning from that. For parents, it's a way to capture them at this age."
Try some coding. "Coding is taking off for the K-to-12 set," Colte says. (Yes, that means your pipsqueak can program a computer to do something. And, yes, it's accessible to a kindergartener.) On code.org, there are great courses for elementary school kids—you can draw snowflakes with Anna and Elsa from Frozen—or try apps like Kodable, Daisy the Dinosaur and Hopscotch (some have free versions). Just get ready to be amazed by your kid!
Let Learning Happen Naturally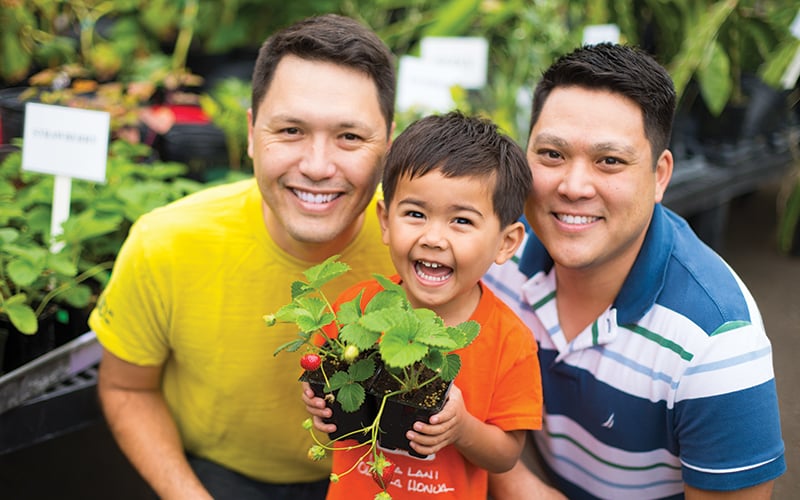 Photo: karen db photography
Jason Dettweiler-Pavia (right) with son Nicholas, 3, and husband Noa (left) at Ko'olau Farmers, Kalihi.
There is a common theme among our award-winning teachers: Let your kids decide what they want to explore, and summertime learning will happen naturally, says Jason Dettweiler-Pavia, who teaches third grade at Ka'iulani Elementary School. "Just focus on spending quality time with them," he says. "Teaching is just giving children opportunities. Set up a bird feeder and give them the chance to observe the bird feeder every day; they're going to develop questions and knowledge. If your child is enjoying it, you're doing it right." He also says the discussion about an activity is as important as the activity itself. "A lot of parents might not realize, there is a lot less teaching and more facilitating [in the classroom] these days."
Let kids dig in the dirt. Planting seeds is a way to both teach and entertain, says Dettweiler-Pavia. "The easiest thing with the biggest reward is a tomato plant. Kids love picking the fruit of their labor." It teaches kids about nature, sure, but it also can teach kids responsibility. "Children love having responsibility; across the board, no matter what, if you give them that responsibility and they own what they're doing, they're going to love it."
All that open time in the summer can seem daunting; but, instead of a schedule, create a summertime routine, says Dettweiler-Pavia. "Summer is a time for more play and more freedom; it's perfectly okay for the child to learn to expect that," but create some routines to give borders to the flexibility—like sitting down at the table for a meal every night and having only certain times of the day to watch television. "It takes a little time and practice to create an effective schedule, but, when you do, there's a lot less need for follow-up guidance." (He means discipline!)
To be successful in whatever you have planned for summer activities, it's important to be clear in your expectations. "I have expectations of my 3-year-old son, and he knows [them]. I expect him to sit down when he's eating. I expect him to treat people with manners. [Set] the ground rules when they're young," says Dettweiler-Pavia. But those expectations should be worded positively, for example: "Keep your hands to yourself," or "Treat people with respect." And most importantly, make sure those expectations are appropriate for your child's age and development.
Be Flexible and Adventurous When Planning Trips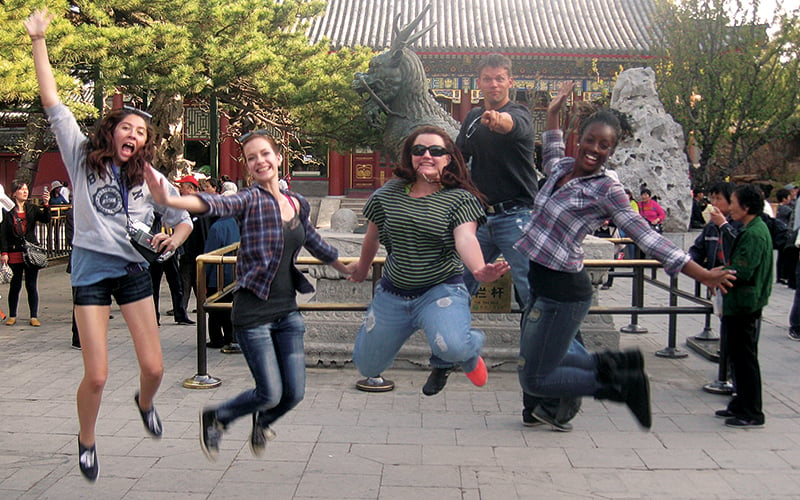 Photo: Courtesy of Nathan Radzak
Nathan Radzak (in the back) with some of his students in China.
If there's a cardinal rule for summer, it's this: Parents need to have a good attitude, says Nathan Radzak, a social studies teacher at Ho'ala school. "If you're excited about summer, the kid will be. If you're irritated about summer, they will be, too." A great summer attitude will strengthen your relationship, as well. "If you're happy and excited, your kids will be happy and excited to be around you."
Especially when traveling, Radzak—who has led experiential learning trips with students to places that include Japan, China and Alaska—cautions parents to be flexible with plans. "My rule is that [kids] can disagree or dissent or complain, that's fine. But they need to have an alternative. If a kid says, 'I don't want to go to the museum,' then say, 'Okay, what else can we do that's not at home?' Kids will come up with great things." And know your kid's limits. He says some kids are energetic for 18 hours and some tire after eight. "Ultimately, no one's learning or having fun if they're super tired."
Instead of sticking to the tourist spots, look for something local to do while traveling, Radzak says, "like a county fair or a baseball game. Meet people. Go to a restaurant that's not a tourist trap. Just walk around a neighborhood." On a trip to Japan, his students once spotted "sumo wrestlers shopping in a video store. We got to meet them and they got pictures with one. It was a really great experience, even if translation was a problem."
The key to getting kids to pay attention is having plan A, B and C. "Sometimes A works and the kids can do A for two hours. Sometimes it's 15 minutes. And that's okay, because you have B and C for that day."
But be warned: "Parents overplan," Radzak says, so let your kids have free time to play with no agenda. "Let the kids be kids and you be an adult. You don't have to be entertaining and teaching them all the time. Kids need to learn and fill themselves up on their own: board games, books, Legos, building a fort, writing a
play. Whatever they're interested in, they should have time to foster that on their own."
Get Active and Get Focused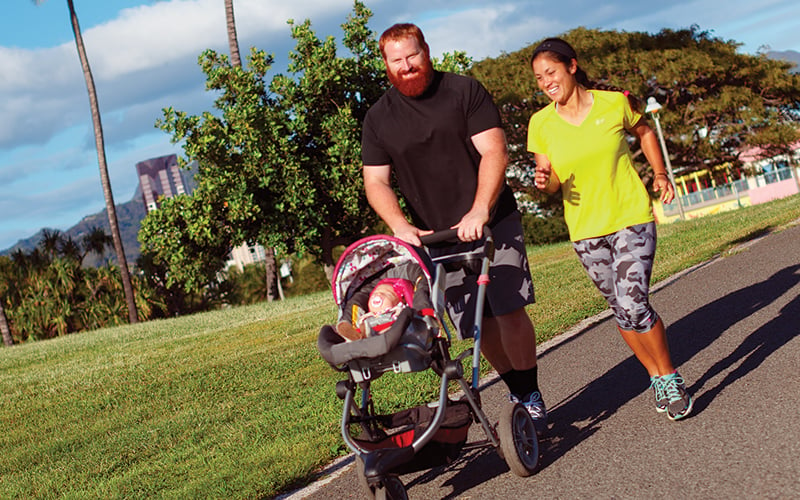 Photo: karen db photography
Kelly Majam Elms with husband, Josh, and daughter, Riley, 6 months.
Getting out into your community is also key for your kid's summer fitness. The recommendation is to get a full hour of activity each day, and "that can seem daunting," says Kelly Majam Elms, a physical education teacher at Liholiho Elementary School.
"Things that are easily accessed are best. Think about places that are closest to you—maybe the park near you has a tennis court or a swimming pool. If they want to try tennis, think about equipment. Go to Goodwill and find used equipment—you don't have to buy new stuff to have fun."
If getting your kids to pay attention is an issue, maybe some sweat is the answer. "Giving kids physical activity every day—regardless of the time—activates their brains and keeps them focused throughout the day. It's been shown that in schools with PE programs the academic scores improve," says Elms.
To keep them playing, challenge them. "Things like: Let's see if we can hit that target. Or, how far I can throw a ball, or who can throw it the farthest? Give them something to look forward to; that's how they learn better. I do things in PE like: How many times can you play catch with a partner in a minute? Give them a challenge and then they'll do it with more energy and intent," Elms says.
Whatever you choose, make sure the skills you want them to use are within reach. "It's important to have exciting games that everyone can achieve, nothing too hard," Elms explains. They'll get a taste of the fun and success without the frustration that drives some away from athletics. "We want them to have a good emotional attachment to physical activity as they grow up. A lot of kids don't see the benefit of it, or they had a negative emotional attachment. They say, 'I'm not very good so I'm not going to try,' then, when they're older, they gain weight or they don't make the time for it."
Playing sports and games gives you an opportunity to teach sportsmanship. "Attitude is more important than outcome," says Elms. "There are kids that are really good but they can't play with anyone because they can't lose." Kids know that it's more fun to play with a friend who's a good sport. "Even at a young age, first grade and second grade, you start seeing people who work well together. They don't fight about who gets to start with the ball. They're willing to share. Kids who are encouraging or accept being second in line are what makes it more fun."
Make Reviewing a Game
Summer learning is supposed to be fun—but that doesn't mean you should forget the classwork. "I see a drop off in the learning between the end of the school year and the beginning of the new school year," says Masaru Uchino, a third grade teacher at Momilani Elementary School. Uchino would love to see your kid get some math in every day, all summer long. "Even if it's five minutes of dedicated time, make time to practice the skills from the year before—not teach new concepts."
He suggests things like saving old math worksheets and covering the answers with a Post-it note to re-use them. Take the time to look up some math problems online. Or use a deck of cards and make a game of who can make a sum of the cards quickest, or who can call out the greater number first. "Especially with mathematics, you can't go to the next level without the foundation of the prior learning concepts."
Encourage Reading in New Ways
If you want your child to work on reading this summer, a reading-specific course might not be the best way, says Hokulani Elementary School teacher and 33-year summer program director Marcus Pottenger. "That's a huge commitment of energy and time on that kid." Instead, give him or her a purpose for reading. "If he's looking at a program that looks at robotics or plant life in Hawaii—the teachers will incorporate reading into it." So your kid will be working on reading skills without even noticing. Also, expand your definition of reading materials for the summer.
"A trend is graphic novels. They're using more of their brain [because] they're also processing visually­—there's a lot of good thinking going on," says Hale Kula librarian Colte.
"I've found the K-to-first grade kids are really into information books with pictures. They love to cook and bake or we search online for recipes—that's reading. What groceries do we need to add to our list? Search on YouTube for videos. What should that search term be? That's really crucial," Colte says. And since the kids are choosing the topic, the reading practice will be more effortless for you.
Save Money with Simple Projects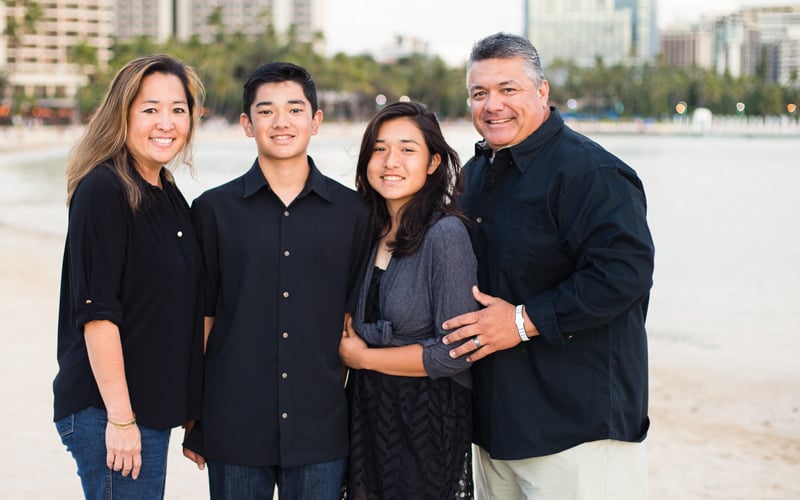 Photo: karen db photography
Melanie Ah Soon with son Kauhi, 14, daughter Kalehua, 17, and husband Matagi.
Most of our educators suggest that kids choose activities based on their interests. Volunteer work can not only be a learning opportunity, but it can show kids their place in a greater community.
"I don't think anyone is too young to be a part of service learning," says Melanie Ah Soon, dean of the lower school at Sacred Hearts Academy. "Go out into the field and volunteer to do community service work as a family," which provides an education about your community and your family's values. That's best accomplished by linking service learning to the big picture. "Some examples that we do here are helping to clean the fish ponds or restoring taro patches. The ancient Hawaiians used to do that. I think to dig deeper you have to understand why you're doing it," Ah Soon says. "This is part of the community and it's to pre-serve your history; to continue that is what's key."
But what if that interest would incur a huge expense for you? Find simple activities that replicate the fundamentals, says Pottenger. "Things like robotics and electronics cost money—a lot of summer courses for those are expensive. With the younger kids, seeing how things move—using strings and ropes and boxes and working with simple items—are such simple activities," he says. Pottenger says he's helped kids replicate the mechanics of a human hand using fast food restaurant straws and string. It doesn't get much cheaper than that. "It is the rudiments for those other tools that cost lots of money." Find two of Pottenger's online projects for replicating a human hand or roboarm on honolulufamily.com/teachertips.
Though summer hasn't started, it's not too early to anticipate back-to-school time. If you keep track of your summer events to share the next school year—a packet of math worksheets completed, a drawer of saved mechanical experiments, or an illustrated journal of the events your kids have participated in—it can help you all reflect positively on summer. "A majority of teachers are going to have them write or talk about what they did over the summer," Uchino says, "They're going to know what to say right away, and start off the year confident." That's a sure sign of a great summer—your kid confidently facing the next school year.
Our Teachers
Our Teachers The seven teachers we spoke with specialize in everything from math and science to digital media and physical education.
Melanie Ah Soon
Dean of the lower school at Sacred Hearts Academy.
2010 Presidential Award for Excellence in Mathematics and Science Teaching.
Michelle Carlson Colte
K-fifth grade library media specialist at Hale Kula Elementary School .
2014 Making IT Happen award. 2014 School Librarian of the Year (inaugural winner) from School Library Journal and Scholastic Library Publishing.
Jason Dettweiler-Pavia
Third grade teacher at Kaiulani Elementary School.
2014 Voya Unsung Heroes.
Kelly Majam Elms
Pre-K-fifth grade physical education teacher at Liholiho Elementary School.
2013 NCAA Woman of the Year Finalist.
Marcus Pottenger
K-fifth grade technology teacher at Hokulani Elementary School. Director of University of Hawaii Lab School's Summer Programs in science enrichment and computer explorations.
2013 Honolulu District Teacher of the Year.
Nathan Radzak
Fifth-12th grade social studies teacher at Ho'ala School.
2009-2010 Distinguished Teacher Certification and Achievement in Writing Instruction Awards.
Masaru Uchino
Third grade teacher at Momilani Elementary School.
2015 Leeward District Teacher of the Year.