6 Tips for a Winning Cover Kids Entry
Planning to enter your child in the 2021 Cover Kids search? Here are tips for winning entry photos.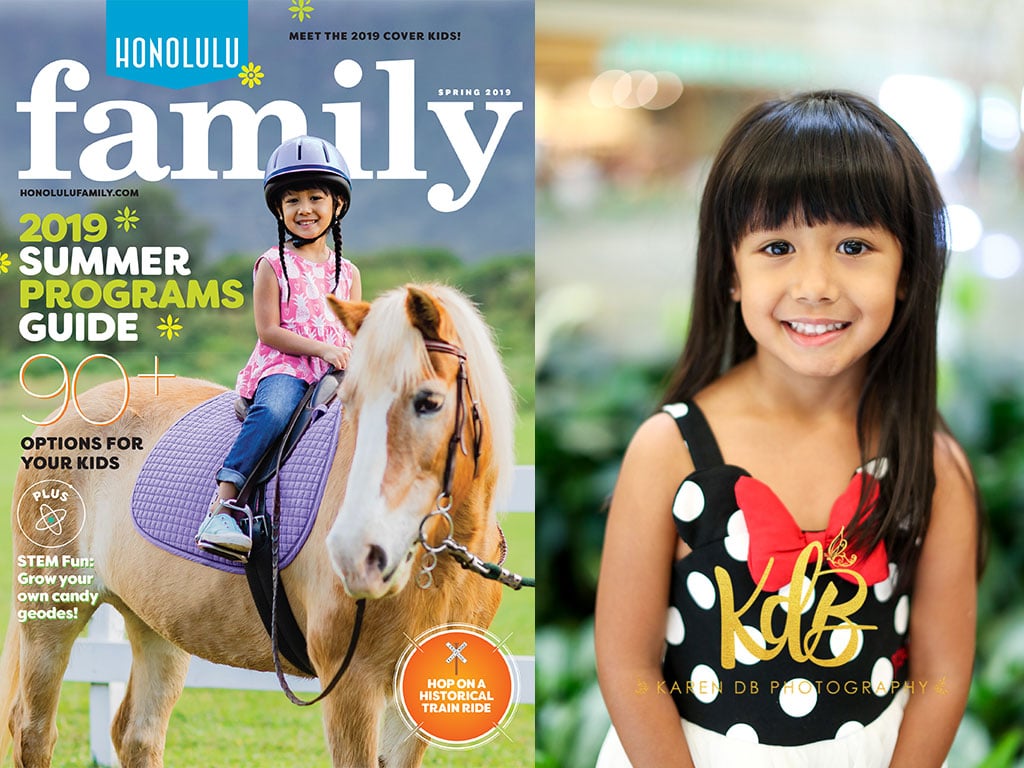 Photos: Karen DB Photography
2019 Cover Kids winner Penelope's cover (left) and entry photo (right).
Hawai'i is full of adorable kids! And every year, we love getting the chance to see hundreds of them.
Our 2021 Cover Kids search launched on July 31. Four winners will be in HONOLULU Family and on honolulufamily.com next year, and eight runners up will also be featured. But even more of our Cover Kid entrants are invited to be book reviewers or participate in photo shoots for HONOLULU Family, HONOLULU Magazine and more throughout the year.
We receive more than 700 entries every year. Our readers and editors will vote to select the semifinalists, then the winners and runners up.
This year, we anticipate most families will enter online with a picture they take at home (professional photos are not eligible). So what makes a photo a winning photo? Here are 7 tips from our team.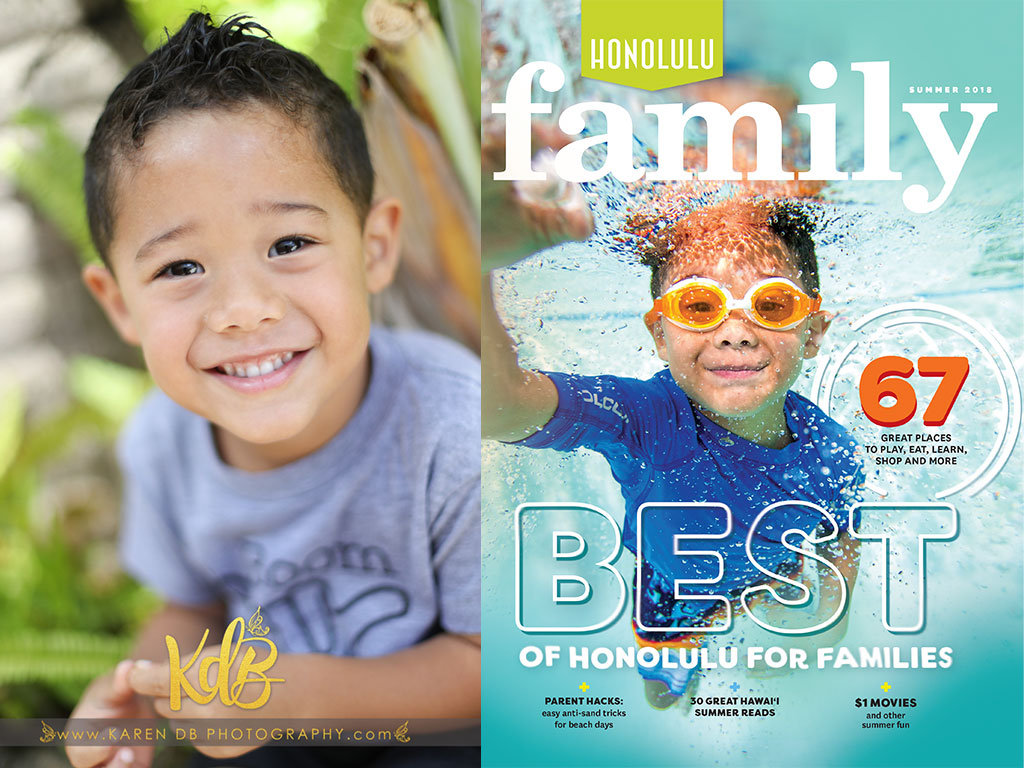 2018 winner Kington's entry photo (left) and cover (right).
1. Keep it casual. We are looking for happy, natural smiles. Your kids' smiles will be big and bright if they feel comfortable. "Kids should feel like they are out having fun with their family," says Karen DB, our cover photographer, "not on a mission to win an event." We try to keep it fun at every HONOLULU Family photo shoot. We've smashed tomatoes on our heads, danced the chicken dance, played peek-a-boo and just about everything, to keep our keiki laughing. Relaxed kids make for happier photos. Art director Kristin Lipman says to not force your child to take a photo. "Be patient and go with the flow," she says. "If you're at one of our Cover Kids events and your child is shy or more rascal than normal, take a break. See if you can come back later when they're ready." Sometimes it helps to step back and let Karen DB and the HONOLULU Family team interact with the kids without the pressure of mom and dad's directions.
2. Avoid overstyling. Voters like kids who look, well, like kids. We've noticed that little ones who look formal—for example, in aloha shirts with slicked down or precisely styled dos—do not garner as many public votes as keiki who look like they've been captured in a moment. Keep hair neat but don't worry about styling products. Keep clothing simple and bright–something that your kids feel great in! When it comes to wardrobe, avoid black, and loud prints or logos that could detract from your children's faces.
3. Watch the accessories. Face painting or temporary tattoos can mask your keiki's smile or distract voters. Also, avoid baseball caps or anything else that could leave your child's face in a shadow.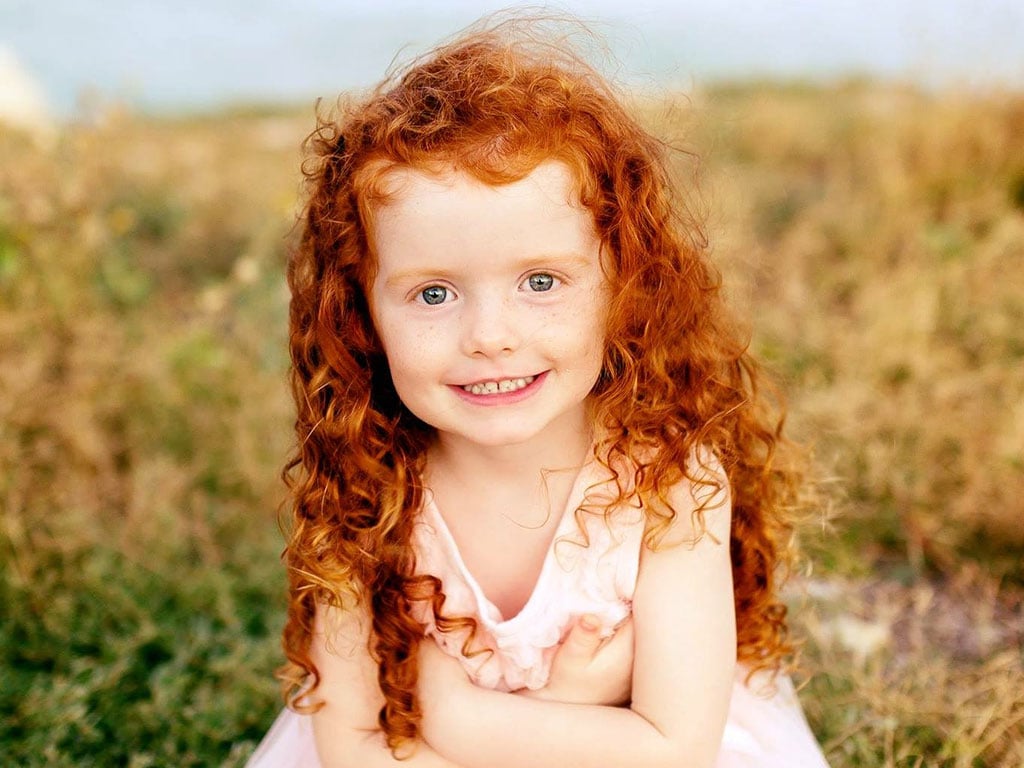 2018 Cover Kid Allison's entry photo was submitted online.
4. Look for the best lighting. Shadows can hide your child's face. Bright sun can make him or her squint. Half sun and half shade is just distracting. Lipman says look for the golden light. "Golden hour is the hour after sunrise and an hour before sunset," Lipman says. "It's soft, warm, dimensional and happy. It's just magical." If you do take your child's photo in the shade, make sure there isn't strong sunlight behind them. This is called back lighting and results in a photo with a dark child against an overwhelmingly bright background.
5. Keep an eye on the background. The ocean, trees and greenery naturally create beautiful settings that will make your child pop right out of the photo. Avoid busy backgrounds including crowded areas, walls with a lot of artwork or hangings, or anything else that can draw people's eyes away from your child's smile.
6. Let your child's personality shine. Sure, we are looking for cute kids, but voters also respond well to keiki with personality. So, don't worry if your child's kolohe (rascal) streak shows up. As long as they are not afraid of strangers and the camera, or run away, it could be to his or her advantage.
Entries for the 2021 Cover Kids Search will be accepted from Friday, July 31 through midnight on Thursday, Oct. 8. See our entry page on honolulufamily.com.