7 Reasons to Dine Out During Restaurant Week Hawai'i 2014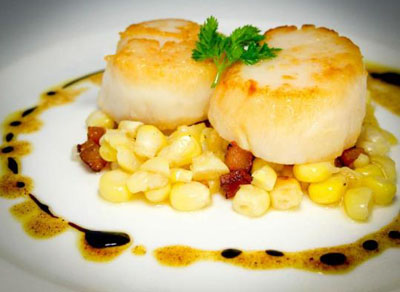 Seven restaurants join the lineup for the seventh anniversary of Restaurant Week, a seven-day event of special menus and discounts at participating locations. Here are seven auspicious reasons to check it out this year.

Búho Cocina y Cantina, Grondin French-Latin Kitchen, Mac 24/7, MW Restaurant and The Pig and the Lady are now part of Restaurant Week, offering prix fixe menus under $50.


Greens and Vines will have both an Italian tapas menu and a French tapas menu, with each four-course option priced at $30, or $44 with wine pairings. The Italian dessert sounds refreshing: limoncello with bananas, kaffir lime leaf, liliko'i agave, lime wheel, pineapple and mint, while the French menu's highlights are crimini escargot and a wicked chocolate tart.


Top of Waikīkī's Wine Spectator Award menu, normally $65, will be available for only $49. Which is a steal, considering you get scallops, pork tenderloin, prime striploin and a white chocolate cheesecake that has a honey-almond crust and riesling-poached fruit. Add wine for $19. Also, through Nov. 21, when you order select entrees from the regular menu, you can get a second entree half off.


Arancino's spaghetti ai ricci di mare, which is our Best of Honolulu pick for best uni pasta, will be 25 percent off at lunch at the Beachwalk location. We love its creamy brininess and abundance of uni. The dish will also be part of the $45 dinner menu, along with caprese and tiramisu. At the Kāhala location, it's tagliolini instead of spaghetti, and dinner is $62 with the addition of risotto balls of lobster, scallop, shrimp, calamari and mozzarella in a squid-ink sauce.


There's more than just high-end restaurants taking part in Restaurant Week—Chinatown Express, I Love Country Café and Sbarro at the Ala Moana Center food court have specials, too, such as the $9 corn beef hash Benedict with a drink and a cookie at I Love Country Café.


If you're looking for a six-course menu under $40, Shokudo will offer a mouthwatering array of dishes that ends with tempura bread pudding. We're talking about deep-fried Hokkaido scallops, filet mignon stuffed with uni, hirame, avocado-wrapped tuna and more.

Restaurant Week Hawai'i supports the Culinary Institute of the Pacific at Diamond Head.
Restaurant Week takes place Nov. 17–23. See the menus at restaurantweekhawaii.com.