Six Rewarding Volunteer Opportunities for Hawai'i Families
A parent's guide to giving back.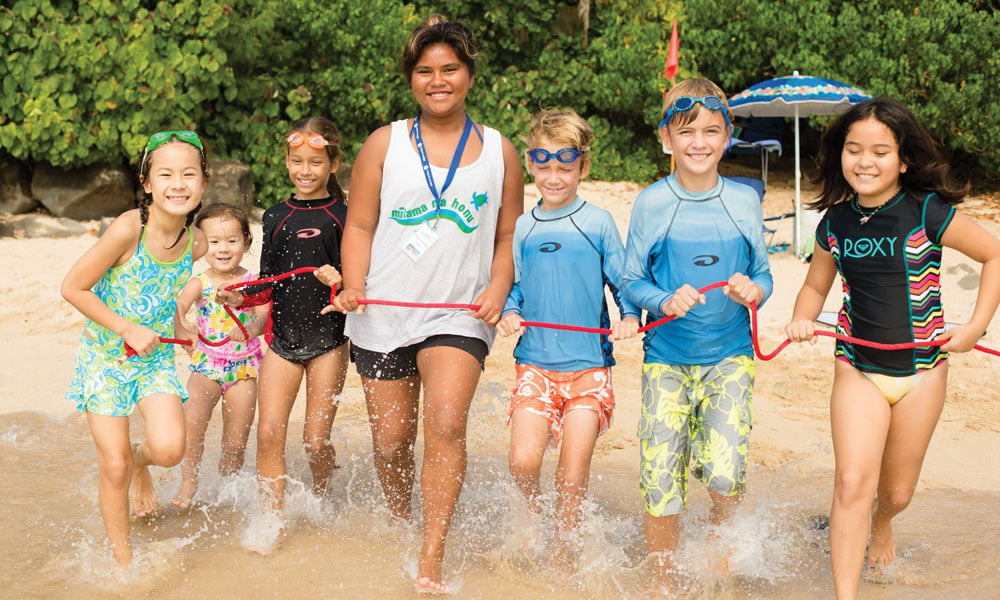 Photo: Karen DB Photography
A weekend afternoon at Laniākea: sun-warmed sand, gentle summer surf and a gaggle of wet, salty, happy children. Perfect. But this is not just another day at the beach. In the water, my two daughters and their friends are looking out for the Hawaiian green sea turtle (honu), a threatened species that has chosen this beach as a favorite basking spot. If a honu decides to haul out, they're ready to lay a red rope around it that keeps humans at a distance. The kids also help visitors and locals learn more about this majestic animal.
We are here because of Mālama na Honu, a nonprofit organization founded to protect honu through education. Mom of three Debbie Herrera, who often volunteers as a "turtle guardian" with her daughter Tonie, 11, says that visiting children often prefer to approach Tonie with questions: "Some kids are just more comfortable talking to another kid. They'll ask her, 'What kind of turtle is that? What does it like to eat?'"
How did we end up helping the honu? By asking the question all families ask themselves: How can we best use the time we spend together? This year, one of my New Year's resolutions was to look for ways to give back as a family. Not only does volunteering make a difference to our communities, it gives our children a chance to see all the qualities we want to instill in them—empathy, self-efficacy, problem-solving, a service ethic—in action.
Volunteering as a family shows children how sharing "time and energy helps create a better community," says Norm Baker, COO of Aloha United Way. That's a great way to spend the day together.
But volunteer opportunities for whole families can be difficult to find. Minors are often not allowed, for liability reasons. When I reached out, I kept getting directed to nonprofits' educational outreach programs—which were great, but didn't have the service component I wanted. So I focused my search on opportunities with three factors: Groups that wouldn't just accept childrens' involvement, but welcomed it; activities that would keep kids interested, or at least took place in an area where they could run around; and organizations with a mission to teach the next generation to be community minded. Then everything fell into place.
I hope this guide helps you pay it forward with your family, too.
2 Years+
The very young have a natural desire to help out, but they need you to do the heavy lifting and show them the way. While their attention spans may be shorter, their joy overflows—and that can be the greatest contribution of all.
Mālama Na Honu
Age: Any. Minors must be accompanied by at least one responsible adult.
Commitment: Brief training session and two, three-hour shifts per month.
Website: malamanahonu.org
Did you know? Green sea turtles can live for up to 60 or 70 years.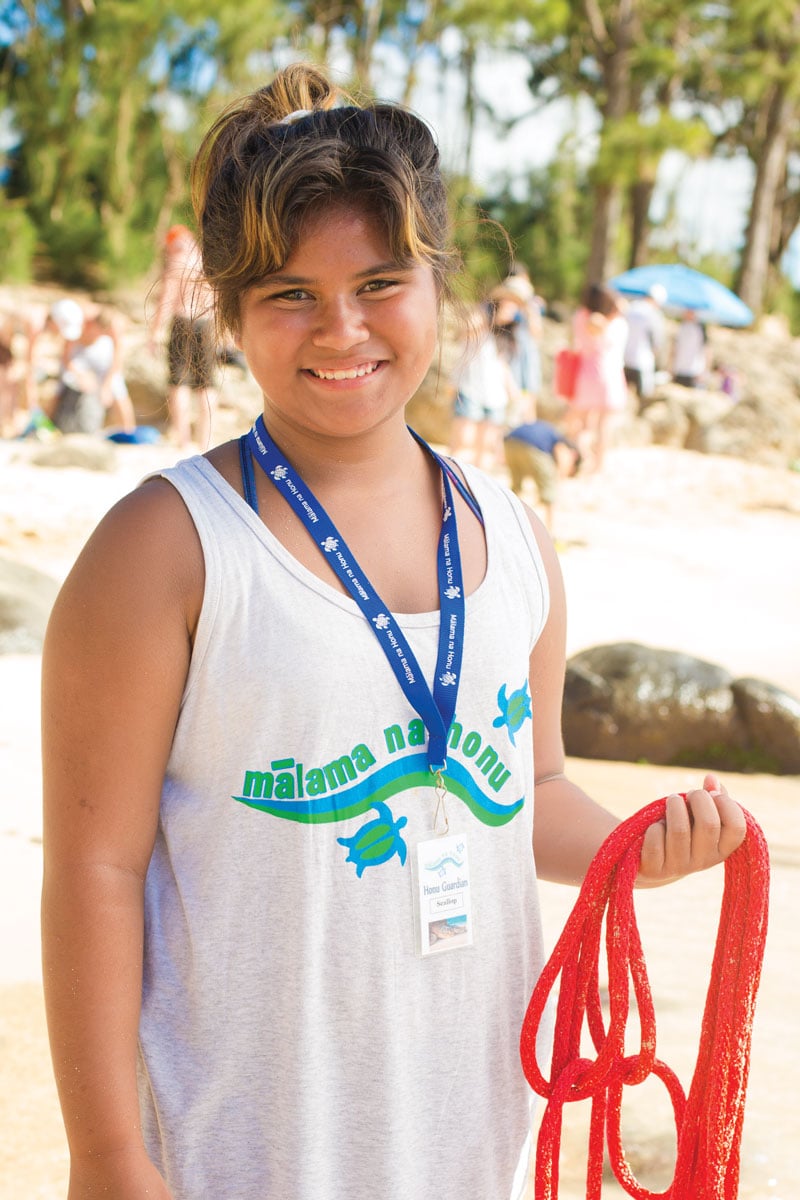 Photo: Karen DB Photography
Laniākea used to be a deserted little surf break, sandwiched anonymously between Hale'iwa Town and the world-famous Sunset Pipeline. Then, in 1999, Hawaiian green sea turtles, which are protected by the Endangered Species Act, began to visit the beach, munching limu in the sheltered cove and sunning on the warm sand. Word spread, and hordes of tourists and locals came to catch glimpses of truly wild creatures. Unfortunately, some people didn't know where to stop. Joanne Pettigrew, a co-founder of Mālama na Honu, witnessed people touching or even sitting on the turtles.
Today, Malama na Honu's "turtle guardians" educate visitors and remind them to stay several feet away at all times. Young children love to learn the rules, and any chance to teach them to others can be sheer heaven. Older children have a chance to shine, by offering information about the species, so this opportunity is great for mixed-age groups.
One of the best parts of volunteering at Laniākea with your family is the environment. It's Hawai'i at its best. As long as there's an adult who can remain at his or her "turtle guardian" post, small children who need a break can frolic in nature's playground, with supervision, of course.
Lanakila Meals on Wheels
Age: Any, but the driver must be 18 years old and responsible.
Commitment: Flexible.
Website: lanakilapacific.org/programs/lanakila-meals-on-wheels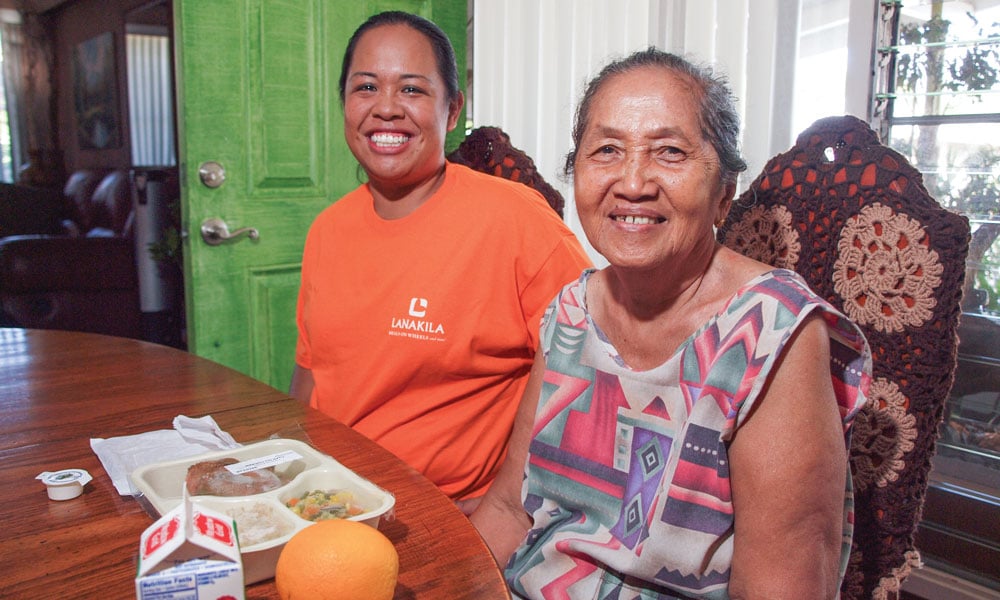 Courtesy: Roy Kimura
All of Lanakila's meals are approved by a registered dietitian.
Every Saturday, Miranda Vinson and her husband, John, hop in the car with their three children, ages 6, 3 and 1, to deliver dinners for the week to three senior households. "Rain or shine," says Vinson. "We just turn on NPR and head over the Pali. It's become a part of our lives."
Lanakila Meals on Wheels creates and delivers hot and frozen meals to kūpuna who need a helping hand. It can mean the difference between staying at home and needing to go to a care facility.
Volunteer coordinator Chris Wong says, "We try to keep it really sustainable" for volunteers. A weekly run allows your children to get closer to the kūpuna you're visiting. But many volunteers drive just for summers, once a month or every other week, substitute for regular volunteers, or even take turns as part of a "parent hui." You can also just "come in, give it a try, see if you like it," says Wong.
Even small children get the point. "It makes such a big impact because food is something everyone can understand," Wong says. "One plus one equals two: They understand they're delivering food to people who don't have as much food as they do."
Vinson says the time investment is more than worth it: "When the kids knock on the doors and you see [the seniors'] faces light up, it just melts your heart. Some of them, we're all they see on a weekly basis. It brings joy to them, but, even more, to us."
5 Years+
These are the central years of childhood, when kids, growing in independence, begin to understand that it takes work to make a community. It's a good time to teach kids about stewardship—both of their natural environment and the people in it. Children ages 5 to 9 are physically capable of light work, as long as they're well supervised and can take breaks when they need to.
Lunalilo Home
Age: All
Commitment: Determined by you. After one orientation, you decide when you'd like to come and what you'd like to do.
Website: lunalilo.org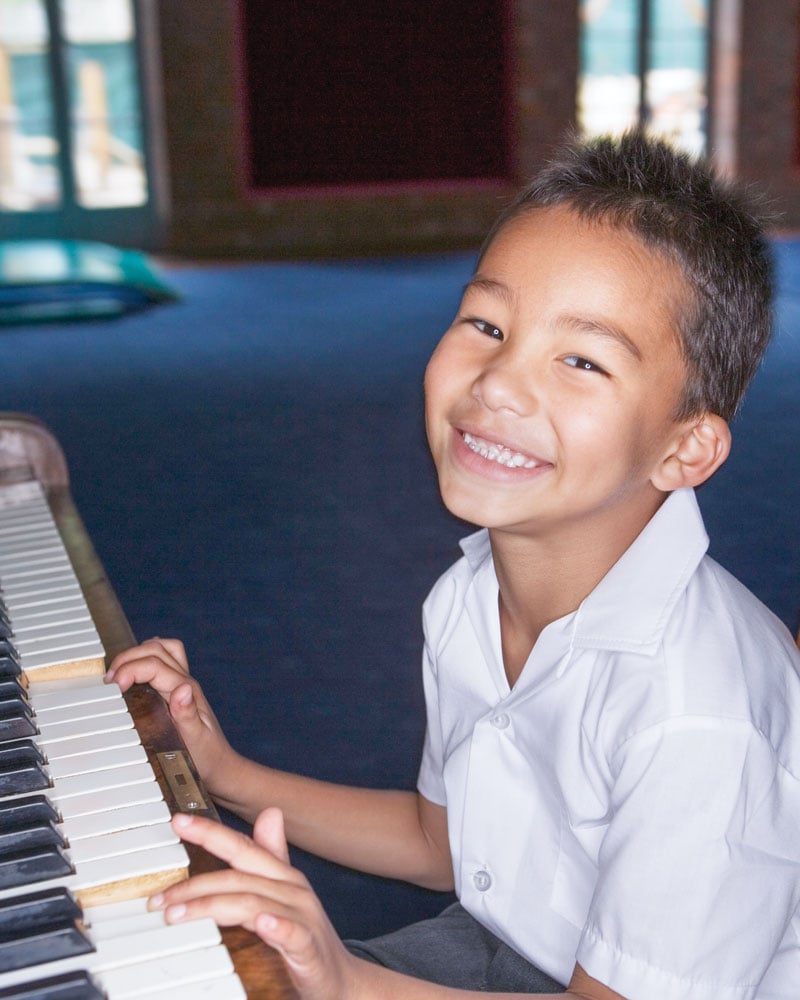 You may be surprised by how much 5 to 9-year-olds and seniors have in common. At Lunalilo Home, a nonprofit that helps Hawai'i's kūpuna, volunteer families have sung songs, danced hula, done crafts, and played board games like hanafuda, bingo, or concentration with their elder friends. Director of community relations Colleen Weir says that one grandmother used to bring her grandson to practice piano at the home, to the delight of everyone. "It's a nonthreatening environment for young people to come and try out their talents," says Weir, "and [the kids] are so appreciative when the residents say, 'You made our day!'" Families can also schedule time to water the community garden or accompany residents on their daily holoholo walk around the beautiful old building and 5 acres of landscaped grounds.
["Some volunteers] say, 'Our children don't have grandparents present, so we want them to interact with the elder population," says Weir. "We want them to talk story and learn from the residents who are here, who have a long history of living in Hawai'i. They talk about where they grew up on the different islands and what was happening when they were growing up. It's a cultural experience."
Mālama Maunalua
Age: 5 and up. Kids should be water safe.
Commitment: One morning, 9 a.m. to noon. Families are welcome and can leave when they need to.
Website: malamamaunalua.org
Did you know? 3 Million: The number of pounds of invasive alien algae that Mālama Mauanalua says has been removed from Paiko Beach.
Photo: Courtesy Mālama Maunalua
On Mālama Maunalua's introductory video, Hawaiian navigator and cultural leader Nainoa Thompson relates his "great fear" that one day his daughters might put on a face mask, enter Maunalua Bay and find nothing worth seeing. Thompson helped found Mālama Maunalua in 2005 as a way to battle an explosion of alien algae that was decimating the bay's coral and fish life. Today, thanks to the efforts of an ever-growing base of volunteers, the bay is being restored to health. Every month, Mālama Maunalua hosts a volunteer cleanup, called a huki, that's perfect for families with busy schedules.
Huki means "to pull" in Hawaiian. It's fitting, as parents and children pull out invasive algae, bag it and cart it off to be used as fertilizer at local inland farms. Elizabeth Kwock, who volunteers regularly with her two sons, says that kids and teens have taken an additional job upon themselves. "It's so much fun for kids, as we find crabs, mantis shrimp, eels, flounders and all sizes of fish," Kwock says. "The kids have a blast taking them to a safe area so the animals can continue to grow."
The water is never deeper than knee high for an adult, and tabis and work gloves are provided.
Russell Subiono, who volunteers with his wife and children, says, "With all the time we spend in our individual worlds—work for my wife and I, school for the kids—volunteering for Mālama Maunalua gives us an opportunity to stay balanced by making time to work together, to give to others and to care for our land."
8 Years+
By now, your kids know what they like and their self-sufficiency is growing in leaps and bounds. Look for experiences that combine ways to follow their passions with opportunities to model and teach responsibility.
4-H Read to Me Youth Volunteer Corps
Age: 11 to 17
Commitment: Each volunteer agrees to reach at least 25 children.
Website: www.ctahr.hawaii.edu/4h/readtome/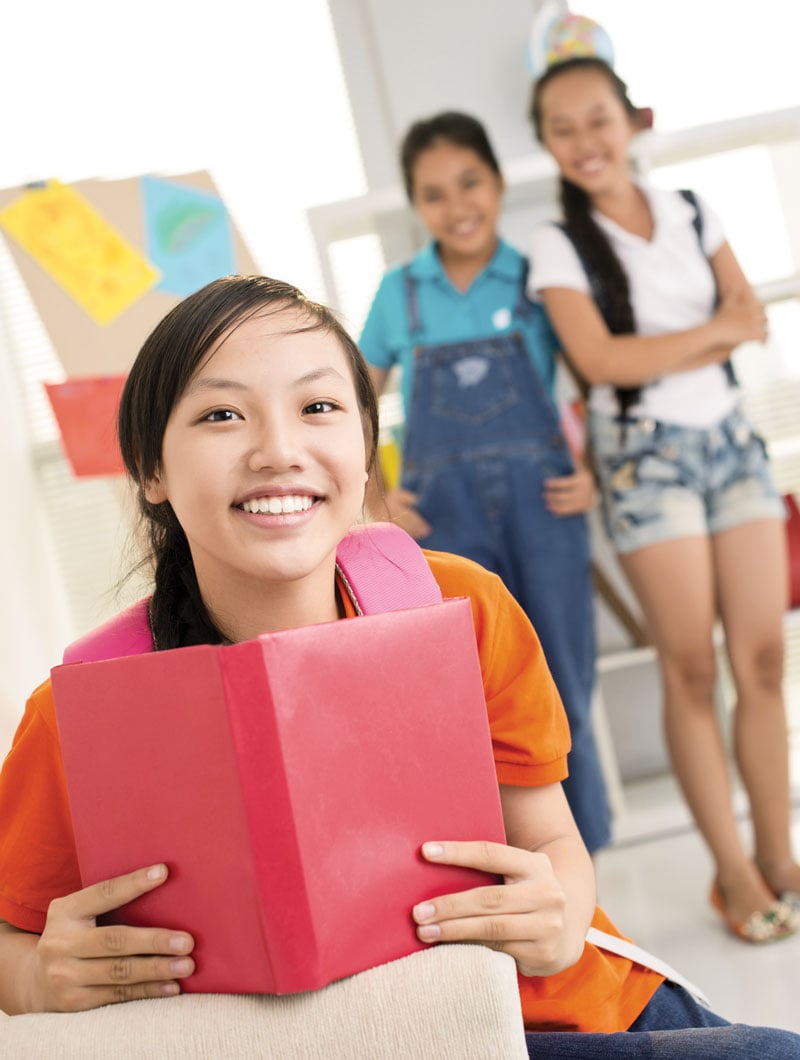 If your child likes crafts, reading and little kids, this program may be for them. In 1997, two 4-H students looking for a service project saw "storybook aprons"—an apron with deep pockets for props that can turn storytelling into an interactive activity. They started using it to read to children and it was so successful, the 4-H Read to Me Youth Volunteer Corps is still going almost two decades later.
You don't have to belong to 4-H to participate, but Claire Nakatsuka, who has been involved with the Corps since the beginning, says it is "more fun with a group." So tweens and teens who tend to run in packs can get a few of their friends together, recruit a sponsoring parent, and make it a group endeavor. Just remember, for each apron given out, 25 different children should be served.
Each group receives a kit with an apron for each volunteer, as well as art supplies for decorations and props. Parents receive materials that guide them through reading to children and using the aprons effectively. The rest of it is up to each student's imagination.
"The props can be anything," Nakatsuka says. "It's up to the story apron-maker's creativity. Sometimes it's props, sometimes storyboards. Some make stick puppets. They just have to think of what they want to do, and then they create it."
The project can have far-reaching effects, not only for the children hearing the stories but for the volunteers themselves.
"It creates a lifelong habit," says Nakatsuka. "So when they become parents, they know about the importance of reading aloud and how it helps children develop, and they will continue reading to their own children."
Hawaiian Humane Society
Age: 8 to 13, accompanied by an adult. Pet fostering is for all ages.
Commitment: Adult-child teams have a two-hour training session then volunteer for three hours a week for three months. Fostering a pet can last a few days or a few weeks.
Website: hawaiianhumane.org
Did you know? The Hawaiian Humane Society cares for more than 25,000 animals a year.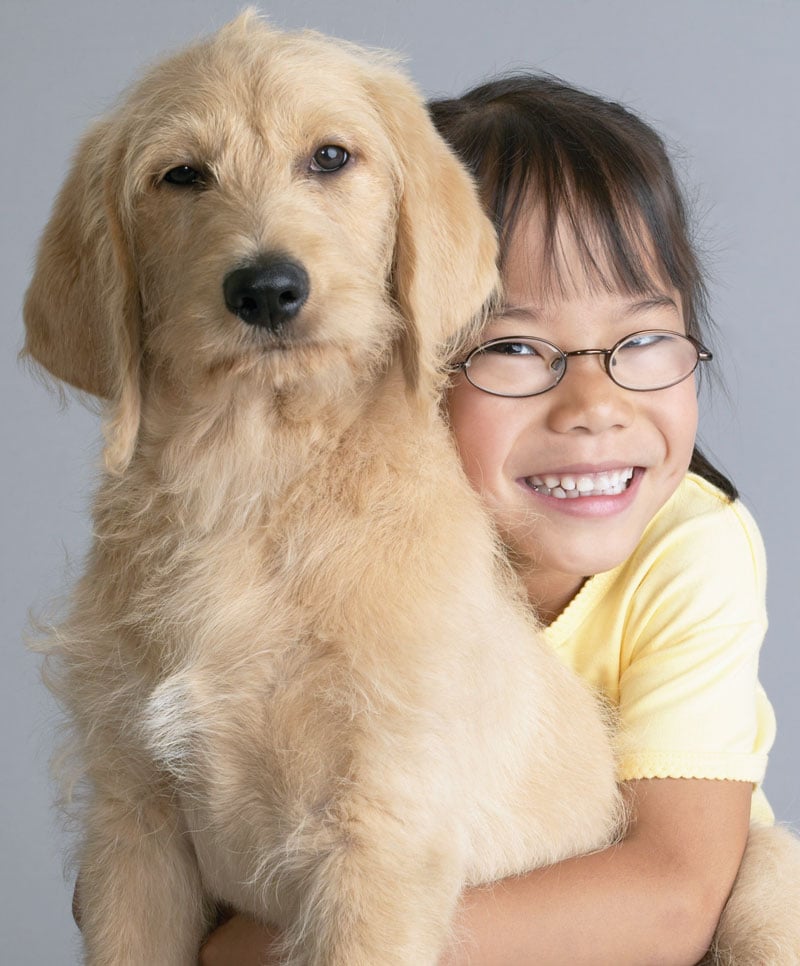 For young people who like animals, the Hawaiian Humane Society offers a host of ways to help. Adult-child teams learn about basic animal handling, care and keeping, and tour the Humane Society's campus. After that, the teams (it doesn't have to be a parent and child, as long as it is the same adult and child every time) can choose where and when they volunteer.
Kids drawn to dogs go to the small-dog section (the big dogs are reserved for adult volunteers), to train and play with the dogs. If cats are more their style, just spending time with the animals is important. Keeping cats accustomed to human company is a big factor in adoption success. If you have a lot of patience, says volunteer coordinator Marielle Terbio, "cats can be clicker-trained. It just takes longer." She adds that there are also "guinea pigs, rabbits, turtles, fish, birds—we get all kinds of animals."
There's no time limit on an animal's stay at the Humane Society, so pets who have been waiting a while will generally be fostered out for a few days or weeks to volunteers. Foster families not only keep the pets happy, says Terbio, but they learn more about the individual animal in a home setting. That added information is important for making the right permanent match. But, if the animals and families bond, foster families have first choice for adoption.
Working at the Humane Society has another added benefit. Children see what it takes to own a pet.
"You only think about the fun parts, right?" Terbio says. "But there's so much more that goes into it."
In the end, it matters less what you do when you're volunteering with your children than that you do it at all, and with a can-do attitude. "Children are always watching what their parents are doing, even when we think they're not looking," Kwock says. Of course, learning to connect and contribute to a community is a great life lesson for every child. But, if you get them young enough, Kwock says, "all the kids know is that they are having fun with their mom and dad!"
Looking for more ways to give back? Find more ideas for adults on honolulumagazine.com.