5 Things You Should Know About Disney's Moana Starring Auli'i Cravalho and Dwayne "The Rock" Johnson
They might just get it right this time.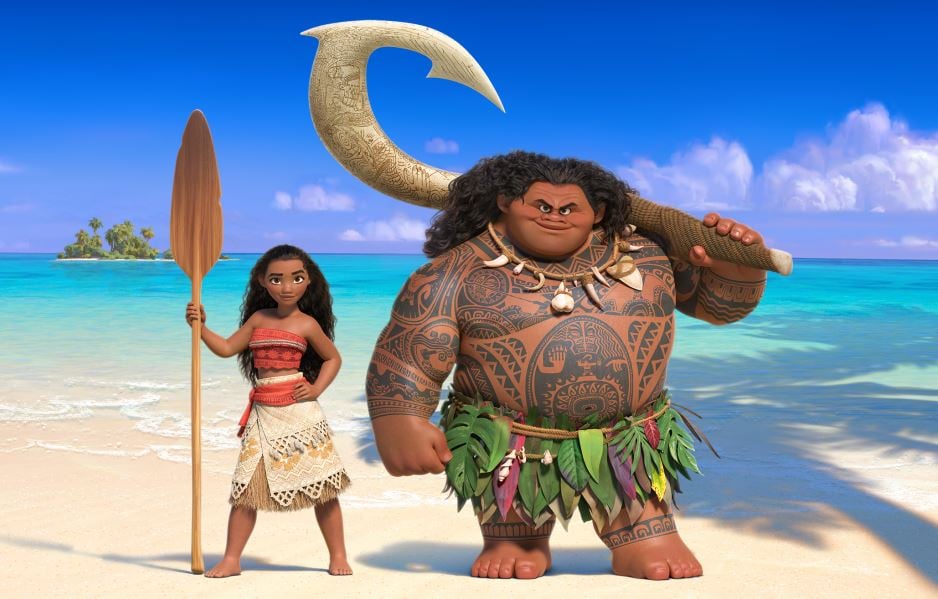 Image: Courtesy of Disney
Moana is the seventh animated film directed by Disney's directing duo John Musker and Ron Clements, the same minds who conjured up Aladdin, The Little Mermaid and The Great Mouse Detective. A young princess belonging to a lineage of voyagers sets sail to seek a legendary island with demigod Maui. It's got all the classic Disney elements of a coming-of-age tale: the death of a close parent (or parent figure), daddy issues, plucky sidekicks and catchy songs. Cue an animated family adventure.
Except this time, it's set in Polynesia, and Hollywood endeavors about Island culture have, in the past, often been cringeworthy (Aloha) or charmingly close (Lilo and Stitch, 50 First Dates). But a recent press conference at Aulani and an exclusive HONOLULU interview have got us feeling, perhaps, hopeful? See for yourself:
1. The Princess
PHOTO: Hugh Gentry
By now, you've probably heard about the refreshingly spot-on casting for the character of Princess Moana: Auli'i Cravalho, a Mililani girl born and raised on O'ahu. She's Hawaiian, Portuguese, Puerto Rican, Chinese and Irish. "I think Moana as a Polynesian princess is so empowering; she's such a strong and brave character," says Cravalho. When asked during the press conference how's she's going to pull off being a Disney princess, she just sat and beamed, "I'm going to be myself." Yes, she's taking the global fame with more sophistication than your average 14-year-old.
"We were looking for somebody who could embody the character, with all the strength and commitment, the humor and heart and compassion," says producer Osnat Shurer. "When we met Auli'i, she was just Moana come to life."
And today's her first day back to Kamehameha School as a sophomore since the media blitz broke about her being cast as the first Polynesian Disney princess. (It's so Princess Diaries.) Cravalho, we wish you all the best.
2. The Culture
Local storytellers, fishermen and tattoo artists–Musker and Clements created a pool of consultants to "do this movie right by the South Pacific." They took multiple sailing trips across the Pacific, visiting the islands of Fiji, Tahiti, Samoa and more to immerse themselves in the music, folklore, food and traditions.
"I kept a journal for all my first-time impressions, to help keep us on track," recalls Clements. "Little quotes of the sea and the land, moments of serendipity … we took these trips not just as tourists, but to get to the deeper, cultural things about the Islands."
It's the most research they've ever done for a movie.
3. The Graphics
This film looks great, visually. We were shown a scene of Moana's first encounter with the ocean as a little girl, inspired by the words of a Fijian navigator ("The Ocean is alive. You must speak gently to it."). The water teases and plays with her; each ripple and wave emoting like a living creature that's at once powerful and shy. It's really a breathtaking and beautiful scene.
Musker and Clements are primarily hand-illustrators; this is their first movie doing nearly everything via computer graphics (CG). "The story's visual elements like the ocean benefited more from CG instead of a two-dimensional technique," says Musker. "We're really hoping the audience can see how rich the CG is in the film."
4. The Demigod
Moana is accompanied on her adventures by the demigod Maui, voiced by actor Dwayne Johnson, who's got his own roots growing up in Hawai'i. Plus, he's of Samoan descent (and went to McKinley High School!).
But why Maui? "The stories of Maui are shared throughout the Pacific; everyone seems to have a version of Maui for their islands," says Clements. Plus, he says, Maui's a bigger-than-life character, and things like his giant fish hook, shapeshifting abilities and moving tattoos look great on screen.
5. The Music
With Disney films, music is just as important as story. First, Musker and Clements traveled to music festivals, recording live songs from different islands. Second, they put together a powerful musical trifecta: Opetaia Foai'a of the band Te Vaka brings Samoa into the mix, Mark Mancina lends his veteran Disney songwriting chops and Lin-Manuel Miranda gives the Broadway effect.
The result? Foot-tapping rhythms, distinctive harmonies and rich voices and emotions of the South Pacific. We like it.
Moana is slated for release in theaters Nov. 23, 2016.