4 Tips to Grow Veggies at Home with Your Kids
Springtime is the best time to start a vegetable garden in containers, on your lānai or in your backyard.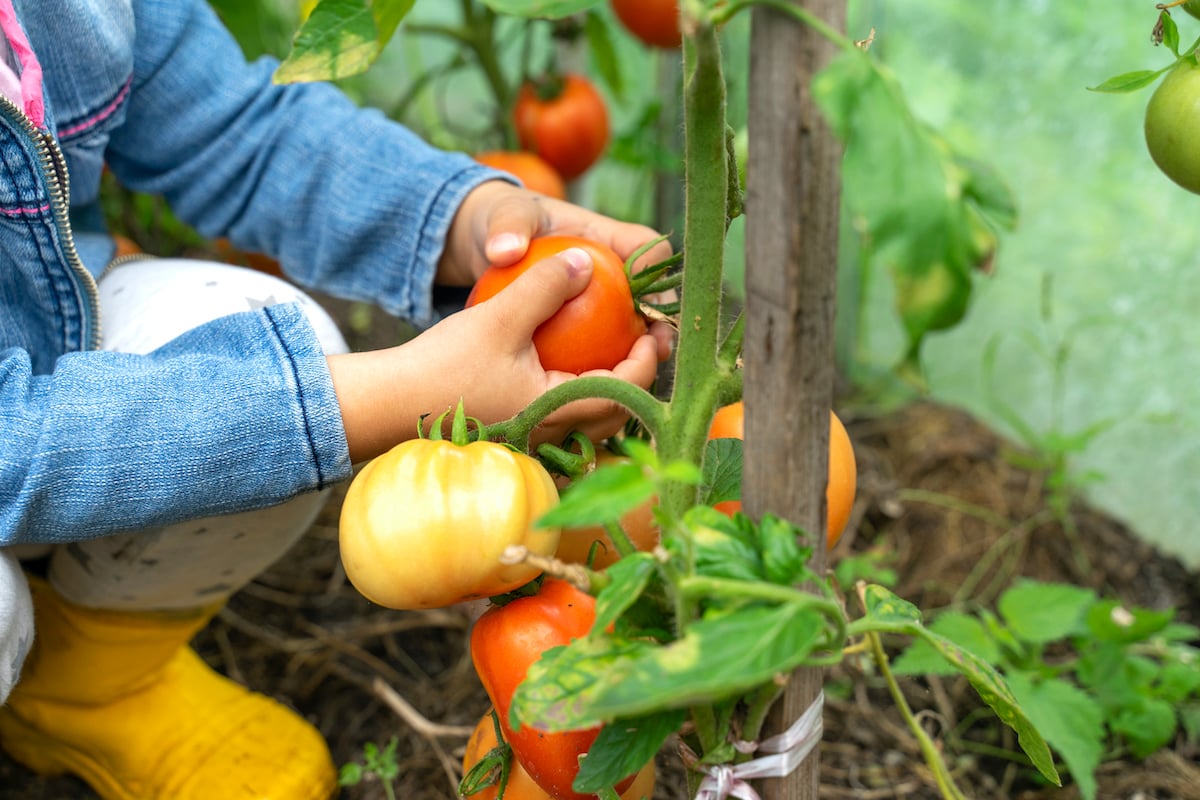 I grew up gardening. As far back as I can remember, we've always had trees, flowers, plants, herbs and veggies growing around our house. Our lānai was a jungle of orchids, our yard was dominated by a huge mango tree, and there were pots of plants everywhere.
When I got a little older, I helped my parents transform our side yard into a small vegetable and herb garden. I vividly remember two beefsteak tomato plants I grew, which produced the biggest, reddest, juiciest fruits. (My parents still talk about it!)
I was instantly hooked.
---
SEE ALSO: 🍅 Get Growing: 11 Tips to Start a Backyard or Lānai Garden in Hawai'i
---
Since then, wherever I've lived—in an apartment, in a rental cottage, now at my home—I've had a garden. Sometimes it was confined to small pots on my kitchen counter, sometimes (like now) it takes over an entire backyard. Right now I'm growing dozens of different vegetables and herbs—in grow beds, in pots, in hydroponics and aquaponics systems—and a handful of fruit trees. There's just something about planting seeds, caring for them, wandering the rows of tomatoes and eggplants, searching for long beans and snap peas you missed earlier, pulling carrots and Korean daikon out of the ground that's so rewarding.
I know, personally, what gardening's impact has been on me. Not only do I have access to healthy ingredients, but it gives me a sense of purpose, a feel-good thing to do outdoors. And it's something I can share with my 5-year-old son.
Turns out, gardening can have great benefits for kids. Not only are they exposed to healthy, wholesome foods, but research shows that exposure to green spaces and natural scenery aids in improved attention and memory in them, too. They also learn about science—Why do plants need the sun? How do worms make compost?—and sustainability. Time in the garden fosters communication and collaborative learning. ("Hey, hand me that shovel!") And gardening teaches responsibility; kids need to care for the seeds they plant in order for them to grow.
National Gardening Day (April 14) is a great day to kickstart whatever gardening ideas you have. Keep it simple—read: stress-free—with just one container or a small area in your yard. You're not starting a farm—unless you want to!—so no need to go overboard.
Here are some tips from the College of Tropical Agriculture and Human Resources to help you grow veggies at home:
Fix your soil: Providing a good soil structure is essential in growing veggies. Use good compost (not mulch), cured chicken manure and bonemeal—all of which can be purchased at your local garden store. A general rule for compost is to incorporate 4 inches to a depth of 6 to 8 inches into the soil. For chicken manure, incorporate one heaping garden shovel of manure per vegetable plant. You should do this at least once a week prior to planting. This is something kids will love to help with! Just make sure they wear gloves.
Test your soil pH before you plant: The pH of your garden soil will determine the plants' ability to take up nutrients. Soil pH for veggies should be around 6.0 to 7.0. If the pH is too low or too high, nutrients will not be available to the plants, no matter how much fertilizer you add.
Choose the right plants: If you're new to gardening, stick to fairly low-maintenance plants that are likely to do well in Hawaiʻi's climate. Think herbs, cherry tomatoes and eggplant. Pole beans, radishes and kale are easy to grow, too, and fun to harvest. UH recommends choosing vegetable starters and seeds that are disease resistant. You can buy these at Koʻolau Farmers, Home Depot, City Mill and Lowe's. Let your kids pick them!
Prevent insects and diseases: Healthy plants are able to sustain damage from pests and diseases better than a plant that's experiencing water or nutrient stress. Apply a layer of mulch to the newly planted vegetable garden to help retain moisture and regulate temperature extremes. A 3-inch layer of mulch is used for most conditions in Hawaiʻi. Water consistently—consider installing a drip line—and use organic fertilizers such as chicken or steer manure and bonemeal. Let your kids help water plants and spray leaves with a detergent solution to keep pests away.
BONUS TIP: Make it fun: The more you can get your kids involved, the better. Let them pick and plant seeds, choose seedlings, add mulch to the garden, harvest. Creative ones can paint clay pots or make plant tags for the garden. Older kids can help build simple wooden grow beds, plan drip irrigation systems and cook meals using the fresh ingredients from your garden. The more fun you make it, the more likely they will continue to garden throughout their lives. (Like me!)