3 Hawaii Made Sweets to Savor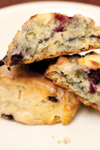 Hawaiian Nougat Co.
Don't be fooled by its name—nougat is so much more than the processed, pull-out-your-teeth stuff you find atop a candy bar. For evidence, turn to Hawaiian Nougat Co., producing locally inspired nougat. Its vanilla candy, spotted with whole macadamia nuts, delivers a delicate, airy sweetness akin to a handcrafted marshmallow, but with more chew.
Liz Anderson, the confectioner of Hawaiian Nougat Co., graduated from French cooking school Ecole de Cuisine La Varenne, and has also worked on the pastry teams at Alice Medrich's Chocolat and Wolfgang Pucks' Postrio in California. She concocts her smooth, French-inspired nougat with ingredients such as lehua honey, Maui sugar and vanilla, and mac nuts from Hilo. In the future, look for nougat incorporating dried fruit, Kona coffee and cacao nibs.
Currently, Hawaiian Nougat Co. is sold at Whole Foods ($15.99 for a four-ounce bag).
Hawaiian Nougat Co., 3613 Waialae Ave., 926-4885, hawaiiannougat.com

Lonohana Chocolate
Lonohana Chocolate is Hawaii's newest 100-percent local chocolate venture, started by Seneca Klassen, the co-founder of Bittersweet Café, a chocolate café in the Bay Area. Klassen started his Oahu North Shore cacao orchard in 2011 and now grows and makes his own chocolate. By taking charge of everything in the process from tree to bar, he hopes to develop transparency in an otherwise murky industry that frequently relies on child slave labor in its sourcing.
Lonohana's dark chocolate bars currently include the Ele ele (plain dark), Alae Ula (chocolate with Molokai alae sea salt and cocoa nibs) and Kona Vanilla (chocolate with Kona Gold vanilla). The chocolate carries a distinct berry flavor, but, since Klassen's cacao farm is still young, he hopes "ultimately we'll be able to explore a few quite different flavor directions once the orchard is more mature."
Lonohana Chocolate can be purchased online, at the Kalihi factory ($12/bar), or through a Community Supported Agriculture (CSA) model, where buyers pay up front (starting at $425) for a year's share of chocolate.
Regular factory tours will be held on Saturdays starting in September. Farm tours are difficult for Klassen to schedule consistently, but he's more than willing to accommodate group requests.
Lonohana Hawaiian Estate Chocolate, 296 Mokauea St., Ste. 101, lonohana.com, 223-9997

Mama'Nita Scones
Scones sometimes get a bad rap as dry lumps, but Mama'Nita Scones baker/owner Anita Rhee insists on baking them fresh daily, making hers soft with a slightly crunchy crust, thanks in part to a sugar glaze. They come in more than 20 fruity flavors: organic blueberry, strawberry and chocolate, banana mac nut and guava. A must-try: the trinity berry scone, packed with raspberries, blackberries and blueberries, perfected with soft cream cheese baked on top.
Rhee, a diplomat's daughter resurrecting childhood memories of afternoon tea and pastries, bakes out of HASR Bistro; pick up special orders at the bright yellow door in the courtyard. Mama'Nita scones are also found at Island Vintage Coffee, Beach Bum Cafe and Cafenity. Individual scones go for $2.50, but yellow door pick-ups must be pre-ordered in batches of eight ($20) or more.
Mama'Nita Scones, 31 N. Pauahi St., mamanitascones.com, 753-9108