3-D Photo Valentine's Day Card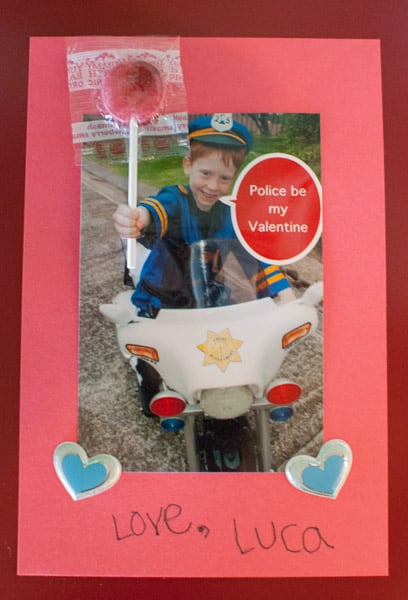 Materials:
A camera
Photo editing software (I used Lightroom to edit and the Photogene app to add the text)
Lollipops – flat ones will work better
Construction paper
X-Acto or utility knife
Glue
Directions:
Take a few shots, look at them on the computer, and then take more shots if needed. If you are going to add text you will need to add some space around your child. It is better to have too much space and crop the photo than not to have enough.
Use your editing software or an App to add text. You may choose to skip this step, print the picture and add words on the construction paper background.
Order or print copies.
Use an X-Acto knife to make a slit in the photo above and below your child's hand, then insert the lollipop.
Glue the card to a construction paper background. Add stickers and a greeting if you wish.
Easy-Peasy-Lemon-Sqeezy version: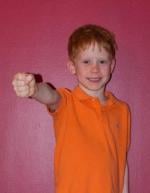 Take an indoor shot against a plain background of your child with his or her hand held out.
Print this out, make slits above and below his or her hand and thread the lollipop through. Glue to construction paper, have your child add a greeting and you are done.
Or, use an App such as Photogene to add "Happy Valentine's Day from So-and-So." Add the candy to the card – no construction paper needed.
Tips:
Decide on the kind of candy your child will hold. The lollipops looked easiest so I had my son Luca hold his hand as though he was holding it up vertically. We also considered a Tootsie Roll held above his head with two hands.
Cruise the internet (start with this site!) for cute sayings. Luca really liked "Police Be My Valentine" saying so we added the costume and motorcycle to the photo.
Make sure your child's hand is held out in front of him, towards the camera. The closer is it to the camera, the larger the hand will appear in the photo and the easier it will be to slide the lollipop through.
If you decide to glue the photo to construction paper, thread the lollipop through the slits before gluing, as the photo will not lay completely flat.
If you skip the construction paper, secure the lollipop stick on the back of the photo with a bit of tape.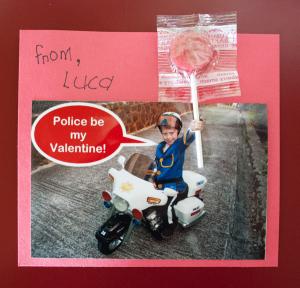 Michele Aucello and her husband Kevin live in Maunalani Heights with their children Isabella and Luca, nine chickens, and the occasional elf and leprechaun. You can reach Michele via email, Facebook, or via her personal blog, Leprechaun Tricks. You can also follow her on Pinterest, where she gets many of her ideas.