2022 Faces of Hawai'i
(Special Promotional Section) HONOLULU Magazine celebrates some of Hawai'i's prominent leaders and businesses who are making waves in their industry.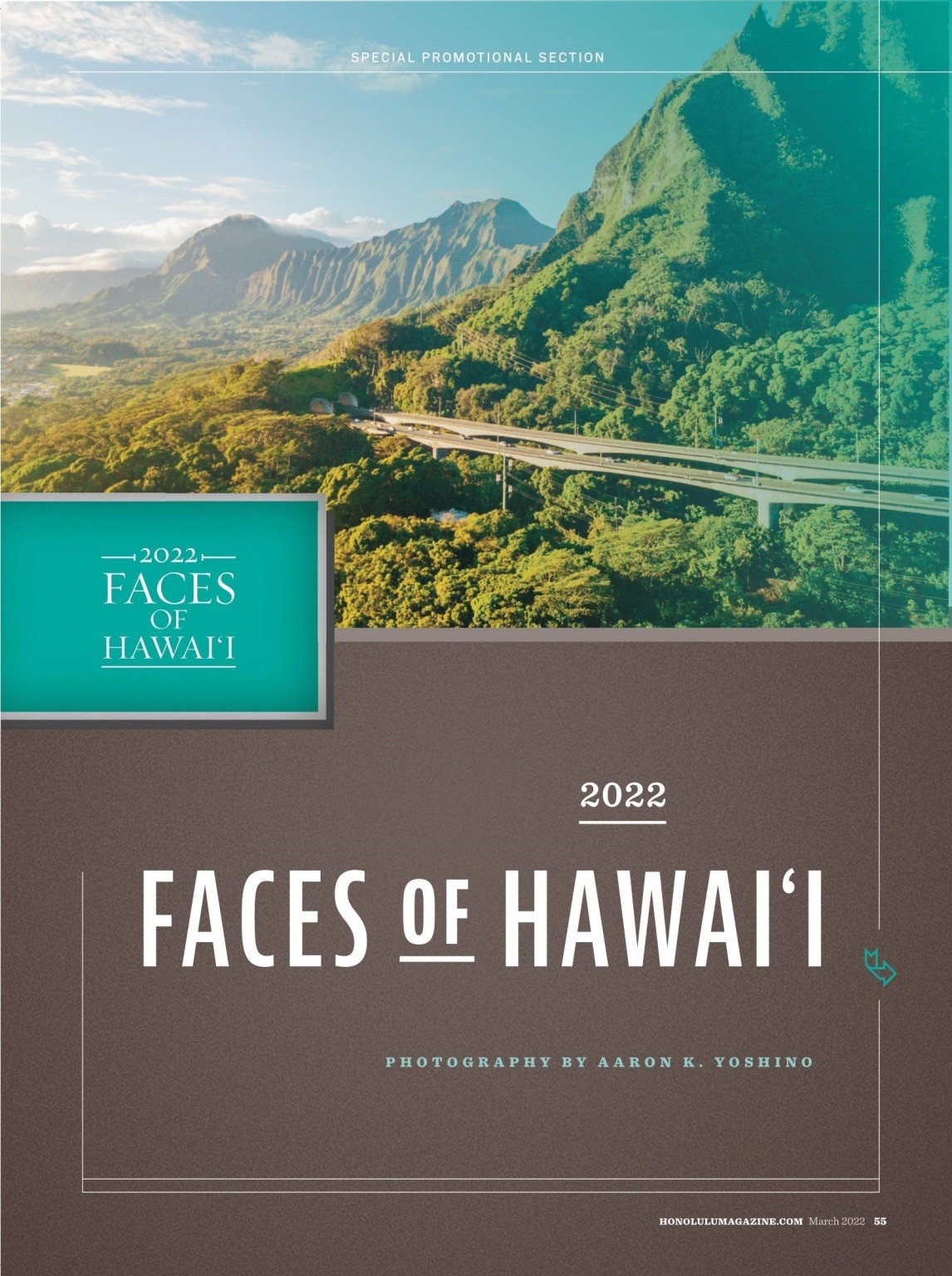 The Face of
Food Distribution in Hawai'i
As the leading wholesale foodservice distributor in the Pacific region, Sysco Hawai'i is the only broadline foodservice distributor in Hawai'i, offering next-day deliveries from food-grade distribution centers on all four of the major Hawaiian Islands, as well as on Guam. We bring the finest quality groceries and supplies to restaurants, schools, hotels and resorts, as well as other institutions who prepare meals away from home. As a member of the Sysco 'ohana of foodservice companies, our team continues to honor its local roots and is committed to providing the same exceptional level of service you've come to expect. Growing stronger together, we are confident that the strengths and capabilities of Sysco will further enhance our ability to be your most valued and trusted business partner.
Sysco Hawai'i
716 Umi Street, Honolulu
(808) 843-3200 | hawaii.sysco.com
---
The Face of
Catalyst for a Better Hawai'i
At HEI, our family of Hawai'i-based companies provides the energy and financial infrastructure that empowers much of the economic and community activity of our state. Hawaiian Electric has provided the energy that fuels our islands' growth and prosperity for 130 years, and is now spearheading Hawai'i's efforts toward a 100% clean energy, carbon neutral future. American Savings Bank has been serving and investing in Hawai'i's families, businesses and communities for nearly a century. Through their clean energy loans, ASB is making it more affordable for homeowners to invest in solar panels and other green technologies. Pacific Current builds local partnerships and invests in projects that advance Hawai'i's ambitious environmental and economic goals, accelerating a sustainable future for Hawai'i.
HEI
1001 Bishop Street, Suite 2900
Honolulu, HI 96813
(808) 543-7600 | www.hei.com
---
The Face of
Arcadia Family of Companies
The pandemic has resulted in the Arcadia Family of Companies becoming more agile, adaptive, and innovative. To help guide and lead the Arcadia Family of Companies over the next two years toward building and maintaining a sustainable organization that is a leader in quality senior care in Hawaii, four strategic areas of focus include: Workforce Development; Home and Community Based Services; Technology; and Social Accountability. The strategic areas lay the foundation for developing specific initiatives and targeted goals. In accomplishing these goals, we become one team dedicated towards continuing our mission of providing the best quality care and services to Hawaii's kupuna.
Arcadia Family of Companies
1434 Punahou Street, Honolulu
(808) 941-0941 | arcadia.org
---
The Face of
Endodontics
Founded in 1966 by Dr. Carl Haga, Hawai'i's first dentist trained in endodontics, Endodontic Associates LLC uses state-of-the-art facilities and cutting-edge technology in a stress-free environment. 2022 Best Dentists Dr. Craig Haga (son of Dr. Carl Haga), and nephews Dr. Adam Inaba and Dr. Andrew Inaba are committed to staying at the forefront of the industry to provide you with the personalized treatment and excellent customer service you deserve. Dr. Wade Nobuhara joined the practice in June 2020, adding more than 25 years of endodontic experience to the team. "As a local family practice, we take the extra steps to treat every patient like family, and to ensure they receive comfortable, patient-centered and the most up-to-date care," says Dr. Craig Haga. Endodontic Associates LLC serves patients at two convenient locations: the Ala Moana Building and the Mary Savio Medical Plaza in 'Aiea.
Endodontic Associates, LLC
Honolulu | Ala Moana Building | 1441 Kapi'olani Boulevard, Suite 208 | (808) 591-1515
'Aiea | Mary Savio Medical Plaza | 98-1247 Kaahumanu Street Suite 218 , 'Aiea | (808) 455-9051
---
The Face of
General, Cosmetic and Special Needs Dentistry
Dr. Patel was the first in Hawai'i to offer a Galileos Cone Beam CT scan, and amongst the nation's first to perform minimally invasive, guided dental implant surgery. As part of the select Cerec Mentors Group of Scottsdale Center for Dentistry, he is at the forefront of the newest released technology such as Cerec Primescan, Cerec single-visit digital dentistry and 3-D imaging. Dr. Patel has been voted a Best Dentist in America since 2009. A Preferred Provider for Invisalign®, he also provides pediatric and geriatric dental care, Zoom Teeth Whitening, TMJ therapy, emergency dentistry and routine dental cleanings. Board-certified anesthesiologist Dr. Ed Campbell joined the practice 10 years ago to assist in "True Sleep Dentistry"—customized dental treatments in a monitored surgical suite that exceeds government safety standards—offered for apprehensive patients.
Hawaii Pacific Dental Group, Inc.
6700 Kalaniana'ole Hwy, Suite 216, Honolulu
(808) 955-0008 | HawaiiPacificDental.com
---
The Face of
Eye Care
Jenkins Eye Care has provided innovative eye care in Hawai'i for over three decades. Led by ophthalmologists Tyrie Jenkins, M.D. and Jeffrey Peterson, M.D., Ph.D., this team of eye care professionals has a passion for keeping eyes healthy. They offer the latest technology in glaucoma treatment, laser assisted cataract surgery, premium lenses, and LASIK surgery. Personalizing treatments for each patient, they work to ensure safe procedures with minimal recovery times and optimal results, all in an 'ohana setting. Visit Jenkins Eye Care and experience life with clearer vision.
Jenkins Eye Care
615 Pi'ikoi St, Suite 205, Honolulu
(808) 591-9911 | JenkinsEyeCare.com
---
The Face of
In Vitro Fertilization
As Hawai'i's first in-vitro clinic, Pacific In Vitro Fertilization Institute has helped thousands of people realize their dream of starting a family. Led by a team of board-certified physicians with decades of experience in IVF, obstetrics and gynecology and reproductive endocrinology, as well as an on-site Ph.D. embryologist, Pacific In Vitro Fertilization Institute is committed to providing the highest level of care for patients. The clinic is open seven days a week to be accessible and responsive to patients' needs. Free monthly Zoom seminars are held for those with questions about the in-vitro fertilization process and other alternatives for couples with fertility concerns.
Pacific In Vitro Fertilization Institute
Kapi'olani Medical Center for Women and Children
1319 Punahou Street, Suite 980, Honolulu
(808) 946-2226 | PacificInVitro.com
---
The Face of
Wisdom Teeth Removal
For most people, the removal of third molars ("wisdom teeth") is necessary for the proper alignment and long-term health of their remaining teeth. This is ideally done in the teenage years to minimize the risks and discomfort associated with the procedure. While most patients request to be asleep for their procedure, several anesthetic options are available based on each patient's needs and desires. As oral and maxillofacial surgeons, Dr. Todd Haruki and Dr. Neil Oishi are uniquely qualified in treating wisdom teeth. The latest digital technology enables them to provide exceptional care in a safe and comfortable environment.
Pacific Maxillofacial Center LLC
Honolulu | 1060 Young Street, Suite 312, Honolulu | (808) 585-8455
Waipi'o | 94-1221 Ka Uka Boulevard, Suite B204, Waipahu | (808) 676-9560
---
The Face of
Pediatric Dentistry
Pediatric Dental Group brings unmatched experience and knowledge to Island keiki and their families. In 1966, Dr. Bert Sumikawa started a two-generation, family-run practice, which includes David and Mark Sumikawa and Dr. Lauren Jenni Imai. "We're trained to understand the developmental dental needs of a growing child, including his or her fears of seeing a dentist," says Dr. David Sumikawa. "Dental health is closely tied to the overall health of the child." The kid-friendly facility is a welcoming and efficient environment featuring the latest in dental technologies, including full digital X-rays. The practice treats newborns to college students, including children of former patients.
Pediatric Dental Group
1221 Kapi'olani Boulevard, Suite 1048, Honolulu | (808) 593-8828
4180 Rice Street, #105, Līhu'e | (808) 245-2131
---
The Face of
Solar and Smart Home Improvement
In an ever-changing solar industry, locally owned and operated RevoluSun has been Hawai'i's most trusted solar provider. While many other companies have come and gone, RevoluSun's unwavering commitment to quality continues to show in the people we hire, the services we offer, and the products we carry. Our relationship with our clients continues long after the installation is complete. We are proud to have over eight thousand families and businesses continuing to rely on RevoluSun for their home improvement needs including energy and air conditioning.
RevoluSun
660 Ala Moana Boulevard, Suite 220A, Honolulu
(808) 748-8888 | RevoluSun.com
---
The Face of
Trusts and Estates
When it comes to planning your future, expertise and reliability are of paramount importance. Unlike larger, general practice law firms, Yee & Kawashima, LLLP concentrates in estate, trust and probate law. Yee & Kawashima, LLLP takes pride in its many long-term client relationships with individual clients and family owned businesses. The firm's commitment to this practice area offers the assurance that the firm will continue to provide the highest level of service for future generations.
Yee & Kawashima, LLLP
1000 Bishop Street, Suite 908, Honolulu
(808) 524-4501 | yklawhawaii.com