2018 Volunteer Day Registration and Information presented by HMSA
All the details for our volunteer opportunities in 2018.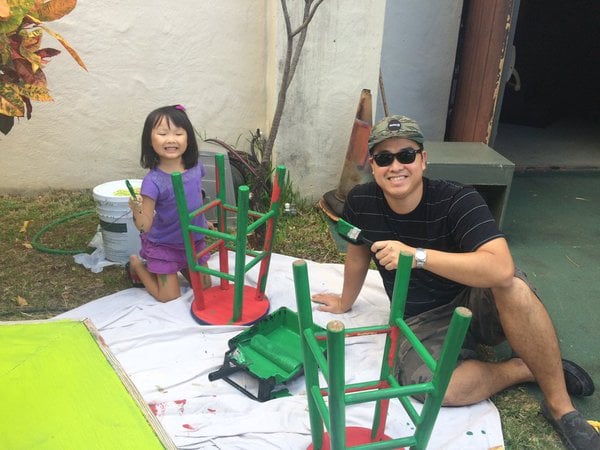 Photo: Alyson Helwagen
Volunteer work, such as painting Honolulu Theatre for Youth scenery at HONOLULU Familyʻs Volunteer Day, can teach kids (and parents) to think beyond their own needs.

We're so glad you would like to start the new year by giving back!
Here are a few details about signing up for our 2018 Volunteer Day, set for Saturday, Jan. 6, 2018, sponsored by HMSA.
We have opportunities for kids 4 years and older. Please note the age requirements for each location.
Please select three opportunities (each shift at HTY counts as one opportunity) in order of your preference.
Space is limited for each volunteer opportunity.
There must be one adult paired with every child 7 years and younger. Kids 9 years and older can work in a team of two kids (both 8 or older) to one adult.
Participants must sign a HONOLULU Family waiver form prior to the work day. We will also send families a photo release form which allows HONOLULU Family to use images of you and your children for articles and promotion of future Volunteer Days. The waiver form is required. The photo release form is optional.
You must check in by the time noted for each opportunity. HONOLULU Family will be providing T-shirts and snacks for the volunteers.
Volunteers will be notified of their assignment and sent waiver forms via email.
Here are our volunteer opportunities for 2018:
Children's Discovery Forest – Weʻre sorry, the Discovery Forest shifts have been filled – Parents and kids will plant, harvest, weed (and most likely play, let's be honest) in this garden of native Hawaiian plants in the Honolulu Zoo. The Hawai'i Forest Institute maintains the forest to demonstrate culturally significant species that once grew near the O'ahu shoreline. Tools will be provided but bring garden gloves if you want them and a water bottle. If you wish to visit the zoo after the volunteer session, there will be an admission fee.
Location: Honolulu Zoo. Families will meet at Gate 6 on the side of the zoo to enter.
Ages: All ages.
Time: 9 to 11 a.m.
Teams per shift: 25 parent-child teams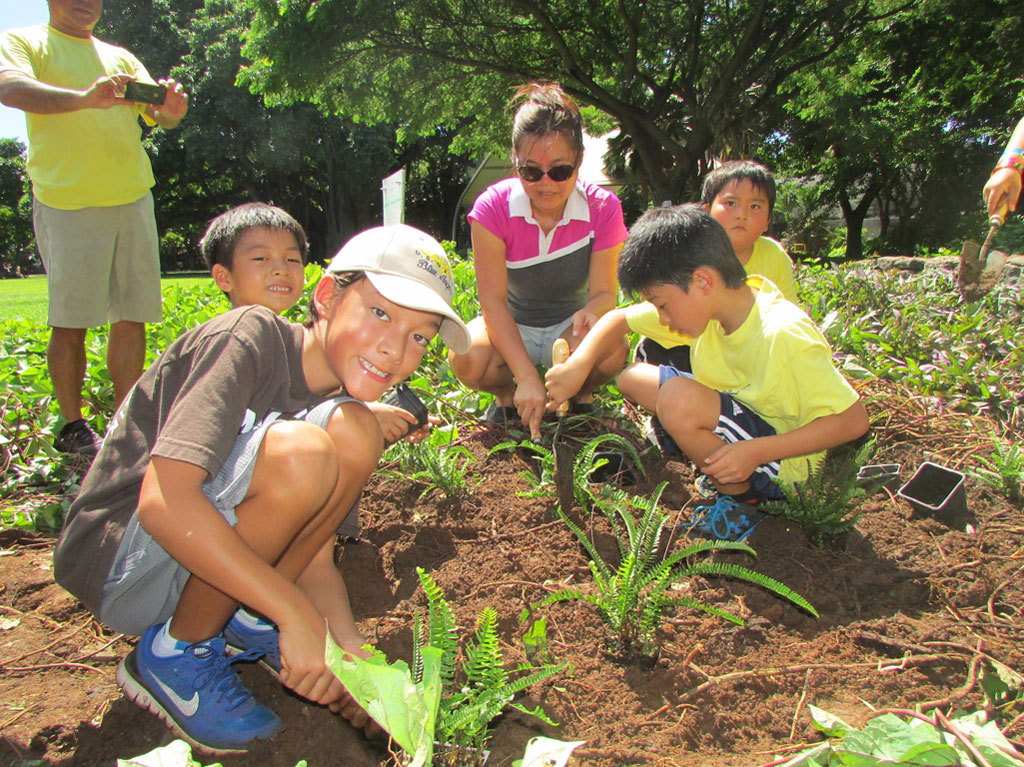 Workday at the Honolulu Zoo Children's Discovery Forest. Photo: Courtesy of Hawai'i Forest Institute
Honolulu Theatre for Youth – Kids will be beautifying the Tenney Theatre and outside the box office area in downtown Honolulu. This will include sweeping, vacuuming and dusting inside the theater. Outside, kids may be pulling weeds, spreading mulch and doing some light grounds work to get the theater set for the new year. HTY has been one of our sites since our first volunteer day in 2016 and we always have families requesting to return!
Location: Tenney Theatre, 229 Queen Emma Square
Ages: 6 years and older
Time: Choose from two shifts: 9 to 10:30 a.m. We're sorry, the afternoon shift has been filled.
Teams per shift: 10 parent-child teams
Keiki and Plow –Weʻre sorry, Keiki and Plowʻs shifts have been filled – Family teams will be helping to maintain an organic farm in Hawai'i Kai. All ages will do everything from weed pulling and planting to helping to take care of the animals. Read more about Keiki and Plow here.
Location: Keiki and Plow, 587 Pakala St. behind Kaiser High School
Ages: All ages are welcome, however younger kids will need close adult supervision.
Time: 9 a.m. to noon.
Teams: A maximum of 15 parent-child teams.
Ulupō Heiau and Lo'i – Keiki will work on reclaiming and restoring both the heiau and the lo'i with Hika'alani and the Windward YMCA. Kids and parents will do everything from shoveling mulch, moving rocks and moving dirt with wheelbarrows to weeding the actual lo'i. Bring a reusable water container, bug spray and sunscreen, clothes you don't mind getting muddy. Tools and gloves will be provided but you can bring your own gloves if you prefer.
Location: Ulupō Heiau and Lo'i located just behind the Windward YMCA, 1200 Kailua Road, Kailua
Ages: All ages are welcome, however younger kids will need close adult supervision. Kids younger than 4 will not work in lo'i, for safety reasons.
Time: 9 a.m. to 1 p.m.
Teams: A maximum of 60 parent-child teams.