2013 Hawaii State Geographic Bee Winner Represents Kauai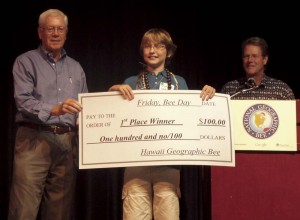 Forty-seven schools statewide were represented at yesterday's 2013 Hawaii Geographic Bee, held at the Blaisdell Center.
Winner Andrew Anderton, of Lihue, Kauai is an eighth grader at Island School. Anderton is no stranger to this competition; he also won the 2011 state Geographic Bee and went on to represent Hawaii at the National Geographic Bee in Washington, D.C.
Fifth grader, Frank Sun, of Kapunahala Elementary took second place and eighth grader, Braden Paa, of Kalama Intermediate scored third place in a tough-as-nails competition between many of Hawaii's brightest public and private elementary school students.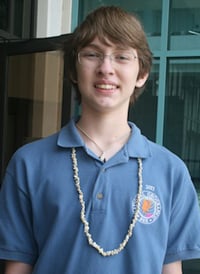 Competing in this Bee takes more than just knowledge of U.S. geography. Students are expected to know how to answer questions involving U.S. comparisons, world comparisons, countries in the news, cultural geography, historical geography, capital cities around the world and bodies of water.
If you're curious about the level of difficulty, try your hand at the final three questions. The answers are below.
Niagra-on-the-Lake, which played a central role in the War of 1812, is located in which Canadian province?
Which Russian city, home to the Hermitage Museum, lies on the Neva River at the head of the Gulf of Finland?
One of the largest coal importers in the world is an Asian constitutional monarchy that is made up of many islands. Name this country.
Best wishes to Anderton as he heads to Washington, D.C. for the finals of the 25th National Geographic Bee on May 22. First prize is a $25,000 college scholarship and lifetime membership in the National Geographic Society.
Question 1 - OntarioQuestion 2 - St. PetersburgQuestion 3 - Japan