2011 Preschool & Toddler Programs Guide
Early Learning Pays Off
A mere 7.3 percent of the state's public kindergarten classrooms had a majority of their students fully engaged and ready to learn on the first day of school, according to the 2010-2011 Hawaii State School Readiness Assessment.
"Before age 5, about 85 percent of brain growth occurs and the foundations of thinking, aptitude and language are built," says Liz Chun, executive director of Good Beginnings Alliance, a nonprofit advocacy group for early childhood learning.
If your child will be entering kindergarten in the next couple of years, consider the many quality programs available—all geared toward giving your child the opportunity to learn how to be a student, how to socialize well, how to listen and how to share attention. These programs will also provide a head start in fundamentals such as reading, writing and arithmetic.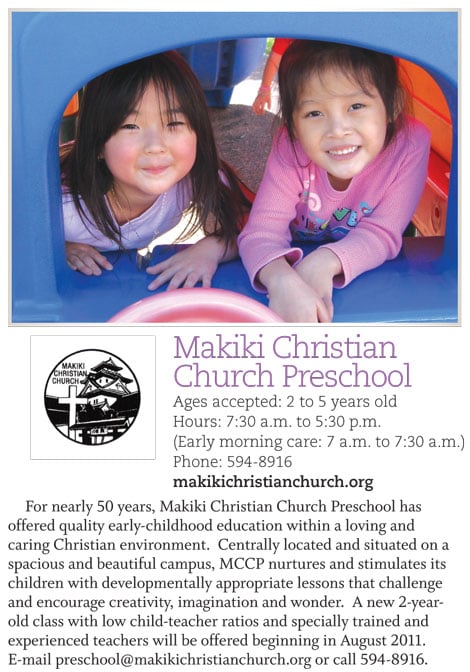 Makiki Christian Church Preschool
Blessings From Heaven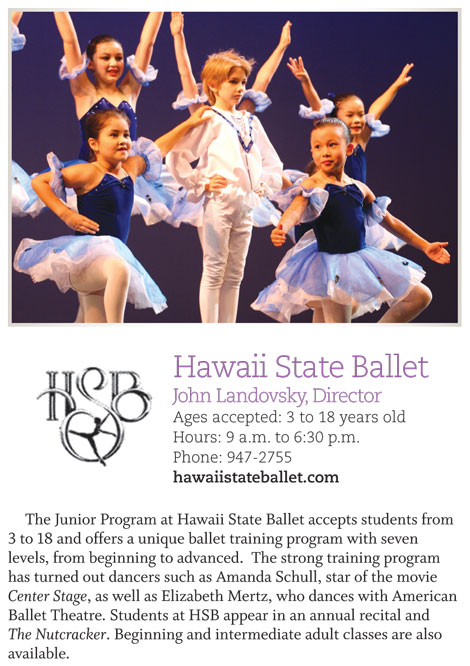 Hawaii State Ballet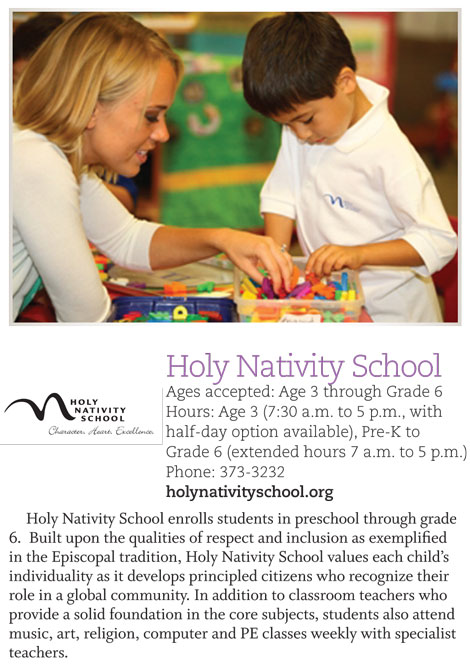 Holy Nativity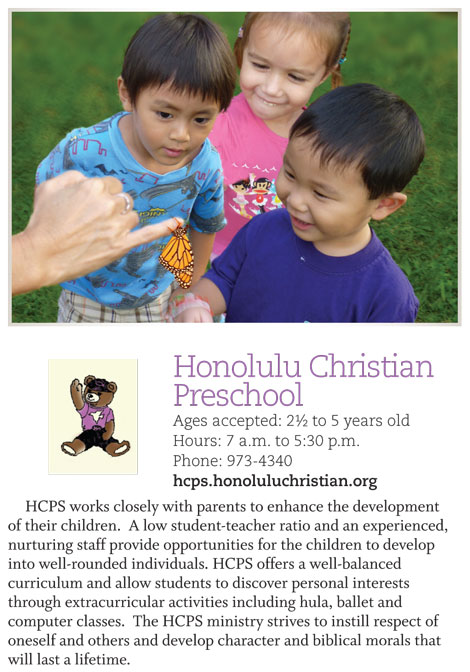 Honolulu Christian Preschool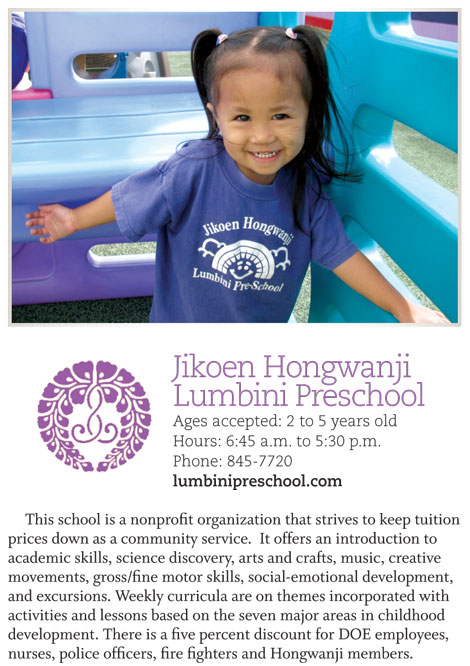 Jikoen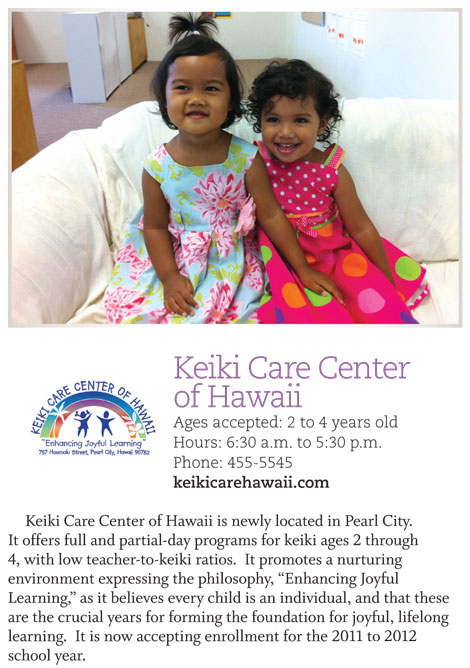 Keiki Care Center
L. Robert Allen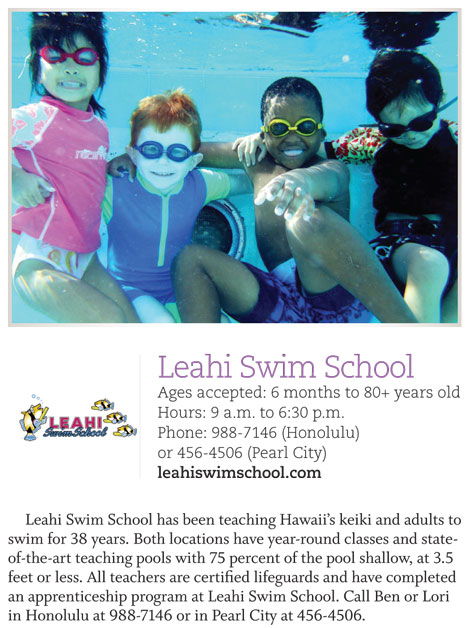 Leahi Swim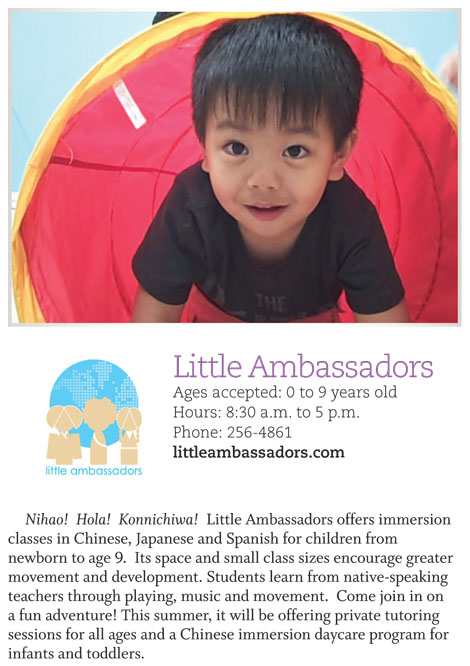 Little Ambassadors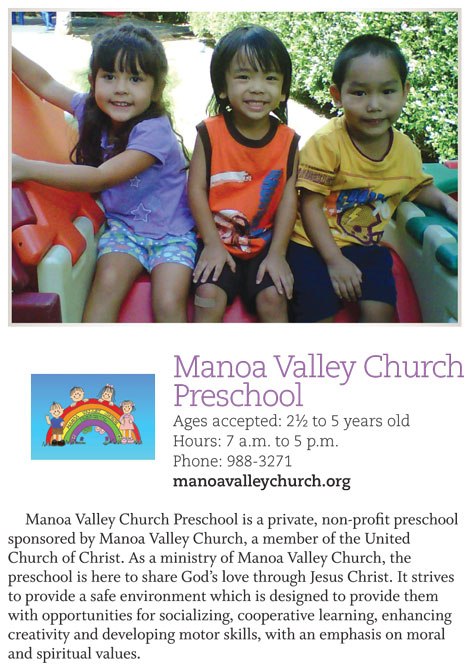 Manoa Valley Church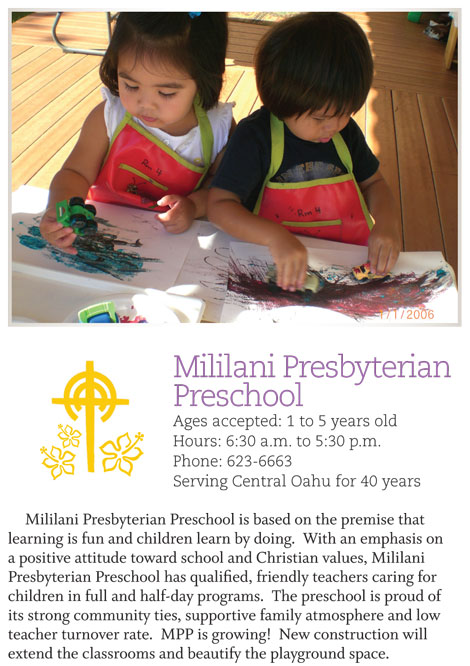 MililaniPresbyterian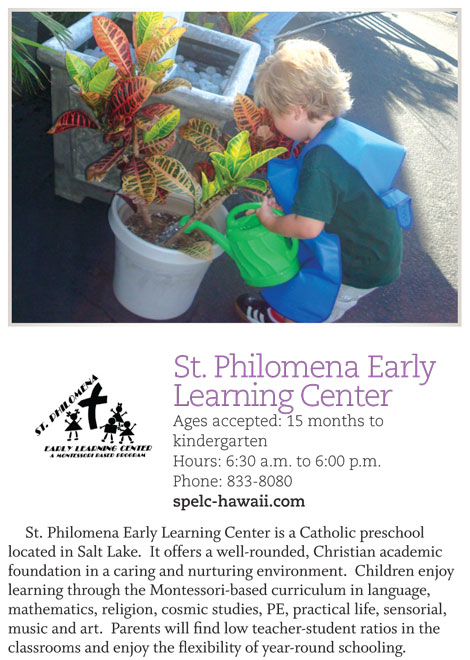 St Philomena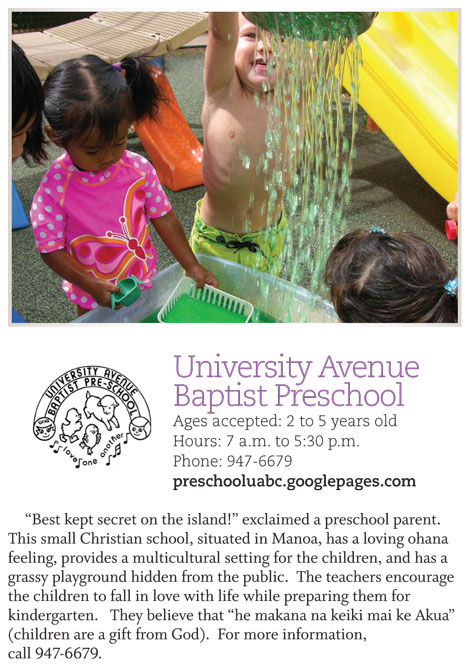 University Ave. Baptist Preschool
Additional Preschool & Toddler Programs
Adventures in ArtPhone: 223-7946Website: advinart.com

---------------------------

The Cole Academy

Phone: 531-4500

Website: thecoleacademy.com

---------------------------

Gymboree Play & Music

Phone: 486-7529 or 737-8111

Website: gymboreeclasses.com

---------------------------

Hanalani Schools

Phone: 625-0737, ext. 456

Website: hanalani.org

---------------------------

Hawaii Kids at Work

Phone: 531-7213

Website: hawaiikidsatwork.org

---------------------------

Honolulu Waldorf

Phone: 377-5471

Website: honoluluwaldorf.org

---------------------------

Mid-Pacific Institute

Phone: 441-3757

Website: midpac.edu

---------------------------

Montessori Community School

Phone: 522-0244

Website: montessorihawaii.org

---------------------------

Musikgarten

Phone: 388-4838

Website: musikgartenhawaii.com

---------------------------

Ohana Music Together

Phone: 372-8767

Website: OhanaMT.com

---------------------------

Pacific School of Music

Phone: 836-8887

---------------------------

Stepping Stones Academy

Phone: 593-2922 or 485-1010

Website: stepping-stones-academy.com

---------------------------

Wesley Children's Programs

Phone: 732-3273

---------------------------

YMCA

Phone: 531-YMCA (531-9622)

Website: ymcahonolulu.org