13 Honolulu Shops Where You Can Get Scary Good, Locally Made Halloween Sweets
These tricked-out treats are perfect for fun boo-gie nights and little monster appetites.
This month keiki will scream for Cookie Monster ice cream, ghost poo marshmallows, pumpkin crunch pancakes and many other decadent delights conjured up by popular bakeries, creameries and candy makers. And, since this Halloween is a little different, these goodies made with extra hocus pocus magic could help kids get through this nightmare year and enjoy the one night they're encouraged to be a little batty.
---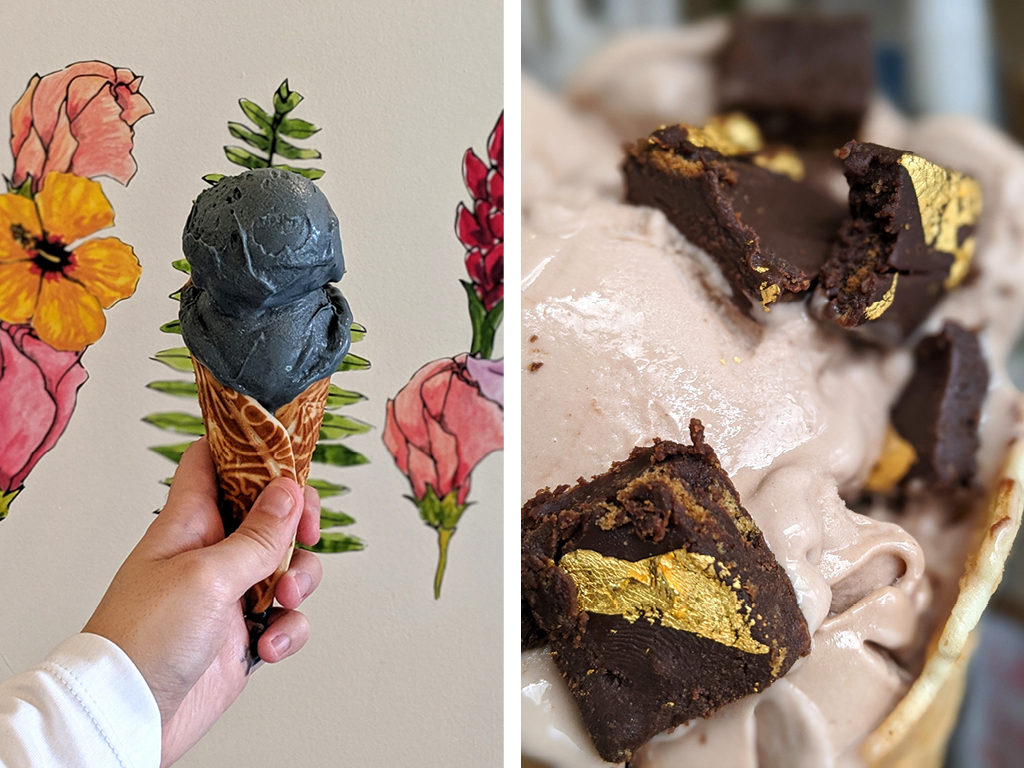 Courtesy of Via Gelato
Via Gelato
Grab your spoons and indulge in Via Gelato's seasonal flavors that all the cool kids are begging for. This week Pumpkin Caramel Pie pairs pumpkin spice gelato with rich chunks of buttery caramel pie. Next week, scoop up Black Vanilla, Ferrero Rocher and Cookie Monster ice cream, which, yes, is blue and includes edible cookie dough. Om, nom, nom, nom.
1142 12th Ave., (808) 732-2800, viagelato.com, @viagelato
---
See also: Halloween Events in Hawai'i for Families—2020
---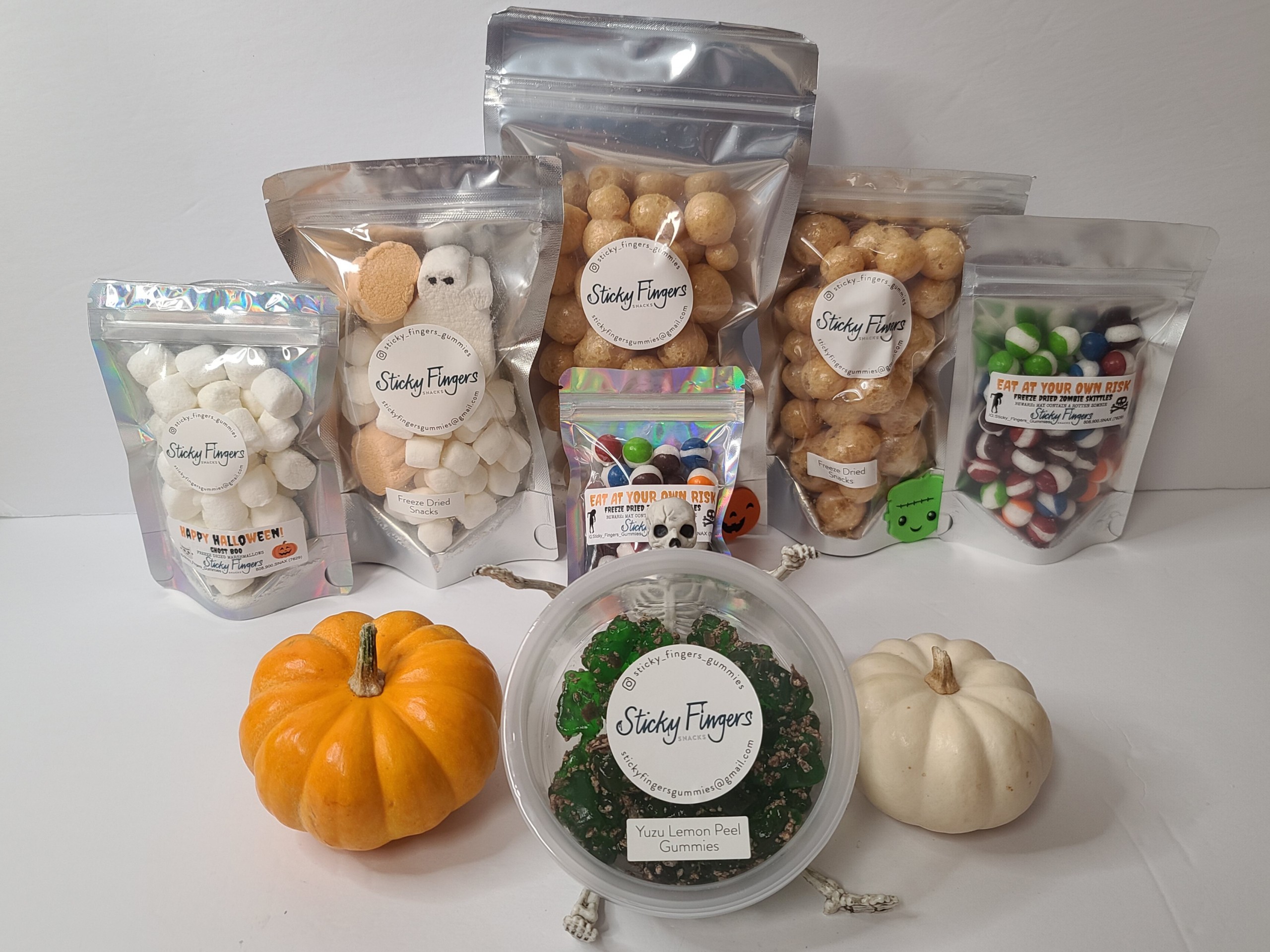 Sticky Fingers
This is not your mom's candy. Sticky Fingers takes sweets to the next level by freeze drying them. Zombie skittles, caramel apple Werther's and mini marshmallows turn into addictive one-bite hits that are explosive in flavor and texture.
Order through (808) 900-7629 or @sticky_fingers_gummies
---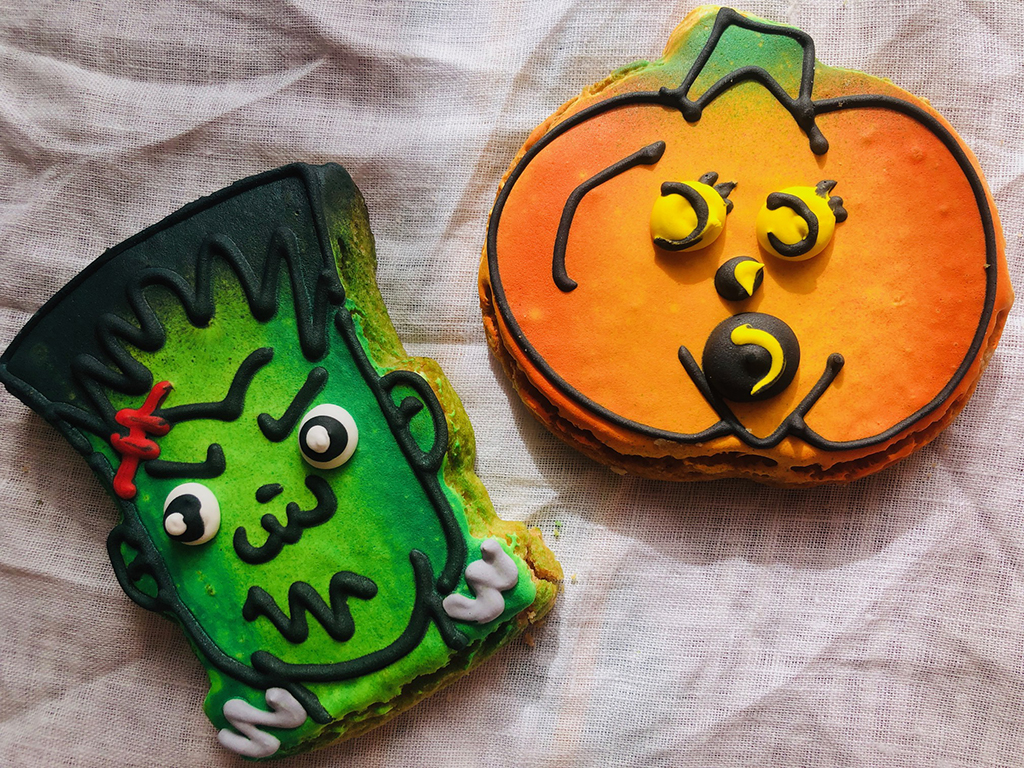 Liliha Bakery
Ol' school sugar cookies disguised as Jack and Frankie are perfect for girls and ghouls who love to get into the spirit of things.
$3.25 each, multiple locations, lilihabakery.com, @lilihabakery
---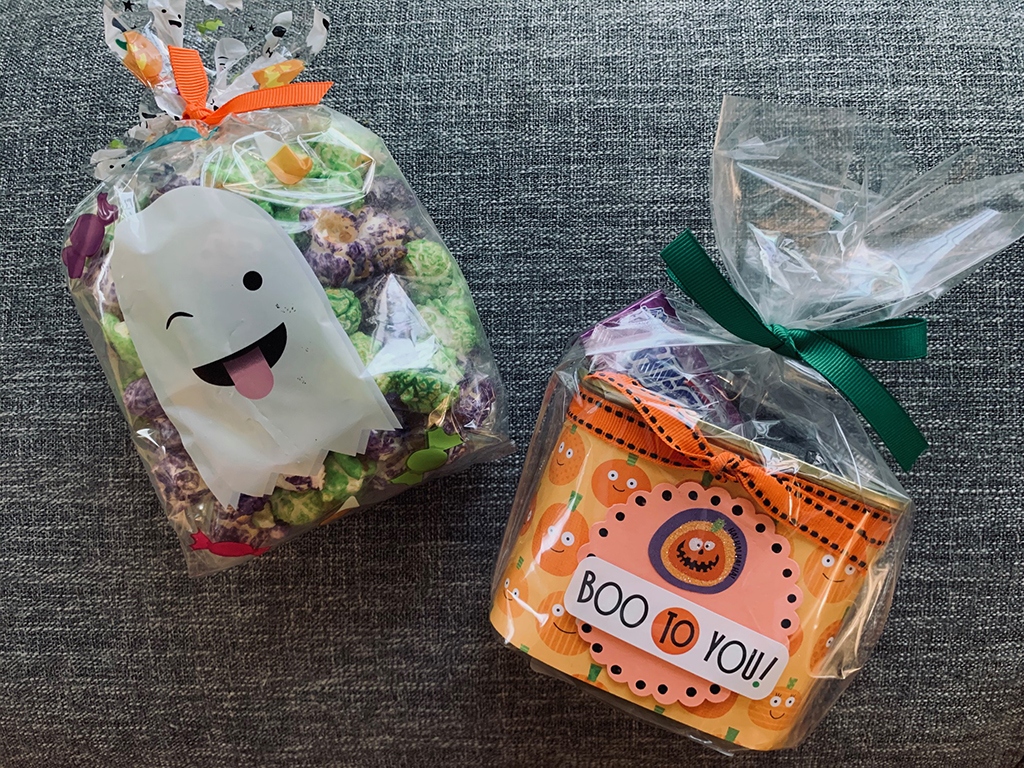 Samurai Snacks
Pre-packaged ghoulie bags filled with delicious sweet and savory snacks are sure to generate huge smiles on the scariest of faces. Plus, Samurai's lineup of Halloween-hued soft serves will chill out little ones during these hot Hawaiian nights.
Snack packs start at $1.95, 'Aiea Shopping Center, 99-115 'Aiea Heights Drive, 'Aiea, (808) 484-2200, @samuraisnacks_aiea
---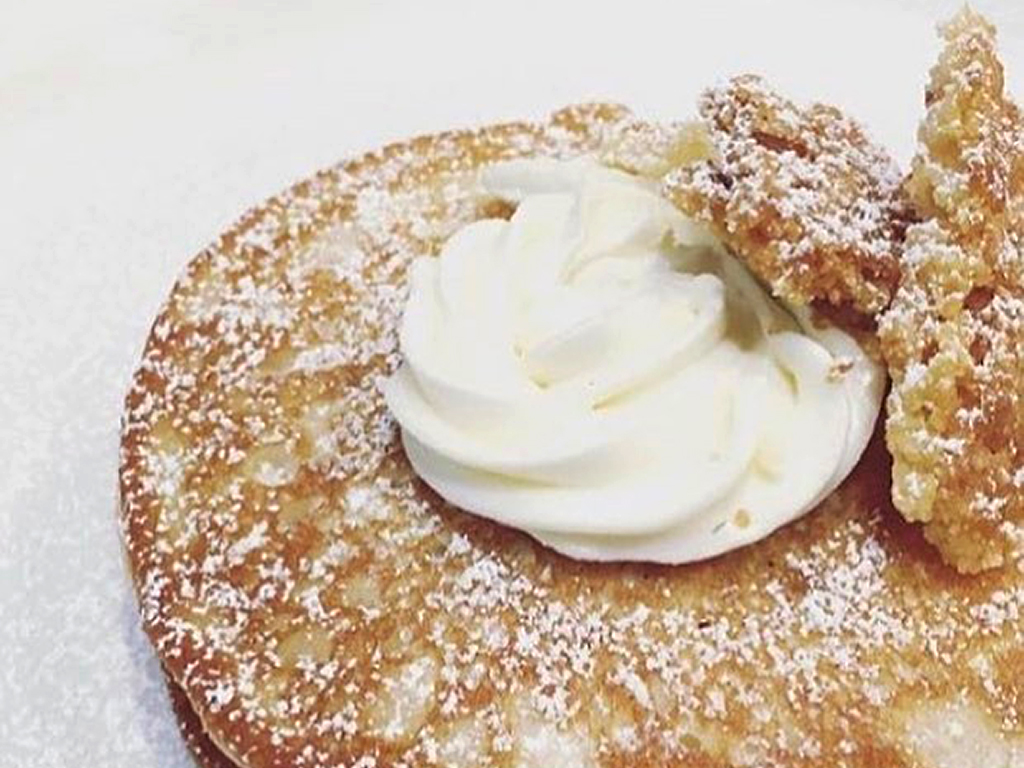 Over Easy
Families already crush on Over Easy's heavenly breakfast spread and starting in November they'll have one more sweet reason to visit the Kailua eatery: Pumpkin Crunch Pancakes. Pumpkin pie filling is sandwiched between fluffy, light hotcakes, topped with tangy cream cheese frosting and nutty, buttery, crunchy crumbles. Wooooow.
418 Ku'ulei Road, #103, Kailua, (808) 260-1732, easyquehi.com, @easyquehi
---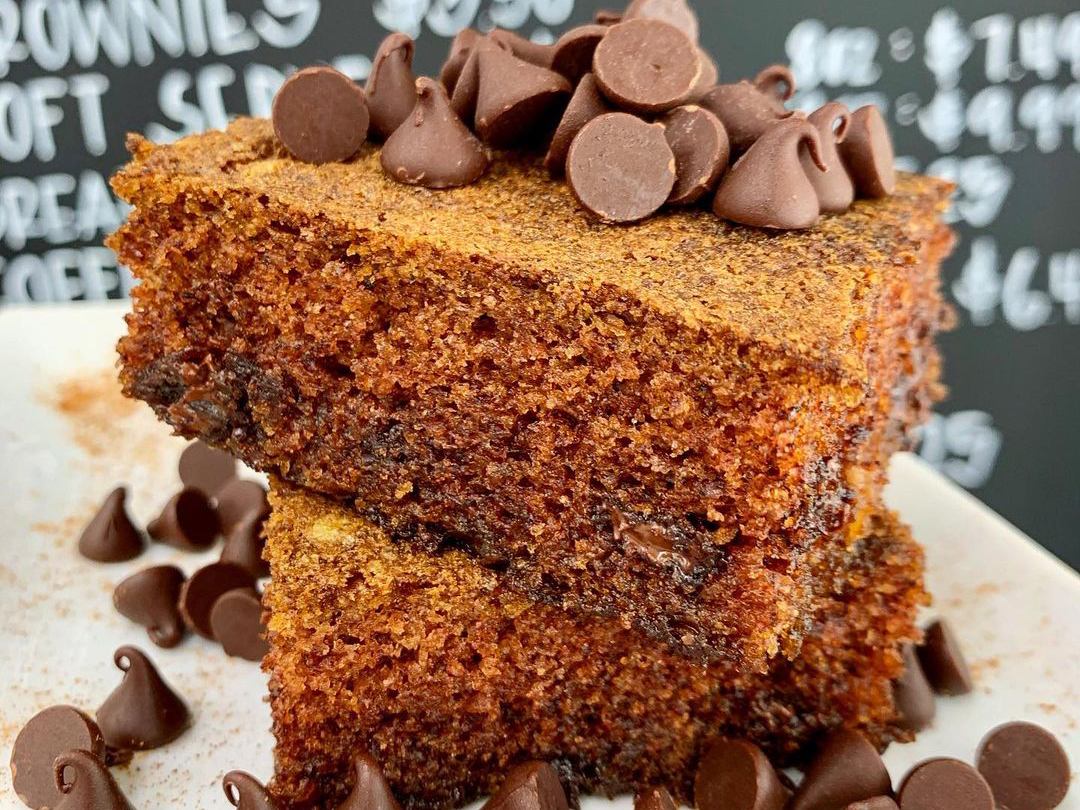 Chocolate + Vanilla Bakery
Add chocolate to anything and you've got a broke-da-mouth bestseller. For example, Chocolate + Vanilla's pumpkin spice bread with chocolate chips is a perfect balance of comforting autumn flavors and rich, creamy cocoa. Also, keep a watchful eye out for fang-tastic Halloween cupcakes that'll be available next week.
1115 12th Avenue, (808) 737-2462, @chocolateandvanilla808
---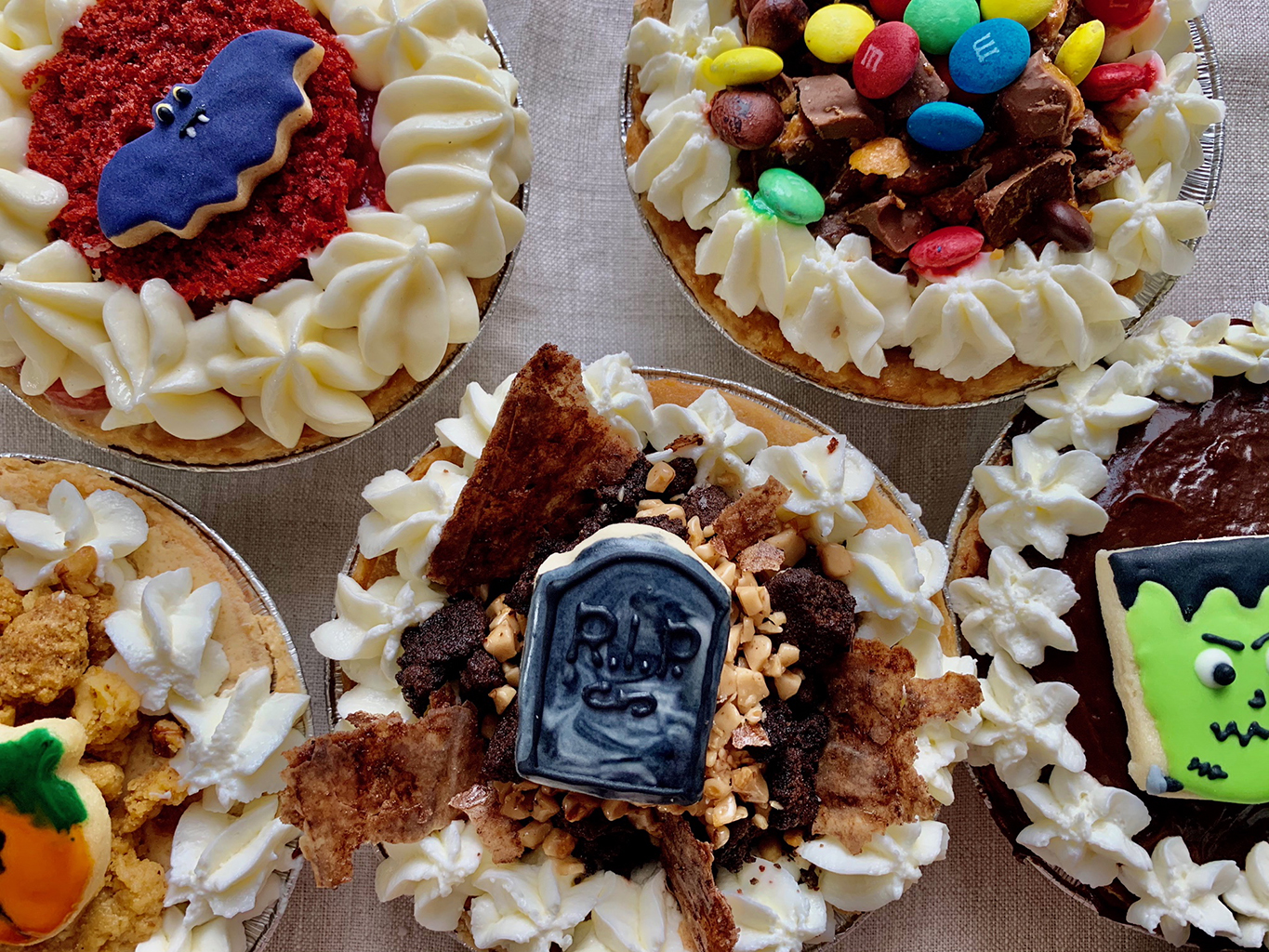 Sweet Revenge
Sweet Revenge's tiny tins hold big, bold flavors, especially when it comes to holiday specials. This month's sweet pies are loaded with popular candies, decadent cakes, silky ganache, fluffy mousse and luscious frosting. A savory raven and toadstool pie includes juicy pieces of chicken breast and tender mushrooms snuggling up together in a blanket of golden homemade gravy.
Pies start at $9, 979 Robello Lane, (808) 282-0234, sweetrevengehonolulu.com, @sweetrevengehnl
---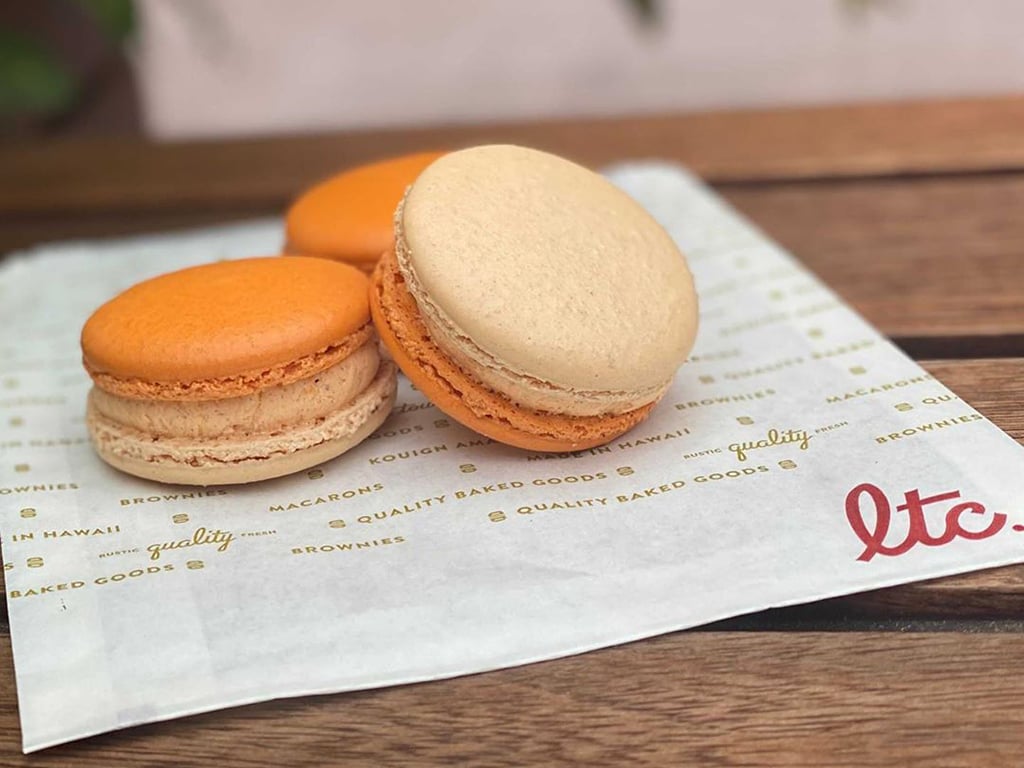 La Tour
What kid doesn't go mad for macarons? And locals know La Tour Café is the hot spot for the iconic Parisian treat. Besides its signature classics—red velvet, liliko'i and matcha—the bistro also offers seasonal flavors including this month's pumpkin cheesecake macaron.
Multiple locations, latourcafe.com, @latourcafe
---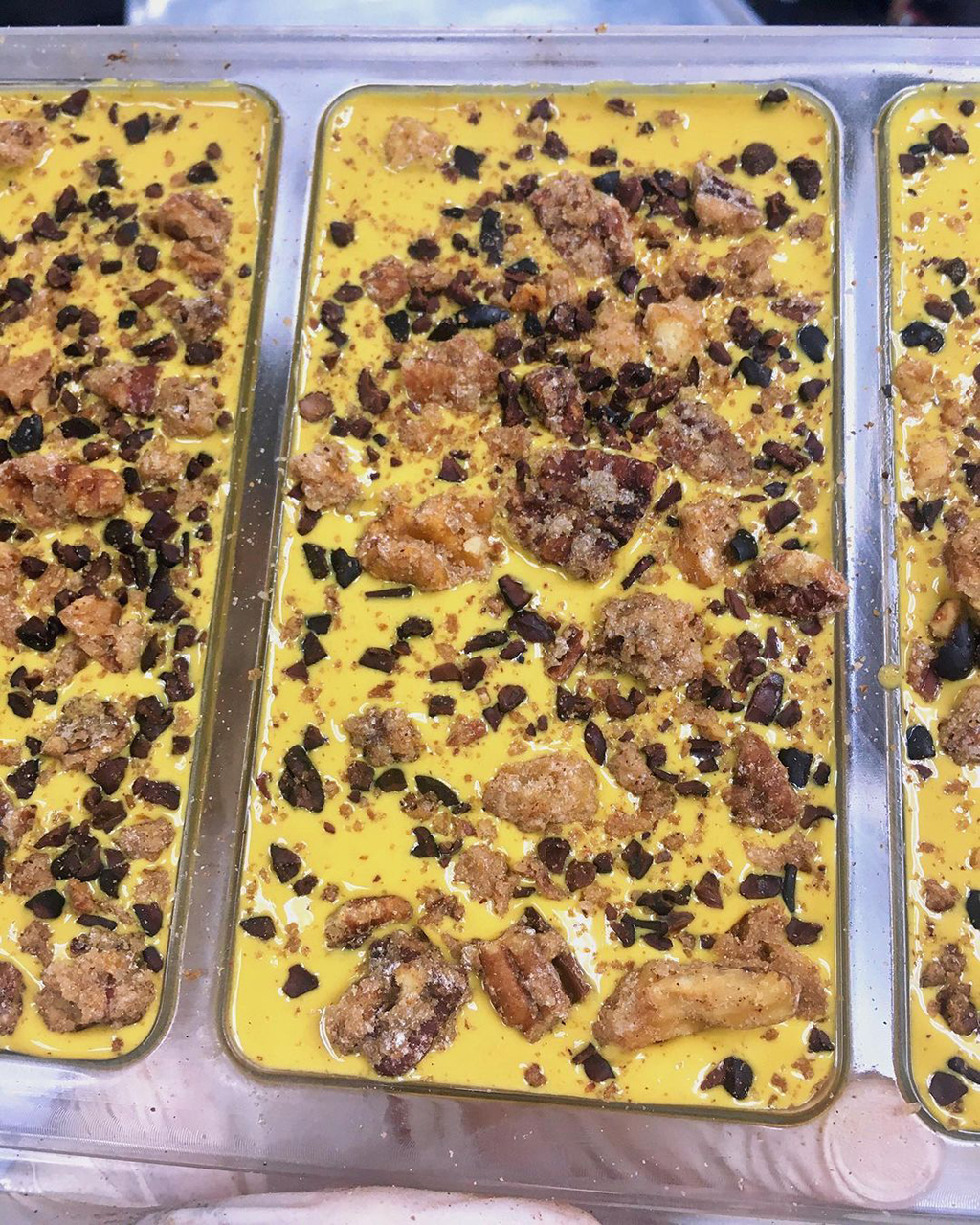 Mānoa Chocolate
Take the smooth, sweet goodness of Mānoa Chocolate and add some candy-coated pecans and walnuts, plus a pinch of pumpkin spice, and you've got something that'll melt all your troubles away in this Pumpkin Pie Crunch bar.
333 Uluniu St., Suite 203, Kailua, (808) 263-6292, manoachocolate.com, @manoachocolate
---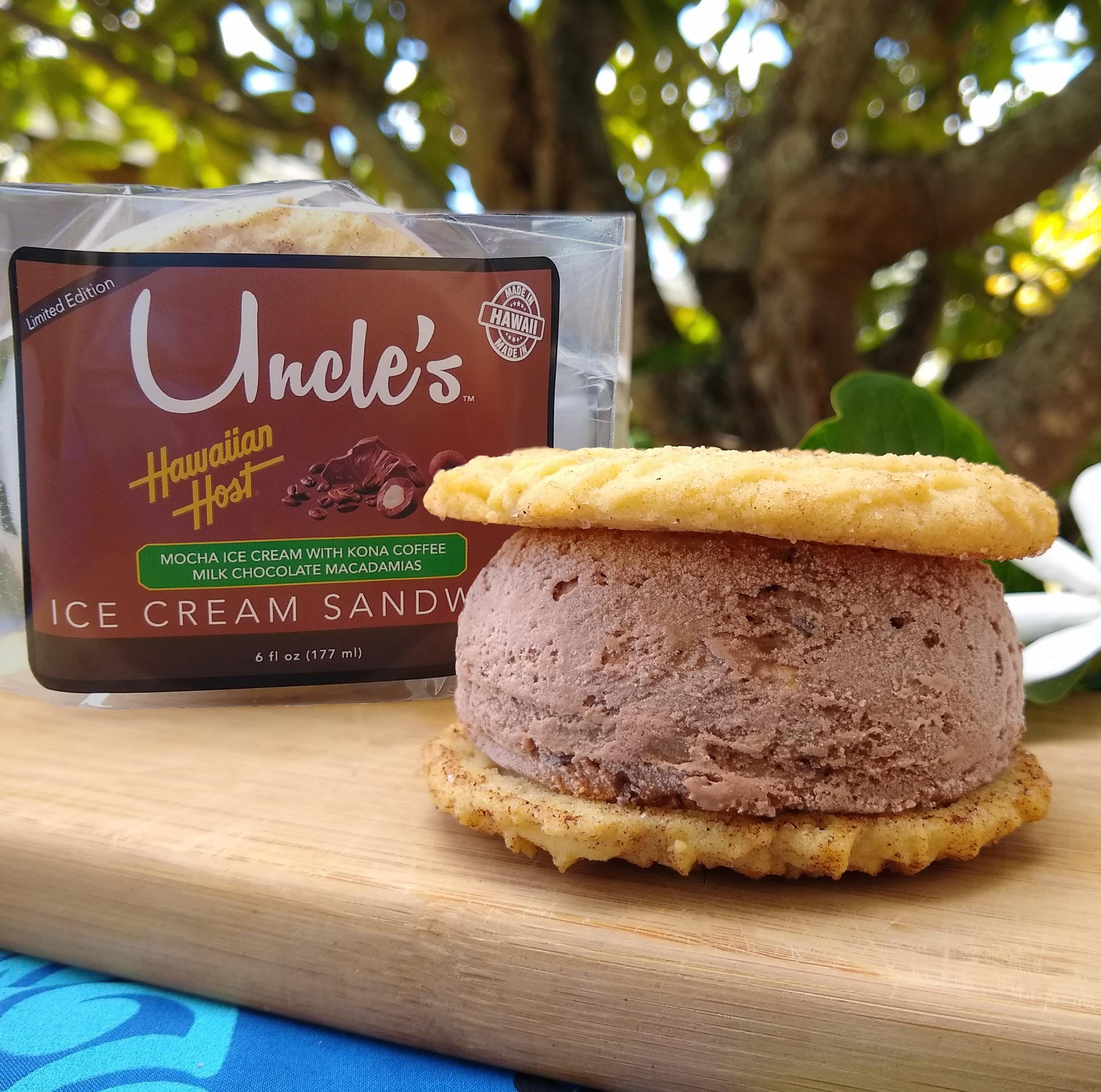 Courtesy of Uncle's Ice Cream
Uncle's Ice Cream
We love, and live for, Uncle's dreamy ice cream sammies. And recently, the North Shore creamery collaborated with Hawaiian Host for a heavenly combo that marries Kona Mac candies with mocha ice cream. If that doesn't entice you, the new flavor is sandwiched in between two buttery, cinnamon-y snickerdoodle cookies. We're sold.
Available in grocery stores, (808) 238-9021, unclesicecream.com, @unclesicecream
---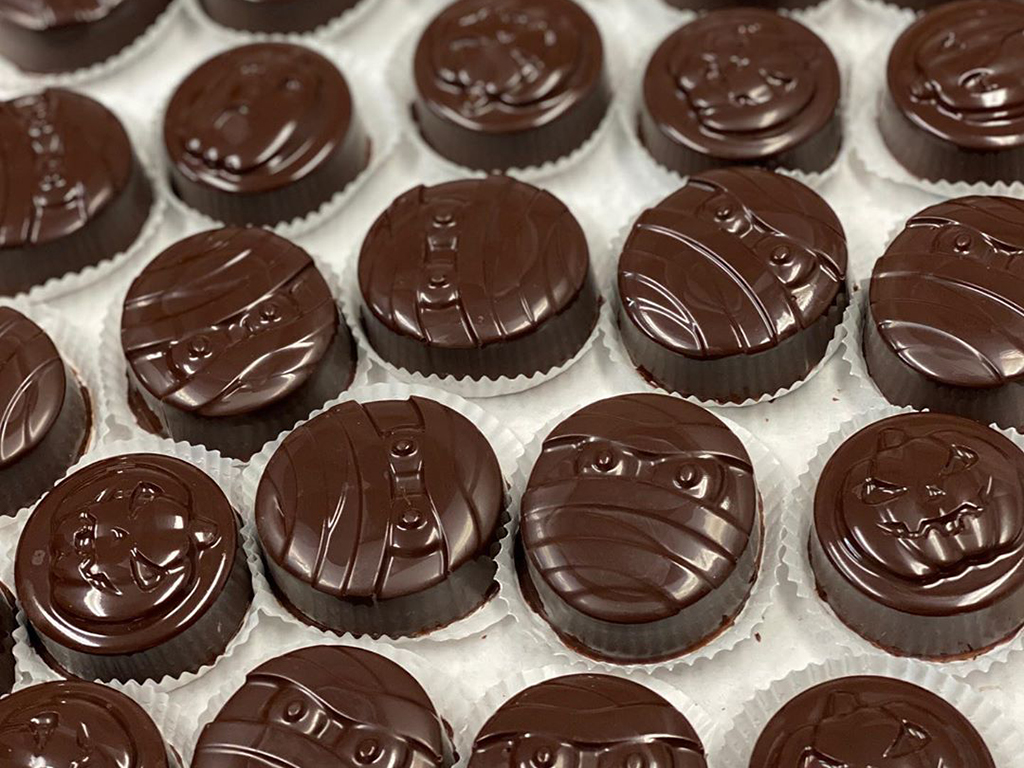 Choco Le'a
Local confectionery shop Choco Le'a invites us to the dark side with its divine and decadent trick-or-treat bag. Everyone in the fam will indulge in Oreo cookies bathed in smooth, silky dark chocolate, a solid dark chocolate bar, a Crunch a Le'a box and a surprise(!) additional treat. $41.99, place orders on Oct. 24 for pickup on Halloween.
2909 Lowrey Avenue, (808) 371-2234, chocolea.com, @chocoleahawaii
---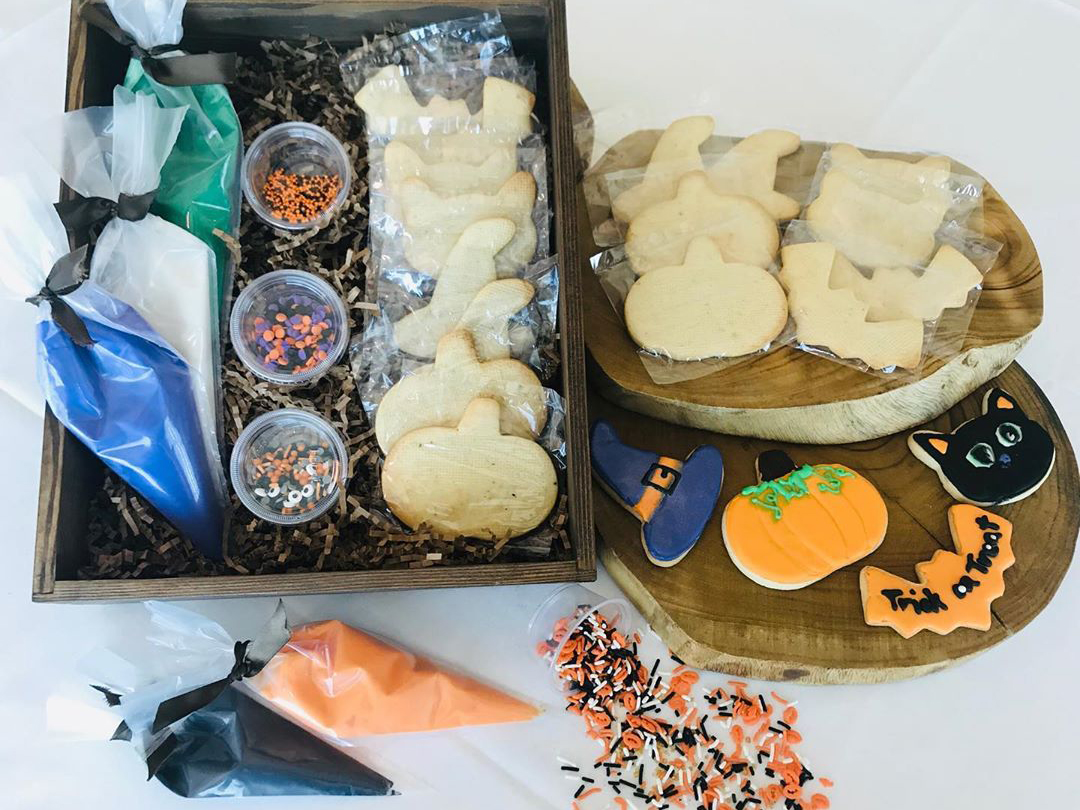 53 By The Sea
This is not a trick: 53 By The Sea—the supreme seafood spot—is selling adorable Halloween cookie kits replete with a dozen fresh baked cookies, pastry bags filled with colorful frostings and spirited sprinkles. Also available (through ChowNow) is a spooktacular pastry box home to some creepy desserts: mummy apple strudel, green tea Frankenstein cheesecake, coconut ube witches cream puff and a caramel coffee chocolate pecan graveyard tart.
$40 for the cookie kit, 53 Ahui St., (808) 536-5353, 53bythesea.com, @53bythesea
---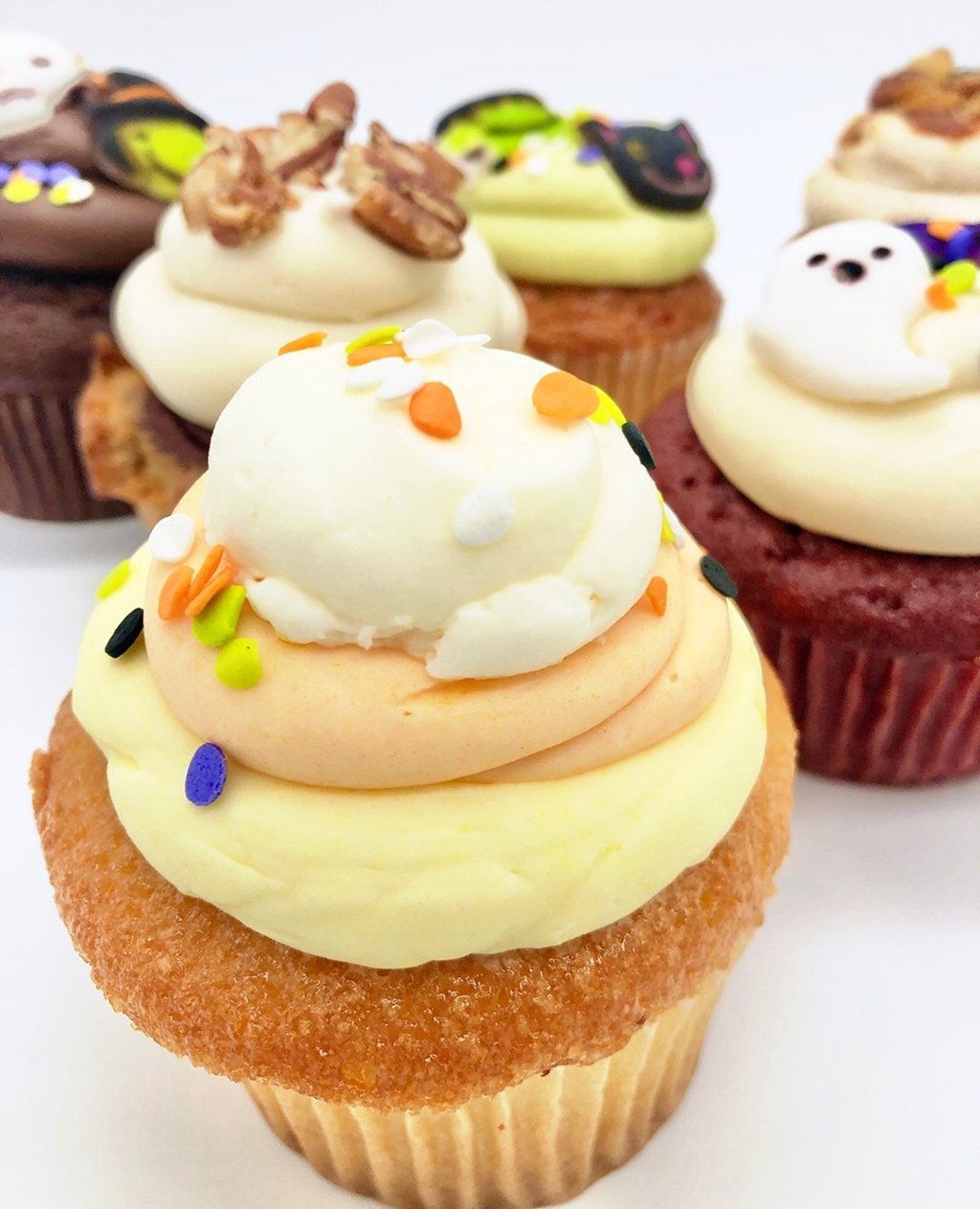 Cake Works Hawai'i
For kids, cupcakes are the main event at a party. And Cake Works Hawai'i delivers some dressed-up options that highlight all the yummy Halloween flavors. Come in for a bite of vanilla candy corn, devil's food, maple pecan and pumpkin spice cupcakes.
Starting at $14, 2820 S. King St., (808) 946-4333, cakeworkshi.com, @cakeworks_hi