13 Costume Tips from the Crazy Halloween Lady
Don't get stuck with a dog costume. Try these tips from a certifiable crazy-about-Halloween mom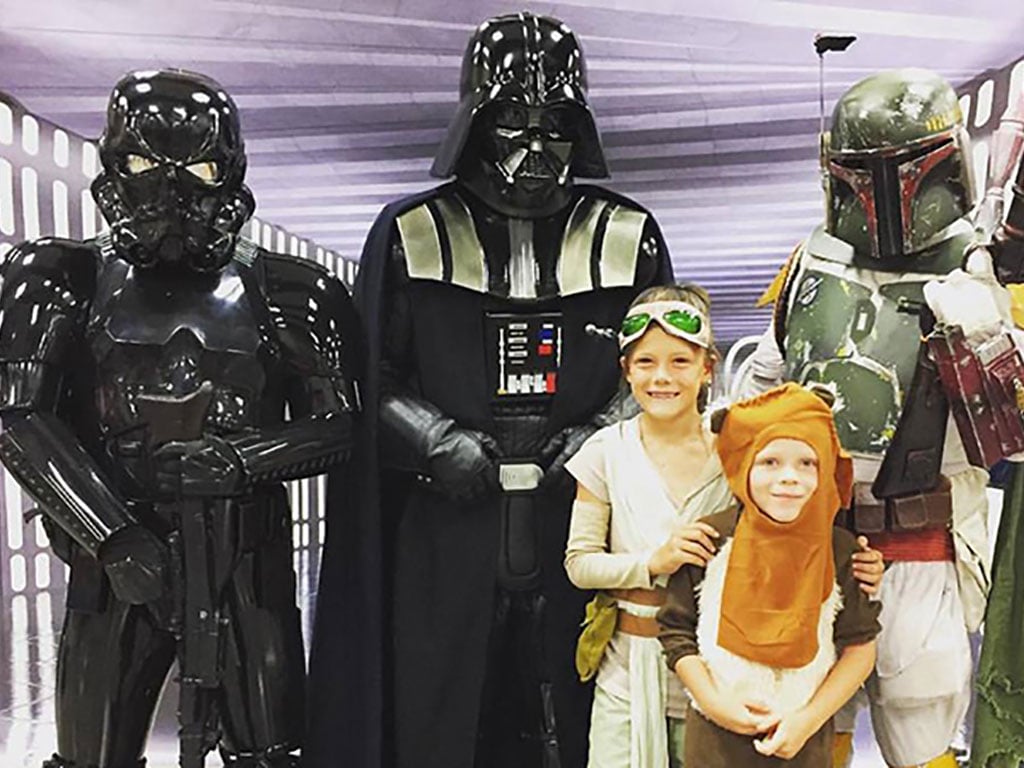 Photo: Ashley de Coligny
Halloween is my JAM. What started as a minor obsession is now veering dangerously into Crazy Halloween Hoarder Lady territory and–spoiler alert–I. DON'T. CARE. I love it all: the candy, the parties, the décor, the haunted houses, and most of all, the costumes. I've been costume-crazy since childhood, but now that I've got a family of four to dress up, it's quadruple the fun.
So when HONOLULU Family asked me to share some of my family's past Halloween costumes and a few tips, I was thrilled! Here are a few things I've learned from the years of forcing my Halloween obsession upon my husband and two kids.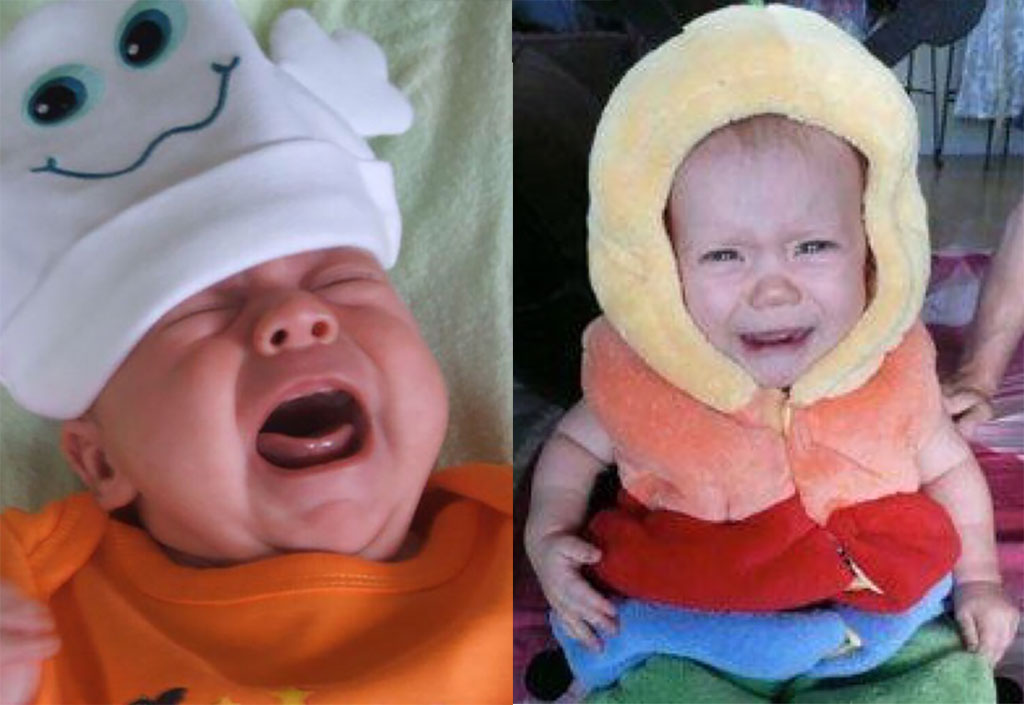 Photo: Ashley de Coligny
1. Trick your babies and toddlers.
Babies don't like to wear stuff. Maybe you have a sweet angel who sits quietly and lets you adorn her with anything you wish. Maybe this magical unicorn baby sleeps 12 hours all night and poops rainbows. My kids, as babies and toddlers, immediately rejected every foreign object I put on them. So, I had to sneak them on. For example, my baby Charlie got a Charlie Brown onesie. When Ella was a toddler who furiously discarded all costumes, we just sprayed her hair orange and put her in some spunky Halloween clothes. When they don't know or "feel like" they're in costume, they're much happier.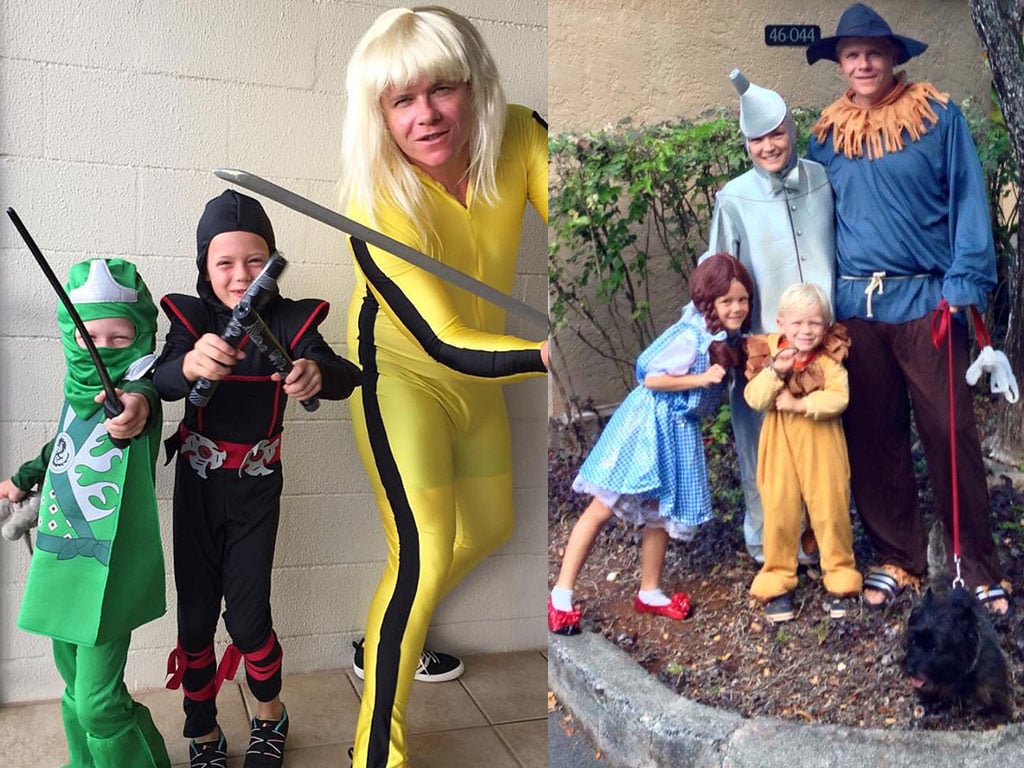 Photo: Ashley de Coligny
2. Follow your kid's lead.
The first few years, sure, you can dress up your baby as almost anything you want. Once he or she gets opinions and wishes, that's all over. I offered ideas, only to be rejected. So I let my kids choose the general family theme. When they wanted to be ninjas, we joined in as Kill Bill characters. This year, they want to be Star Wars characters, so we're dressing up in that theme, too.
Be sure to take creative license with it. For example, my sister was bummed when her son picked "construction worker" as a costume. But when she dressed herself up as a biker and her husband as a policeman, all of a sudden they were the Village People and infinitely more awesome.
3. Include your pets.
This one's a no-brainer. We have a Cairn Terrier who looks just like Toto, so a family Wizard of Oz theme just felt right.
4. Hit the thrift stores.
I'm shocked at how much costumes and accessories cost these days, especially when you can find practically anything at a thrift store. It's fun, it makes for a more original costume, and it's far cheaper than buying new. I'm not against buying pre-packaged bagged costumes, but the details are everything – search for extras that will make your costume stand out. I've found almost everything I need at Goodwill, Salvation Army, or Saver's.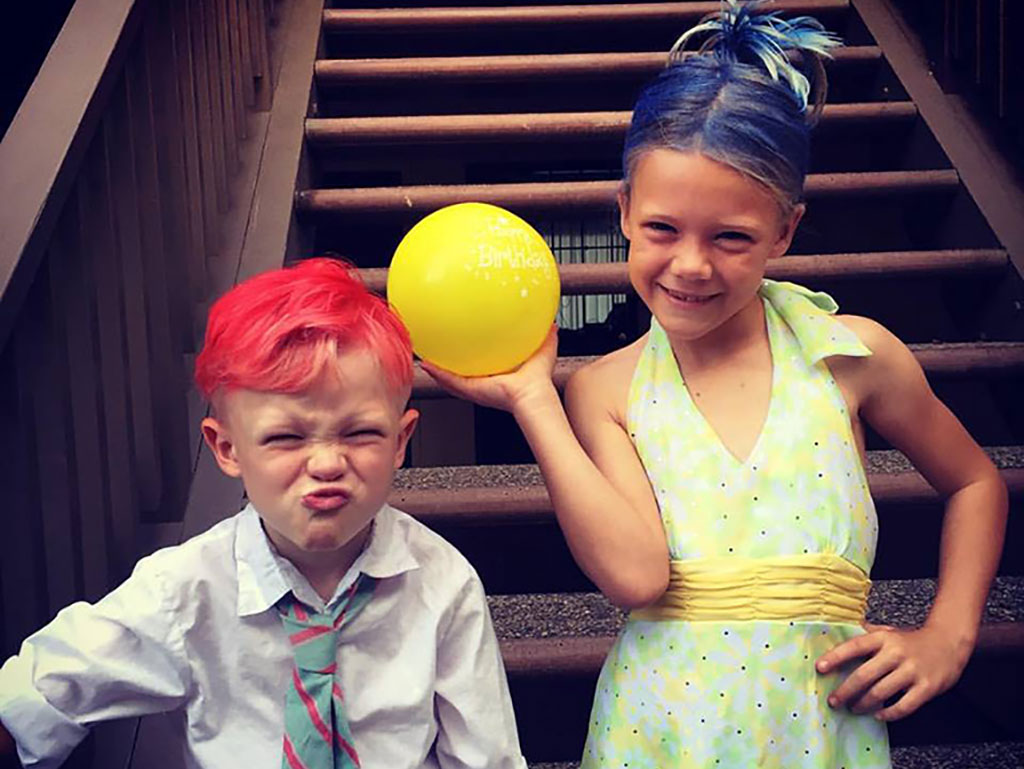 Photo: Ashley de Coligny
5. Be weird. It's SO much more fun than being sexy.
Seriously, just skip the "sexy whatever" costumes. UNLESS – you make it completely bizarre, like say, a sexy cockroach, or sexy Jabba the Hutt. I have a friend who once went as Babe-raham Lincoln, with a skimpy dress paired with a top hat and beard. It was ah.ma.zing.
Back in my single, pre-kids days I wanted to be the cute fairy, the nurse, etc. a few times. But now that I have a daughter, the sexist girl costumes marketed to her enrage me. Besides, it is INFINITELY more fun to be something ridiculous or clever.
I've taken my sexy costume ban a little too far in protest. Starting about five years ago, I decided to always be the unsexiest thing I could possibly think of. My first choice: a mime. I mimed my way around my husband all night just to annoy and repel him, and it worked wonders. It was a freakin' BLAST. This year, my costume involves a rug of chest hair. Which takes me to my next tip…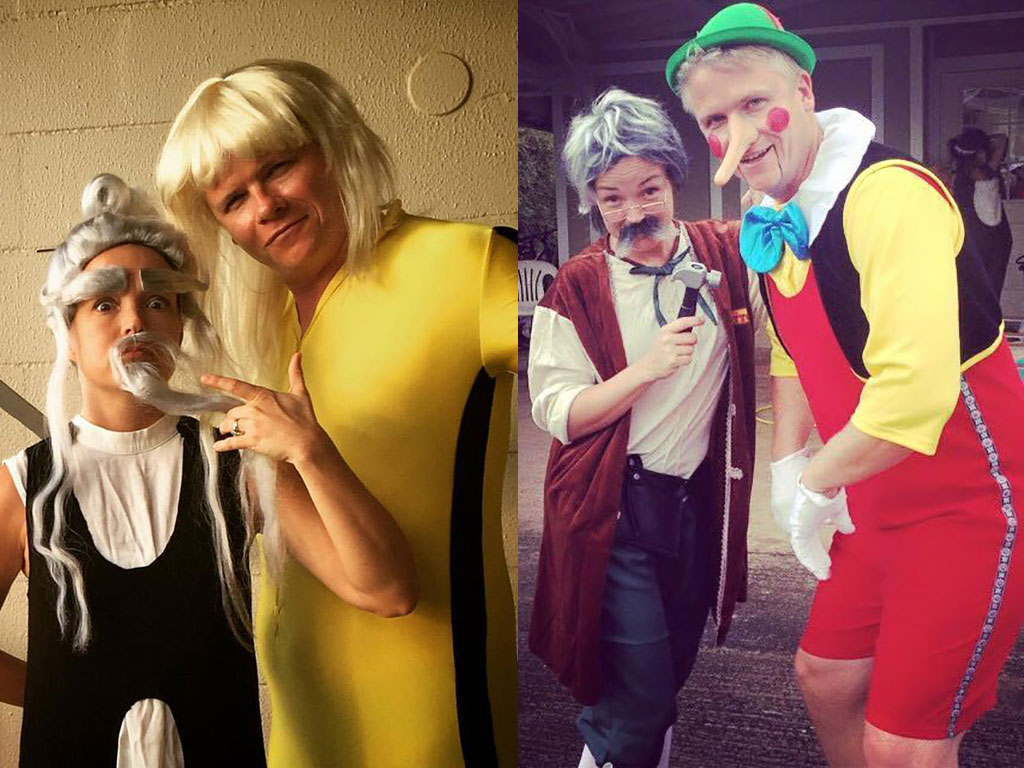 Photos: Ashley de Coligny
6. Ignore gender stereotypes.
Last year, my daughter wanted to be a ninja. At the store, when we discovered all the ninja costumes were shown on boys, she was dismayed (and I was furious; see above). I told her to ignore the picture, and to be the raddest girl ninja the world's ever known, and she totally rocked it.
And for us adults, typical couple costumes can be boooorrrring. But they can be way more fun when you switch roles. For our Kill Bill costumes. I was Pai Mei, the old man, my husband was Uma Thurman's character. Another year I was Geppetto and he was Pinocchio.
7. Consider comfort.
Fun fact: my last three costumes included mustaches and beards. While I find it hilarious, I also find it extremely itchy and hot, and it makes for a hard time sipping your beverage of choice. I'm trying to avoid facial hair this year.
Also, it will be hot. Unless you want to suffocate in your own sweat, don't choose a horrendously sweltering costume like Bigfoot. I'm sure not many of you are dying to be a sasquatch, but still. Avoid overly furry or thick materials. Also think about your costume makeup, which may drip and smear from sweating. I remember once seeing a guy dressed as a Smurf who sweated off all his blue makeup over everyone at the party. It was as gross as it sounds.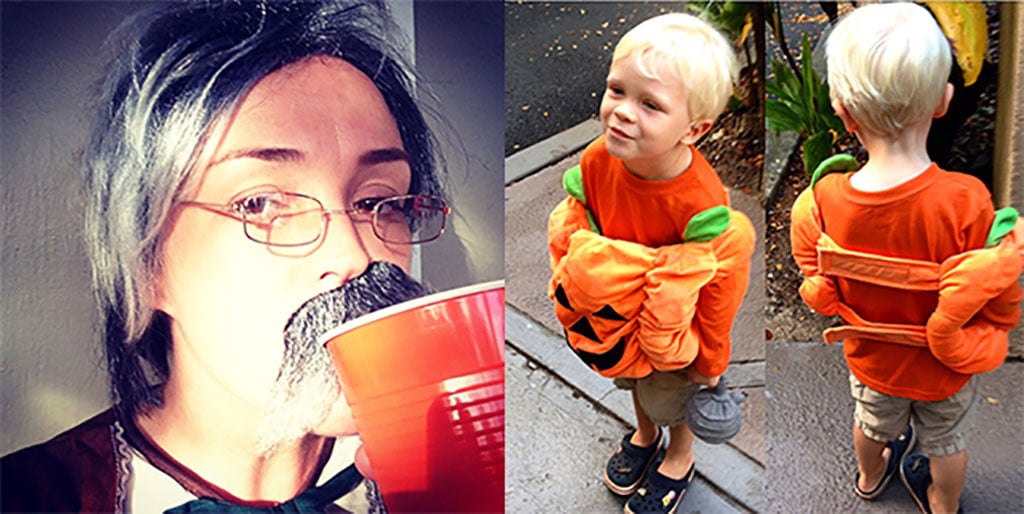 Photos: Ashley de Coligny
8. Plan early.
I know you're rolling your eyes. But really, if you wait until the last second you'll have slim pickings at the store, you'll be stressed, and you'll end up with something lame. None of that is fun. One year, for my son's preschool party, he insisted on being a pumpkin just before the big day. I couldn't find a kid's pumpkin costume anywhere locally, so I got a dog costume and stuck him in it. Hey, it worked. Don't judge.
9. Set your return policy in stone.
Ever buy a costume and then two days before Halloween your kid changes their mind? Yeah, me too. Not only is that annoying, most stores won't allow costume returns anyway. So now I make it VERY clear that once they decide on a costume and we buy and/or make it, that's it. All sales final, no returns, no exceptions.
10. Recycle.
I save all of our costumes and accessories to repurpose for next year. Last year's pirate wig can be this year's rock-star 'do. Or, I'll swap with friends or toss them in my kids' dress-up bin to play with year-round. They're still playing with an old Scooby Doo hat we used years ago.
11. Find a convenient location for the pumpkins.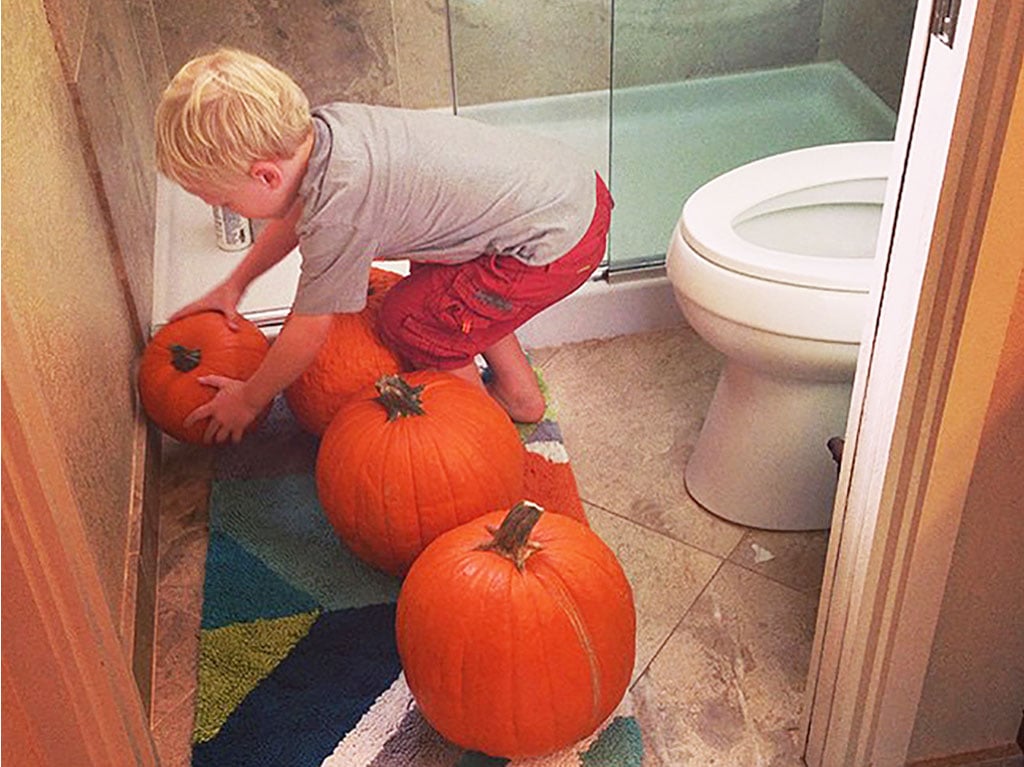 Photo: Ashley de Coligny
Just saying.
12. Prank your kids.
This holiday calls for a few good harmless tricks. Remember our terrier I told you about earlier? My husband set up this Halloween prank at home last year: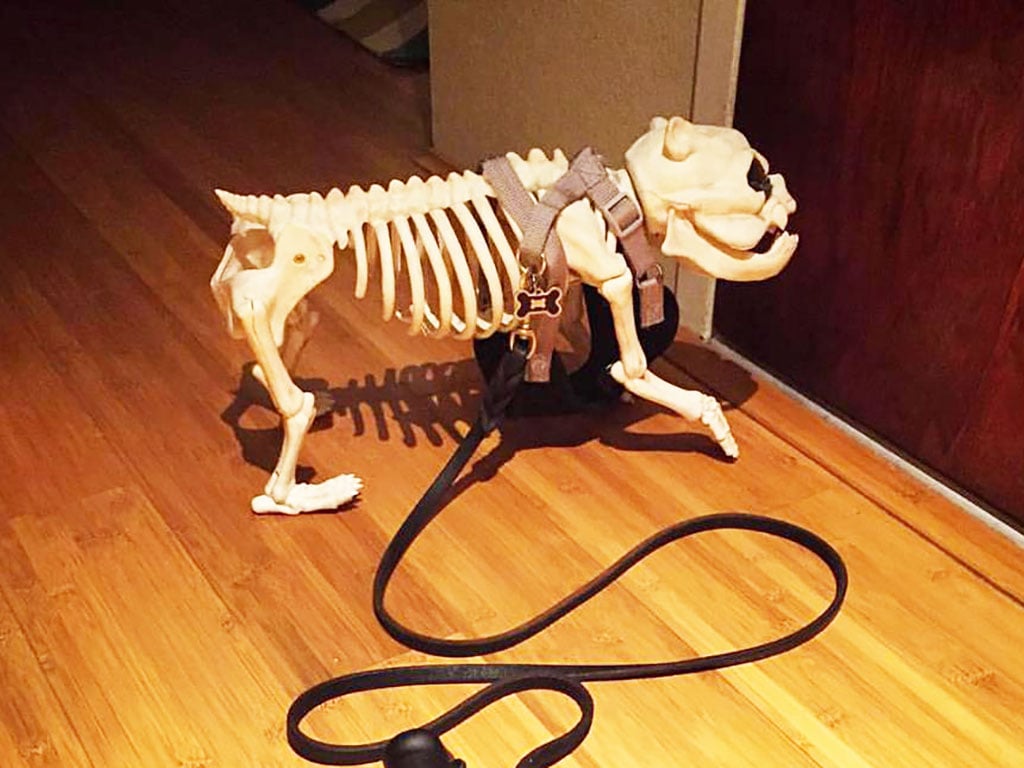 Photo: Ashley de Coligny
13. Pack healthy snacks for Halloween night.
OMG, I'm kidding. Please don't. Please DO eat 25 fun-size Butterfingers for dinner and love every minute of it.
Happy Halloween!
---
Ashley de Coligny is a mom of an 8-year-old future World Cup champ and a 6-year-old aspiring jedi knight (or leader of the dark side of the Force). She is a prolific writer, witty Facebook user and Macgyver-esque Halloween costume expert who is always seeking fun for the whole family, a clean spot in her mom-mobile and a moment of silence. The best parenting advice she's ever received is "Take a hot shower and drink a glass of wine."
---
Want more craft and treat ideas? See our Halloween Corner for those and our full roundup of spooky events on O'ahu.