11 Things to Expect from Governor David Ige
Hawai'iʻs eighth governor since statehood starts his new gig.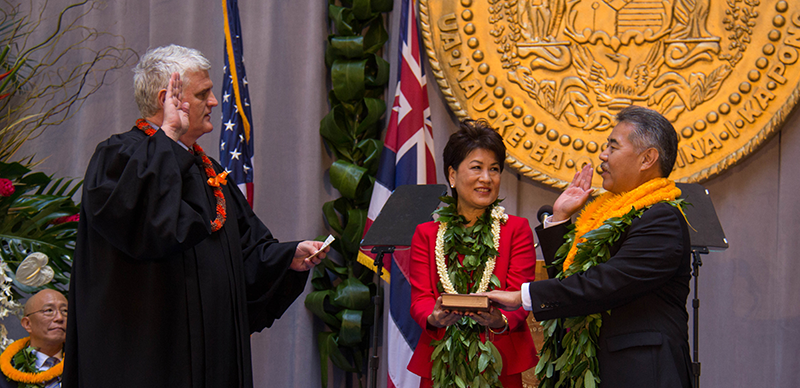 Hawai'i's new governor made a point of introducing himself in his first official speech to underscore the start of a new administration: "My name is David Ige." While most of Monday's events were ceremonial, the veteran state lawmaker did offer hints of what we can expect from this new administration.
1. Budget matters
At his first press conference, the former Ways and Means chairman emphasized that his team is reviewing the administrative budget started by former Gov. Neil Abercrombie. We'll likely see more penny-pinching than lavish spending in Ige's first year in office.
2. Neighbor Islands count
Lt. Gov. Shan Tsutsui, originally appointed lieutenant governor by Abercrombie, will maintain his Maui office, with some cost-cutting measures to make it affordable, Ige says. Having a second-in-command who has to fly to Honolulu is an ever-present reminder that the administration represents the state's interests, not just O'ahu's.
3. Public education is a priority
Ige is a product of Hawai'i public schools and the University of Hawai'i. He made education a primary focus in his campaign and he reiterated his commitment to the statewide public school system in his first speech as governor. First Lady Dawn Amano Ige took leave from her job as vice principal at Kanoelani Elementary School to help with the campaign.
4. Plays well with others
Ige talks a lot about teamwork and collaboration. After spending 29 years in the state Legislature, that could translate to a better working relationship with lawmakers than Hawai'i has seen in recent years. Some of those lawmakers likely will take jobs within the administration. When asked, Ige didn't discount the possibility.
5. Accessibility and transparency are important
At his first press conference, Ige said he had planned to do weekly press conferences—joking that the media might get sick of him. However, his communications team advised him to be as open as possible without promising weekly encounters.
6. Family matters; so do chores
The first thing he did in his inaugural speech was acknowledge his wife, Dawn, as the one person who has been with him every day of the past 29 years. Even before he introduced himself, he credited her help and support.
Asked when he and his family would move to Washington Place, he said it would be after his three kids have cleaned their rooms because he and his wife Dawn won't be doing it for them.
7. He's not long-winded
His first press conference was scheduled for an hour, but lasted a little more than 20 minutes. He opened the floor to questions right away, without giving an opening statement.
8. This governor might be on-time
If the inauguration was any indication, the new administration will be pretty punctual. The planned ceremonial program ended 15 minutes before noon. So organizers vamped and asked Raiatea Helm, who performed the "Star-Spangled Banner," to sing more songs until noon when the law would allow Chief Justice Mark Recktenwald to swear in the governor and lieutenant governor.
9. Looking for "transformative" leaders
Ige says that Hawai'i won't be transformed solely by a new governor and administration, but by working with people who share his core values. For the transition, many of Abercrombie's cabinet and staffers have agreed to stay on for the first 30 days of Ige's administration.
10. Public engagement is crucial
Ige, who enjoyed a landslide victory with 66 percent of the vote, said he was "terrified" by the low voter turnout in last month's general election. He wants community organizers on his team to get more Hawai'i folks to take ownership in government.
11. Won't feed on controversy
Over the past few years the state and counties have dealt with several divisive issues, including same-sex marriage and the on-going debate over genetically modified organisms, or GMOs. "Outside money that seeks to divide us on passing issues; hurtful and personal attacks that have nothing to do with the issues themselves; emotional appeals that feed on prejudices and stereotypes… they all have nothing to do with who we are."