10 Moms-Night-Out Ideas You Didn't Know You Needed
Moms just wanna have fun, too, right?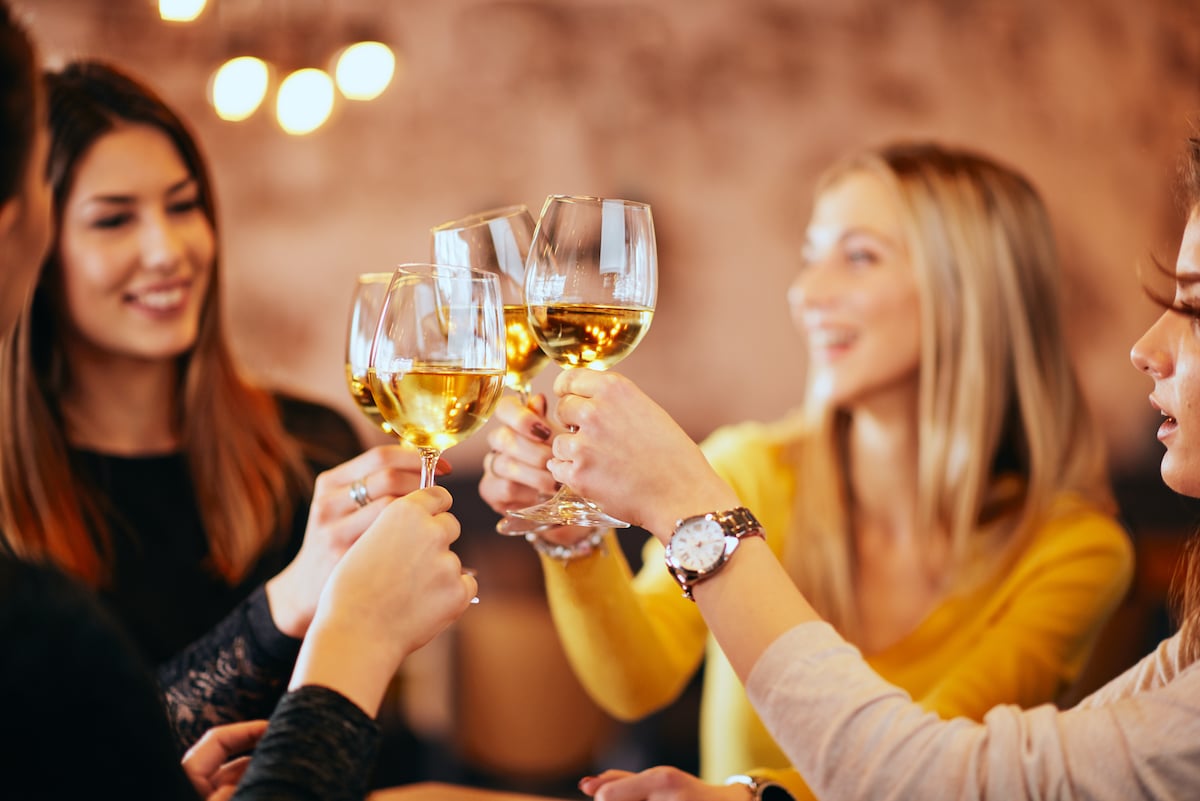 Why should the kids have all the fun?
Moms want (need?) to get out, too, climb rock walls, eat desserts for dinner, break inanimate objects. And seriously, no one needs a break more than we do. We're juggling careers, kids, home lunches, dinner prep, housework, travel itineraries, birthday party planning, taxes (OMG TAXES!)—we may as well add "drinks with fellow overwhelmed mothers" on the list, too.
I asked my group of mom friends—a combination working moms, full-time moms, moms with onlies, one mom with triplets—for ideas of what they'd want to do if they had a night out with their girlfriends. (Yeah, and a monthlong stay in Italy was out of the question.)
So grab the nearest soccer/classroom/carpool moms and get out there!
Brunch—Preferably with Mimosas
I haven't met a mom who wouldn't brunch—especially if it's a boozy brunch. Many restaurants let you kick back and take your time—two things we desperately need—while indulging in all things carbs. Some of our favorites include the brunch at Hau Tree (get the avocado toast or lemon ricotta pancakes) and a late breakfast at Mahina & Sun's (pair the morning burrito with a mimosa). We're also fans of Waioli Kitchen & Bake Shop in Mānoa, with its laid-back patio seating and to-die-for scones. Make reservations in advance, as brunch tends to be popular with more than just moms.
Take a Cooking/Baking Class—and Eat, Too
Even if your idea of relaxing rarely involves a kitchen, taking a culinary class with your girlfriends can be a lot of fun—especially if you can eat whatever you make, too. (Bonus if you actually replicate the dish at home for your family later.) You can sign up for a class together or hire a private chef to teach a class for your pals in your home.
The Moana Surfrider in Waikīkī is hosting Afternoon Tea Desserts and Tea Time Lunch this Saturday (April 9), as part of its Moana Masters cooking class series. The hotel's pastry chef Carmen Monetejo will provide a step-by-step demo on how to make afternoon tea desserts like macarons. And the event will include a tea time-inspired lunch with beverage pairings. (The class runs from noon to 2 p.m., April 9, at the Moana Surfrider. Cost is $110 per person. Register here.)
Spa, Please
The obvious choice for a moms night out: spa treatments, ideally at the most luxe spa you can book. Our pick is Laniwai at Aulani, a Disney Resort & Spa at Ko ʻOlina. Not only is this spa the epitome of luxury with dozens of pampering options, it boasts a 5,000-square-foot outdoor hydrotherapy garden retreat that includes private vitality pools, a reflexology path, six rain-style showers, whirlpool jet spas and more. Spend an hour here before your lomilomi massage or revitalizing facial. You don't need to be a guest to book services here (and sadly, there are no kamaʻāina discounts). But our favorite part? Knowing that you're enjoying Aulani without your kids. Small victory.
Eat Chocolate
Organize a chocolate adventure for your chocolate-loving mom friends. You can book a private tour and tasting at Mānoa Chocolate in Kailua. It's $15 per person for a 60- to 90-minute factory tour and tasting; the tours run at 2 p.m. Mondays through Saturdays and require advanced booking. Madre Chocolate, also in Windward Oʻahu, offers an hourlong cacao farm tour with tasting at 1 p.m. on Sundays; cost is $50 per person and reservations are required.
Go Climbing
Get in a workout—and gab in between—at an indoor rock-climbing gym. Our pick is HiClimb Hawaiʻi in Kakaʻako, a 14,000-square-foot semi-open-air gym that opened last summer. Conquer the 35-foot climbing tower or scramble up and down bouldering walls that run along the perimeter of the gym. You'll burn off the calories you consumed eating your kids' leftovers—and not feel guilty about the huge açaí bowl and latte you may inhale from Café Villamor, located just outside the gym.
---
SEE ALSO: 🧗 We Tried It: Indoor Rock Climbing at HiClimb in Kaka'ako
---
Dance, Dance, Dance
Sometimes you just wanna shake it. If you don't feel like dressing up and hitting the clubs (are there still clubs…?) or crashing a stranger's wedding, sign up for group dance classes. Our favorite—for a variety of reasons—is the Street Jamz Werkout, a dance-focused fitness class led by renowned local choreographer (and literally the most hilarious instructor in the world) Mara Bacon-Chang. The classes—held at Windward Mall in the 24-VII Danceforce Studio—are drop-in classes; you can just sign up for one whenever you feel like it. The music is just our speed—a mix of old-school hip-hop and Top 40. And the best part? The hour-long class is just $5!
---
SEE ALSO: 💃🏻 Open for Fitness: So You Think You Can Dance? Check Out Street Jamz Werkout
---
Hit Something!
This suggestion came from one of the sweetest, most mild-mannered moms in our group. She added "rage room" to a list that also included wine tasting, dumpling party and pedicure. (And it's not the first time she's suggested it.) What's a rage room? "Rage room is where you get to destroy everything in the room with a given tool," she texted back. (She obviously has done research.) Honolulu's got a rage room, it turns out. It's called Break'N Anger, and you can smash away your frustrations in one of its Smash Labs. Kid talking back? Boss on your nerves? Husband booked a fishing trip with his friends and forgot to tell you? Grab a baseball bat—or golf club, crowbar, sledgehammer—and destroy something! For the more creative types, it offers a Splatter Art Studio, too, where you can throw paint around on the walls or each other. (You get a canvas, too, which you can take home.) Cost starts at $60 per person but gets cheaper the more in your group.
---
SEE ALSO: 🔨 Afterthoughts: Forget Meditation, Give Me Destruction at Honolulu's Only Rage Room
---
Take a Hike
Sometimes just some fresh air in nature—without anyone calling your name 3,000 times—is exactly what we need. (Plus, you get a workout in, too.) Oʻahu has dozens of trails for every kind of hiker—from the easy trek to the Makapuʻu Lighthouse to the more strenuous climb to to summit of Mount Kaʻala. We suggest picking a trail that's easy enough where you can still chat. (Isn't that really why we're here?) Look for hikes within the state's Nā Ala Hele Trails and Access Program, as these are public, marked and relatively safe. We're fans of Puʻu Pia trail in Mānoa, Waʻahila Ridge Trail in St. Louis Heights and ʻAiea Loop Trail in ʻAiea.
Arts and Crafts aren't Just For Kids
View this post on Instagram
Learn to make a lei poʻo or sign up for pottery lessons. There are lots of arts and craft options for moms who want to get their minds off potty training or private school applications. We love the indigo shibori workshop by Island Bungalow in Kakaʻako. Learn how to fold and bind fabric for indigo dyeing—and walk away with your own dyed cotton sarong! You need at least four people to book a private workshop; cost is $260 and includes all supplies. It's also BYOB!
Toast to Sunset—Without Kids!
Our go-to MNO? Dinner with drinks somewhere we wouldn't want to take our kids. Moku Kitchen in Kakaʻako lets you linger outside—and the cream pies are a must. Chez Kenzo Bar & Grill offers shareable plates, a full bar and free parking. Another fun option is the Sunset Lounge at Mariposa at Ala Moana Center. Open from 4 to 6:30 p.m. Thursday through Saturday (last call for food is 7 p.m. and drinks 7:30 p.m.), the lounge, with a great sunset view, boasts live music and easy-to-nosh plates like mini lobster rolls, ʻahi poke, kushi oysters on a half shell and truffle fries. Plus, you can combine your dinner outing with shopping—retail therapy, anyone?—or wrap up early and still have enough time to get into bed by 8 p.m. Now doesn't that sound nice?