Free Fun: 10 Outdoor Adventures
From stand up paddling to fishing and plane spotting, we've found ten ways for your family to have fun in nature without spending a penny.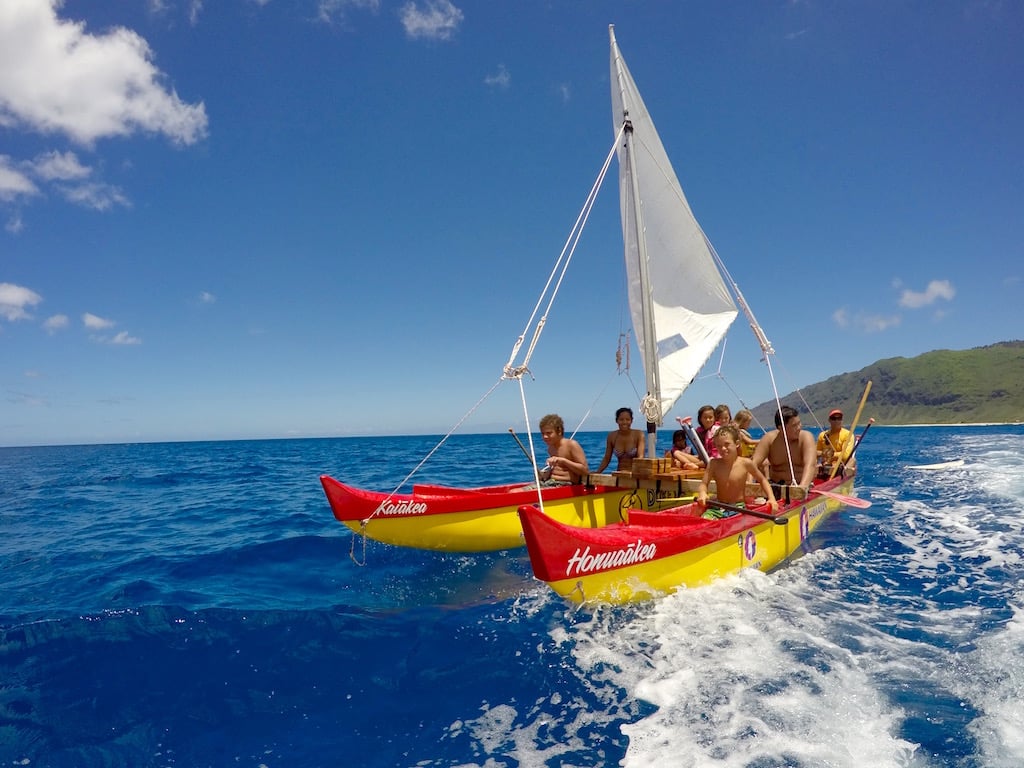 Photo: Courtesy of Na Kama Kai
(Note: This blog was first published in April 2017).
Does your family get bored going to the same beach or playground every weekend? If you want to try something new, check out our ten ideas for outdoor fun. Your keiki can paddle a canoe, visit a petting zoo or run around a pizza garden. Best of all, they're all free!
1. Nā Kama Kai Ocean Clinic
Hang Ten! Nā Kama Kai, or Children of the Sea, offers free monthly surf, canoe, culture and conservation clinics at beaches around the island. At each event, kids are led through stations where they learn about ancient Hawaiian navigation and ocean safety. Then, they jump in the water and try out surfing or stand up paddling and canoe paddling. When we were there, the session ended with a free Jamba Juice smoothie and talk about marine conservation. Preregistration is recommended to secure a two-hour time slot, but walk-ons are allowed if space is available. Tip: If you have to cancel, be sure to contact Nā Kama Kai, as no-shows are banned from registering for the rest of the year.
Ages 2 to 18, life vests are provided, waivers must be signed. (808) 864-9161, nakamakai.org.
2. Ho'omaluhia Botanical Garden
Ready to hook the big one? If your keiki are interested in fishing, this Kāne'ohe botanical garden offers free catch-and-release between 10 a.m. and 2 p.m. every Saturday and Sunday. Stop by the visitor center for free bamboo poles, a map and some tips. Be ready to walk for 20 minutes to get to the lake. Bring your own bait—the staff recommends white bread – and try your luck. Each June, kids can enter a Keiki Fishing Derby and win prizes for the longest fish, greatest number caught or most unusual catch.
45-680 Luluku Road, Kāne'ohe, (808) 233-7323, honolulu.gov/parks/hbg.
3. Lyon Arboretum
Close to the busy Mānoa Falls Trail, you'll find this crowd-free arboretum with 12 gardens, more than 5,000 species of plants, a large Hale Halewai—traditional Hawaiian meeting place — and 7 miles of hiking trails. The arboretum even has an easy 1.5-mile trail to a little waterfall, called 'Aihualama. Along the way, you'll come across giant tree-root steps, hidden side gardens and an old seismograph station that some say is haunted. Huge fields dotted with clumps of trees and bushes are perfect for a picnic and game of hide and seek.
Monday to Friday, 8 a.m. to 4 p.m., Saturdays 9 a.m. to 3 p.m. Admission is free, but there is a requested donation of $5 per person. 3860 Mānoa Road, (808) 988-0456, manoa.hawaii.edu/lyonarboretum.
4. Makiki Forest Recreation Area
This recreation area has something for everyone—and it's just a 10-minute drive from downtown Honolulu. Preschoolers can reach a mini waterfall, see a taro patch, walk on bridges over a stream and see labeled plants including mountain apple, breadfruit and coffee. Elementary school kids can tackle a 2.5-mile loop trail with enormous banyan trees and ocean views. And, serious hikers can trek up Tantalus. There are toilets, a water fountain and a hose and boot scrub station at the base of the trail. Wear hiking boots and mosquito repellent.
Daily, sunrise to sunset, 2131 Makiki Heights Drive. (808) 955-0100, hawaiinaturecenter.org, parking lot is to the left as you enter the Makiki-Tantalus State Recreation Area, a short walk from the trail head.
5. Plane Spotting at the Lagoon Drive Parking Lot
Aspiring pilots can get a close-up view of planes taking off and landing at Honolulu International Airport. A tall fence stops keiki from running onto the tarmac but doesn't obstruct the view. Time of day and wind patterns will determine what you see. We saw 10 planes land right in front of us in fewer than 30 minutes on a weekday afternoon and have heard of pilots waving at kids on a Saturday morning.
Daily, 6 a.m. to 8 p.m., at the end of Lagoon Drive.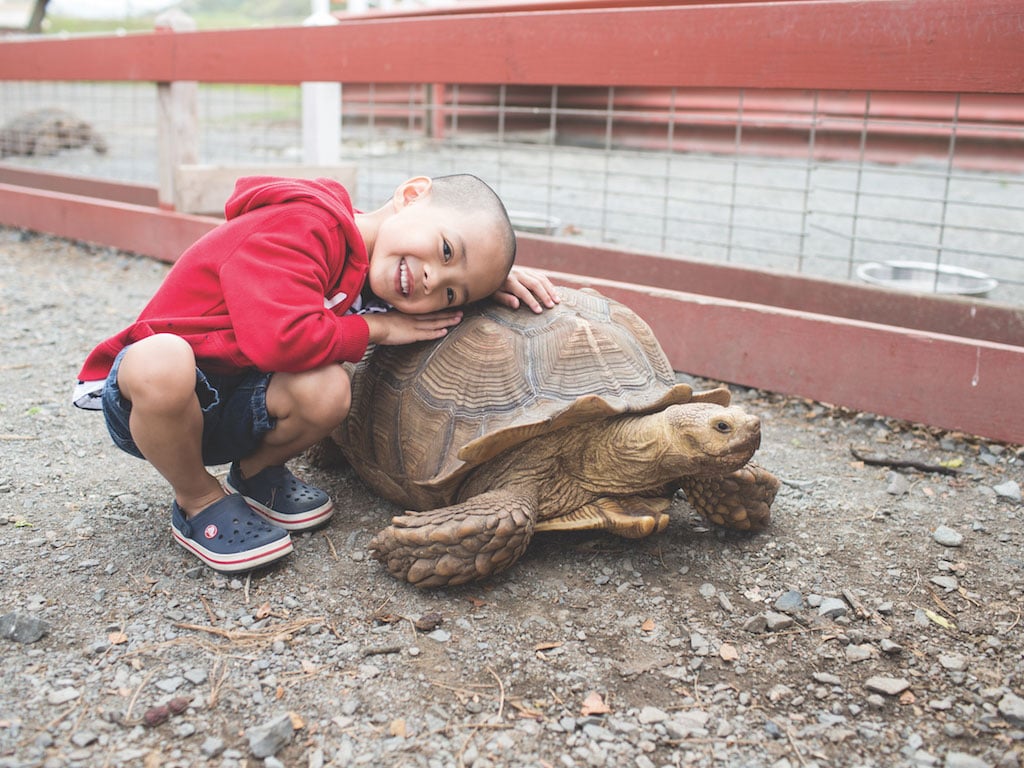 Photo: Karen DB
6. Kualoa Petting Zoo
A brown cow, a white calf, two tree-climbing goats, a tortoise and a pig named Princess are worth making a short stop to see. They're behind fences, but the cow and calf let us pet them.
Open daily from 8 a.m. to 4:30 p.m. 49-560 Kamehameha Highway, Kāne'ohe, (808) 231-7321, kualoa.com/.
7. O'ahu Urban Garden Center
Wander through a maze, sundial and pizza garden made of growing ingredients.
Open Monday to Friday, 9 a.m. to 2 p.m.  Second Saturdays of most months 8:30 to 11:30 a.m. 955 Kamehameha Highway, Pearl City, (808) 453-6050, ctahr.hawaii.edu/ougc/.  
8. Foster Gardens (Occasionally free)
See a Prehistoric Flora Collection, Orchid Conservatory, Butterfly Garden and trees that are more than 160 years old. Tip: It's a great place for older kids to practice their drawing and photography skills. Visit for free Thursday evenings during the Twilight Summer Concert Series in June and July.
Foster Botanical Gardens, 180 N. Vineyard Blvd., (808) 522-7060, honolulu.gov/parks/hbg.
9. Koko Crater Botanical Gardens
Take a 2-mile hike on a loop trail inside this 100,000-year-old crater and see cacti and a plumeria grove.
Open daily, sunrise to sunset, 7491 Kokonani St., (808) 522-7066, honolulu.gov/parks/hbg.
10. Wahiawā Botanical Garden
This rain forest garden is set along a 27-acre ravine in central O'ahu.
Daily 9 a.m. to 4 p.m., 1396 California Ave., Wahiawā, (808) 621-7321, honolulu.gov/parks/hbg.
---
Did we miss anything? Let us know about other free fun opportunities by commenting below.