Your Weekend: The Best Family Events-September 14
Our roundup of the best family events in Hawai'i.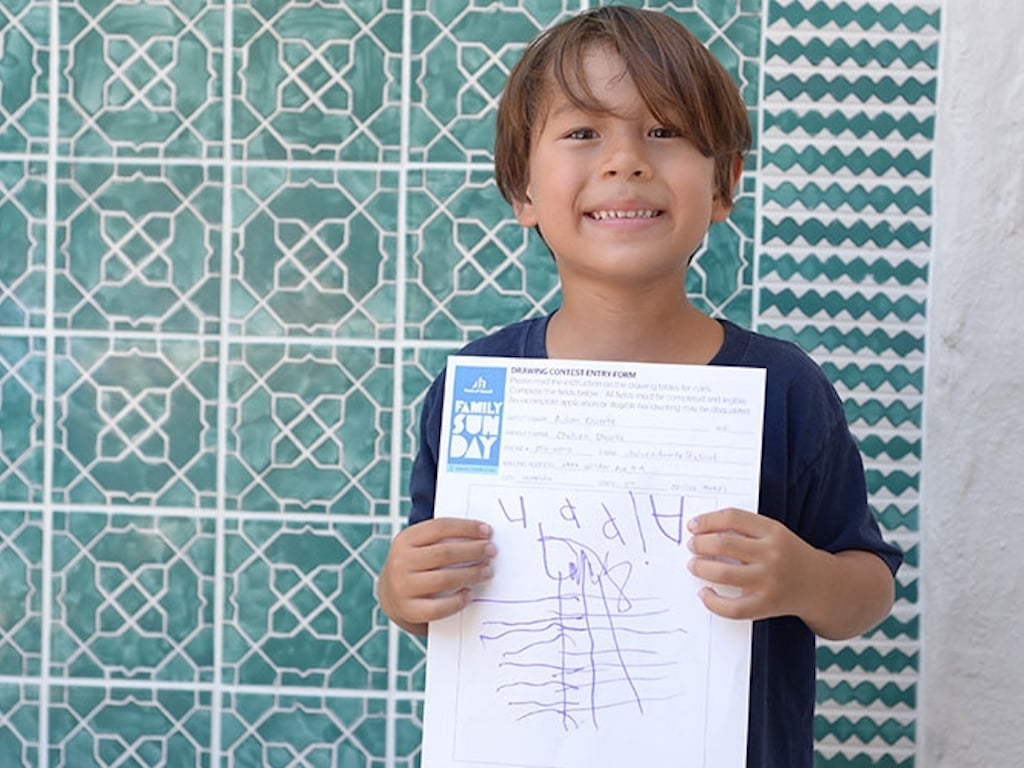 Photo: Honolulu Museum of Art
Bank of Hawai'i Family Sunday: Abstract Expressions
Look at abstract art and then make your own. You and your keiki will get to see a new exhibit by Satoru Abe and Harry Tsuchidana. Once inspired, children will create a garden tree sculpture and a colorful collage drawing. Need to burn off energy? Dance to live African and Latin-inspired music. Or cool off in an air-conditioned theater and watch short films from the New York International Childen's Film Festival. A free trolley will take you to Spalding House where keiki can use mirrors to create collages and craft a mini neighborhood that fits inside a jewelry box.
Aloha Festival's Keiki Ho'olaule'a
Celebrate the Aloha Festival with an event for children and families. Weave coconut palm fronds, make a ti leaf lei and a rubbing using real leaves and create art about "What Aloha Means to Me." There will be hula and musical performances by and for keiki as well as a Keiki ID card station and a new keiki conch shell blowing contest. Buy an Aloha Festivals ribbon for $7 at the event and receive discounts from Pearlridge Center merchants.
LEGO Ninjago Movie Kick Off
Head to the Waikīkī Aquarium to see and build sea creatures. LEAHI (LEGO Enthusiasts of Hawai'i) will be hosting a special Ninjago LEGO build featuring marine life and characters from the new movie. Families can also win LEGO Ninjago movie passes to a screening on Sept. 18. Drawings will be held at 10 a.m., 11 a.m. and noon. Check out our full guide to the Waikīkī Aquarium's sea horses, sea dragons and other highlights here.
Waialua Public Library's 90th Anniversary Celebration
Celebrate Waialua Public Library's birthday with free cake and ice cream, entertainment and activities at the Waialua Bandstand. Children's musician Jeff Cicatko, also known as "Ice Cream Man," will be singing his original kids' songs at 11:30 a.m. Visit Bungie the Clown for a face painting or balloon animal and check out the community tent for activities and a book sale. There will also be live performances of Scottish country music, chamber music and hula.
Boys & Girls Club of Hawai'i: Day for Kids Carnival
The Washington Middle School field will transform into a fairground this weekend. Buy a pre-sale wristband for $10 for all-day access to a rock climbing wall, inflatable bouncers and an obstacle course. There will also be a dunk tank, games, prizes and food trucks.
Sign Up: 2017 Astronaut Lacy Veach Day of Discovery workshops
Registration is now open for the 2017 Astronaut Lacy Veach Day of Discovery. The day honoring astronaut Lacy Veach features 18 STEM workshops that are all free. There is also a big exhibition area with hands-on activities from organizations including NASA, the Polynesian Voyaging Society and the Pacific Aviation Museum Pearl Harbor. Register now for the popular workshops including "Vacuum Powered Rockets," "Gelatin Volcanoes, Dikes and Rift Zones" and "Water Powered Bottle Rockets."
Looking for more events for adults? Check out HONOLULU Magazine's Weekend Picks on honolulumagazine.com.