Your Weekend: The Best Family Events-September 27
Choose from more than 300 free activities, meet pro basketball stars, build with architects, watch a dragon dance or go to a fun fair.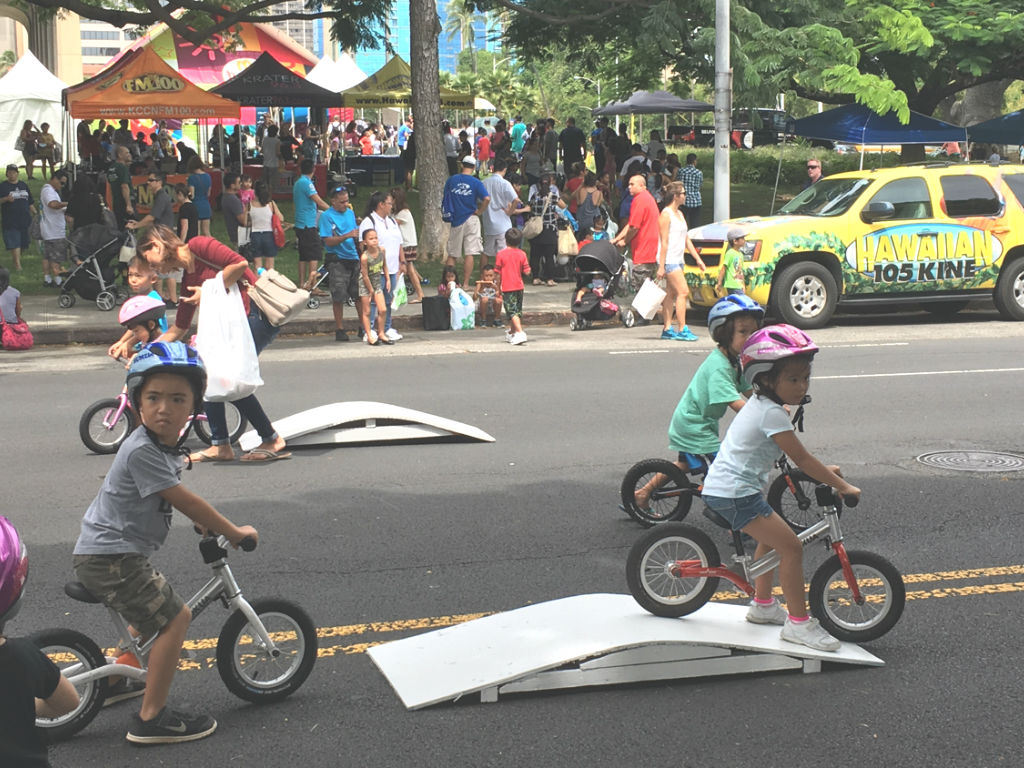 Photo: Children and Youth Day
Children and Youth Day 2017
The 24th annual Children and Youth Day is taking over the State Capitol grounds this Sunday with more than 300 hands-on activities. Best of all? They're all free. So, grab a saber sword and fence your partner, tackle a ropes course, ride a strider bike or borrow headphones, choose a music channel and dance in a "silent disco." Learn Hawaiian crafts including lauhala weaving or safely look at the sun through a telescope. There will also be palace and museum tours, goodie bags and prizes. When you need a break, you'll find a new filtered water refill station and an expanded selection of food booths. Check out our 13 tips to the event, including where to park, what to eat and what not to miss.
All ages
Free
Sunday, Oct. 1, 10 a.m. to 3 p.m.
State Capitol grounds, 415 S. Beretania St.
Looking for more family fun? Subscribers to our free weekly eNewsletter also found out how to enter a keiki recipe contest, which movie theater is showing Charlie and the Chocolate Factory for $4 and which new baby animal is on display at the Honolulu Zoo. Sign up here.
Clippers Hawaiʻi Classic Fan Fest
The L.A. Clippers take on the Toronto Raptors in preseason games next week. But, young fans can meet some of the players Saturday at Fan Fest. Snap photos, get autographs and take part in family activities including a basketball skills workshop, arts and crafts, games and a raffle at the free Fan Fest. Kaiser Permanente will also host interactive health and wellness activities including a flavored drink hydration station, build your own healthy plate activity and a photo booth. While Fan Fest is free, tickets for games at the Stan Sheriff Center on Oct. 1 and Oct. 3 start at $20 and can be purchased here. Tip: It costs $10 to park at the Hawaiʻi Convention Center, but Ala Moana Center's free parking lot is not far away.
All ages
Free
Saturday, Sept. 30, 11 a.m. to 5 p.m.
Hawaiʻi Convention Center, 1801 Kalākaua Ave.
CANstruction Competition Kids Can Corner
Little architects can build a giant structure out of cans at Pearlridge Center this weekend. They will work with professionals to design and construct a creation around this year's reading theme: Browse a Library of CANstructures. Bring at least 5 cans of food to donate for each participating child. Eleven other teams of architects and engineers will also be "canstructing" on Saturday. Sculptures will be on display for two weeks and you can vote for your favorite. One can equals one vote and all donations go to the Hawaiʻi Food Bank.
5 to 12 years old
Donation of at least 5 cans of food per child.
Saturday, Sept. 30, 10 a.m. to noon
Pearlridge Uptown Center Court, 98 – 1005 Moanalua Road, ʻAiea
Moon Festival in Hawaiʻi
Want to see lion and dragon dances without waiting for Chinese New Year? See them this weekend at the Chinatown Cultural Plaza. The Moon Festival has been celebrated in China for more than a thousand years and is known for its sweet and savory moon cakes, which are said to made by a moon goddess. You can buy them at the event and adults can enter a moon cake-eating contest to win a one-year supply of Pepsi. There will also be other food booths, kung fu demonstrations, cultural performances, live entertainment and a lantern parade.
All ages
Free
Friday, Sept. 29, 5 to 10 p.m. and Saturday, Sept. 30, 9 a.m. to 10 p.m. Moon cake eating contest will be held on Saturday, Sept. 30 at 4 p.m.
Chinatown Cultural Plaza, 100 N. Beretania St.
Kapunahala Fun Fair
When school gets out on Friday, you can celebrate the weekend right away at the Kapunahala Fun Fair in Kāneʻohe. There will be lots of keiki games, most of which cost 50 cents a piece, as well as eight Xtreme Fun Rides and bouncers. You can also pose for pictures in a photo booth, get air brush tattoos, shop in a country store and try your luck at a silent auction. Stay for dinner and choose from kalua pig plates, sushi, burgers, waffle dogs and more. Prices range from 50 cents for a malassada to $12 for a steak plate. Remember to bring cash or checks. Street parking is available in the surrounding community.
All ages
Free entry. Rides cost $1 to $3 each or buy an unlimited ride wristband for $25.
Friday, Sept. 29, 2:15 p.m. to 7:30 p.m.
Kapunahala Elementary School, 45-828 Anoi Road, Kāneʻohe
---
Looking for more events for adults? Check out HONOLULU Magazineʻs Weekend Picks on honolulumagazine.com.