Your Weekend: The Best Family Events-Sept. 5, 2019
Read a new Dr. Seuss book, view distant galaxies and see animals dance to live music.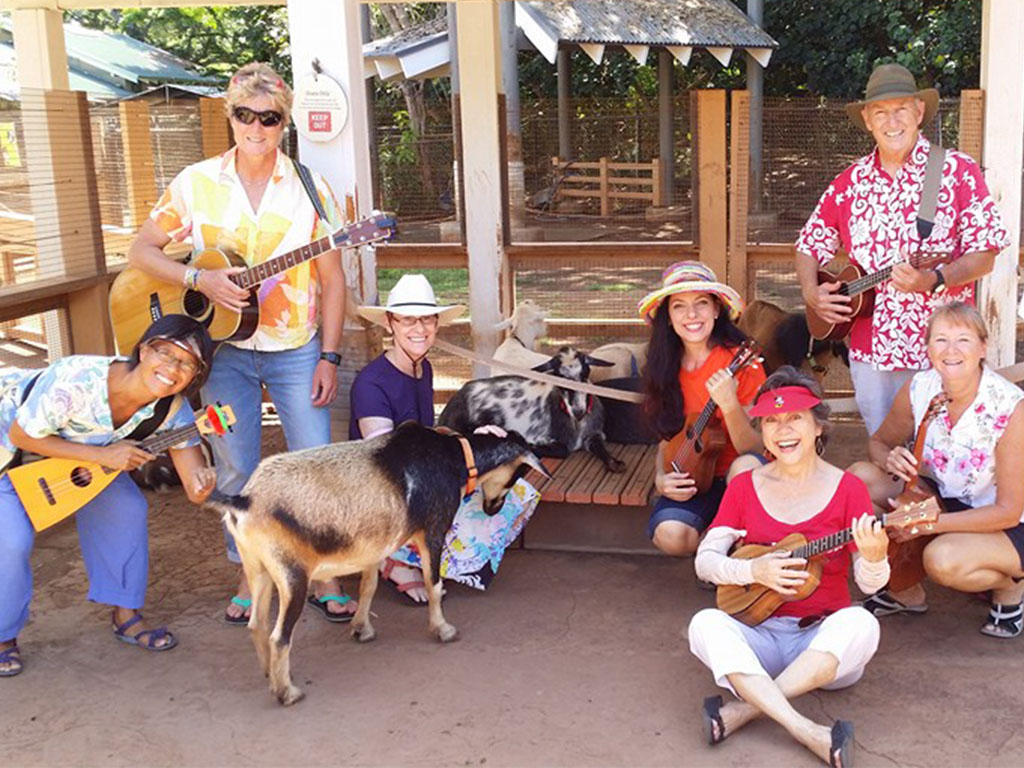 Photo: Courtesy of ʻUkulele Band Park Rats
These friendly goats and other animals at Honolulu Zoo enjoy monthly concerts by volunteer musicians.
Dr. Seuss' Horse Museum
Bring your little ones to a story session of Horse Museum, a never-been-released title by Dr. Seuss. The book—based on a manuscript and sketches discovered by his widow in 2013—takes readers on a trip to an art museum for a kid-friendly introduction to art history. After the story time, stay for activities and giveaways, including free crayons and samples from the café, while supplies last.
70thAnniversary of Kalihi-Palama Library
Celebrate the platinum anniversary of Kalihi-Palama Library with live performances, magic tricks, giveaways and kids' crafts to take home. From 10:30 to 11:15 a.m., Pohaiakea plays Hawaiian contemporary music. Then from 1:30 p.m. to 2:15, magician James Lee performs tricks for the keiki and kids-at-heart. Please note that all children must be accompanied by their adult(s) during the event.
Star Parties
Clear your Saturday evening for a clear night under the stars. The Hawaiian Astronomical Society lets keiki borrow their telescopes to learn about globular clusters, double stars and other cosmic wonders. The star parties take place at two parks—Kāhala Community Park and Geiger Community Park. Before you attend, please read the society's etiquette guide here.
ʻUkulele Band Park Rats
Do spider monkeys dance when they hear music? Tag along with the ʻUkulele Band Park Rats, a volunteer group of musicians that perform for zoo animals on the second Tuesday of every month. Their animal-enrichment program begins at 9:30 a.m. at the zoo's entrance near the flamingos. If you're late, you can catch up with the group in this order: flamingos, orangutans, siamangs, spider monkeys, giraffes and zebras, meerkats, keiki zoo and komodo dragons.
Read to a Dog
Every second Wednesday of the month, your keiki can read to a therapy dog from K9 Hawaiʻi. All the dogs are specially trained to work with children and can help them practice reading aloud, by being nonjudgemental listeners. A sign-up sheet for 15-minute sessions with a dog is available at the Children's Reference Desk one week prior to the program. Reservations can be made via phone or in person, and those who are not signed up are matched with dogs based on availability. This is a popular program, so register soon if your children would like to participate. Please note that young children must be accompanied by their adult.