Your Weekend: The Best Family Events-October 25
Ride ponies, trick-or-treat at the zoo, get moving with free admission to Bishop Museum, fly rockets and watch a clever cat.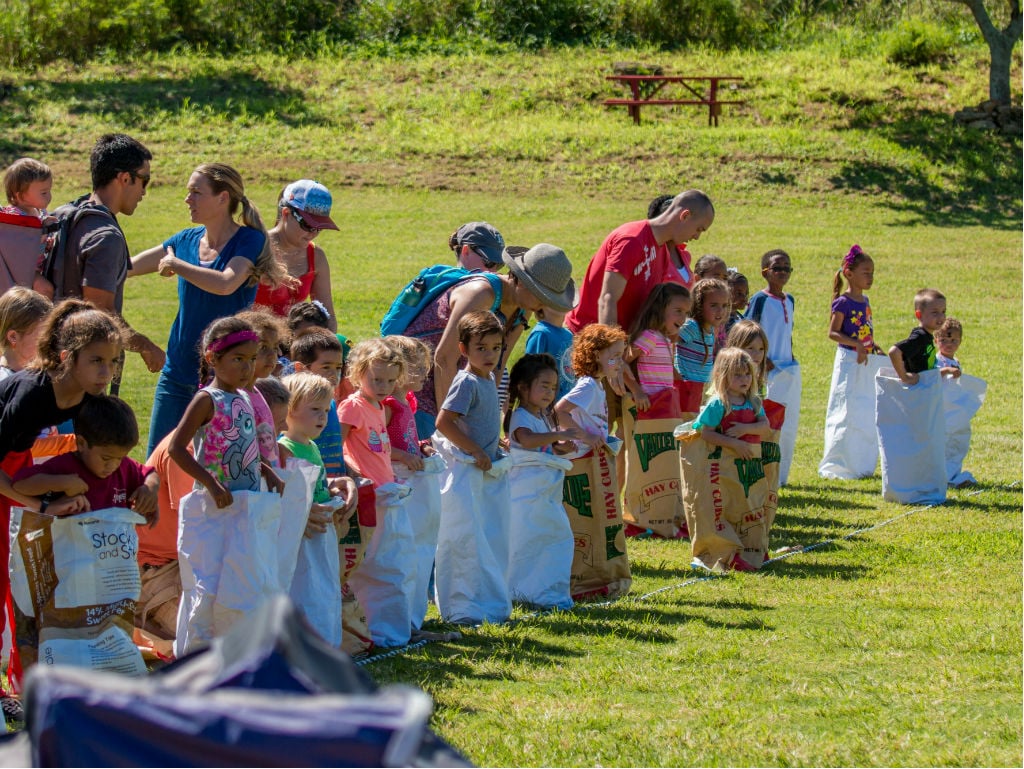 Photo: Gunstock Images
Gunstock Ranch Fall Fun Day
Take a drive to Kahuku and be rewarded with a country ranch fall fair–painted horses and all. Dress up, join a sack race, visit a petting zoo, pound taro into poi and be sure to vote for your favorite costumed horse. Keiki can also purchase script for pony and hay rides, pumpkin chucking and horseshoe painting. Stay for lunch and choose from Gunstock grass-fed beef and hot dogs, Ulu Lemonade, Tin Hut BBQ, Holoholo Snow and more. The event is held on a real ranch with uneven ground, so organizers suggest wearing closed-toed shoes, carrying babies in hiking backpacks or jogging strollers and bringing a chair or mat to sit on. Buy your ticket now and save $3 off the $8 entry price.
Twilight Tours Spooktacular and Haunted Habitats
The Honolulu Zoo is hosting two Halloween-themed events this weekend. At Spooktacular Twilight Tours, visitors will hear creepy stories about the zoo and learn weird animal facts as the sun sets. There will be eerie music, fog and Halloween props for spooky photo ops. At the end of each tour, you'll get treat bags, goodies and light refreshments. Walk-ons are usually welcome for Twilight Tours but all spaces may fill up for these themed tours. Book through the Honolulu Zoo calendar now to avoid disappointment. We tried a regular Twilight Tour. See which animals we got to see here.
For Haunted Habitats, keiki can dress up and trick-or-treat around a haunted treat trail as they learn about the animals that live there.
Looking for more Halloween fun? Find out where you can do festive experiments in a Spooky Laboratory, paint patterned pumpkins, dance along to Halloween-themed music videos or watch a special swimming mermaid show in our Halloween Corner.
Kids Fest
Take part in health and educational activities and get free admission to Bishop Museum at Kids Fest. Activities to get you moving include an obstacle course, Pokemon Dash and Keiki Zumba. You can also learn about safety, climb in a fire truck and enter a contest to win one of more than 30 bicycles and helmets. While you're at the museum, see the stars in the Planetarium, slide down a volcano and check out the latest visiting exhibit. We Tried It! See our review of Animation Academy: From Pencils to Pixels. Registration for Kids Fest begins at 9:30 a.m. Save time by printing and filling out a form ahead of time.
2017 Astronaut Lacy Veach Day of Discovery
Make a balloon-powered LEGO vehicle, a flying straw rocket and view the daytime sky through filtered telescopes. These are just a few of the hands-on exhibits keiki can take part in at the 2017 Astronaut Lacy Veach Day of Discovery. Fifteen booths covering everything from forensic science to ancient Hawaiian navigation and robotics will be on display. Bring a light-colored, plain shirt to make your own Gyotaku fish print. Mark your calendars for next September so you can sign your keiki up for additional STEM workshops at the event.
Puss in Boots
Take your keiki to the theater this weekend to see the tale of a charming and clever cat. Puss in Boots befriends a king, defeats and ogre and transforms his master into the rich and famous Marquis of Carabas. This year's cast consists of 20 students from Kaimuki High School and SEEQS: School for Examining Essential Questions of Sustainability. Wear a cat-inspired outfit to receive a special treat bag. Tip: If you don't own a full feline costume, draw on a cat nose and whiskers and wear a pair of boots.
Looking for more events for adults? Click here for HONOLULU Magazine's picks for the weekend.