Your Weekend: The Best Family Events-Oct. 17, 2019
Visit an underwater pumpkin patch, have a plush toy sleepover, and sing happy birthday to a west Oʻahu shopping center.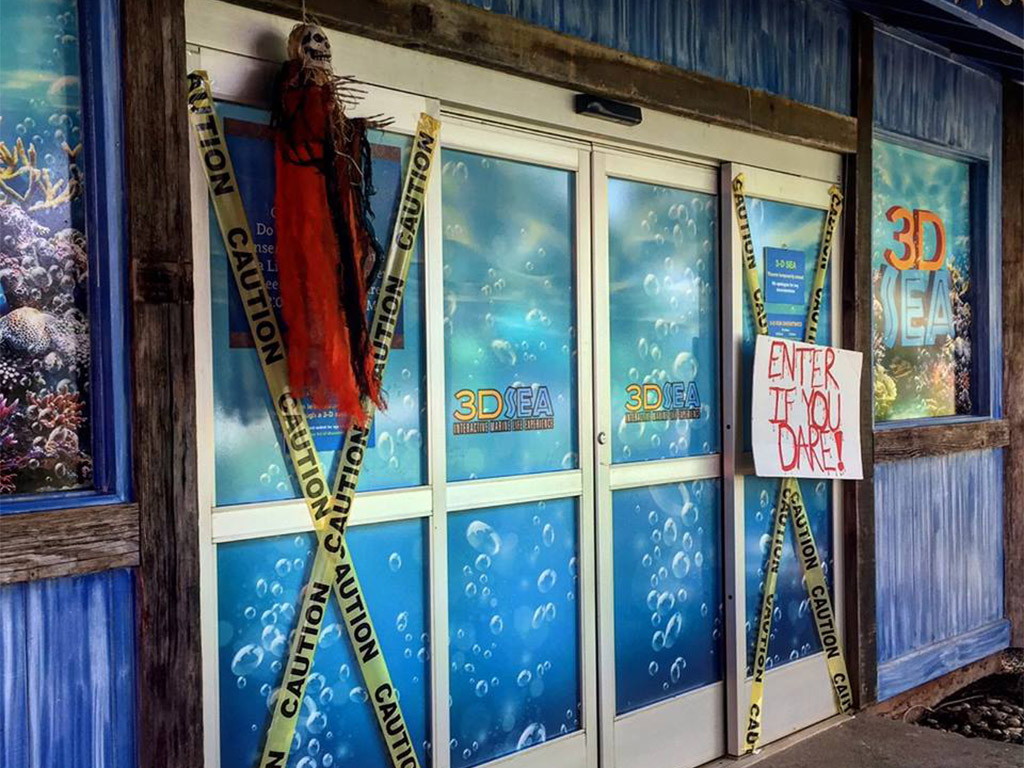 Photo: Courtesy of Sea Life Park
What's behind these spooky doors? Find out this weekend at Sea Life Park.
Ka Makana Aliʻi Birthday Celebration
The biggest mall in West Oʻahu turns 3 years old this weekend. The birthday bash kicks off Friday evening at Ka Makana Aliʻi with a "Chicken Wars" cooking showdown of the mall's restaurants. You can sample bites and vote on your favorite chicken dish between 5 and 6:30 p.m. Then on Saturday evening, singer-songwriter Anuhea and local band Ten Feet perform onstage for two hours before fireworks begin at 8 p.m. (bring mats for seating, but no chairs and coolers, please). A fashion show, featuring fall trends and accessories, happens Sunday morning in the center court. Shoppers who spend $100 or more all weekend can redeem their receipts for a $10 gift card to the mall.
---
Just about two weeks until Halloween! Find fun crafts to try this weekend as well as a roundup of all the festive events across the island in our Halloween Corner.
---
Pluto & Pajamas
If your children are too young—or not ready—for sleepovers, then this program at Bishop Museum is a great introduction to the big-kid world of slumber parties. Bring your pajama-wearing keiki (and their favorite plush toys) to the museum on Friday evening for a fun night of space-themed programs, including a planetarium show and tour of the NASA Celestial Islands Exhibit gallery. Before you call it a night, leave behind the plush toys for a "sleepover." Museum staff take photos of the toys' overnight adventures at the museum while your family snoozes at home. On Saturday morning, return to the museum to pick up the toys and hear all about their adventures! Please note that the online registration deadline is noon, Friday, Oct. 18. Same-day registration at the door is not accepted.
Spook Life Park
Get an early start to Halloween this weekend at Sea Life Park, where underwater pumpkin carving, trick-or-treating and mythical underwater creatures are part of the festivities. Make time to see two live shows—Legends of the Sea: The Darkness Returns in the Dolphin Lagoon and Clash of the Sea Lions: Part Deux. Keiki ages 12 and younger can join the Monster Mash Bash costume contest and receive treats from the judges if their costumes are inspired by Legends of the Sea.
---
Learn more about the park's marine life, shows and more at "Our Guide: Sea Life Park."
---
Energy Exploration Day
Do you know that the Hawaiʻi Children's Discovery Center has reduced its energy usage by 65,000 kilowatt-hours per year, simply by replacing its old lights with bright, shiny new LEDs? Check them out this Saturday when the center hosts Energy Exploration Day. At the event, Keiki can learn about energy conservation while they play games, collect prizes and meet Pluggy, the mascot of Hawaiʻi Energy.
Dia de los Muertos
It's that time of the month again when Bank of Hawaiʻi Family Sunday at the Honolulu Museum of Art offers free admissions and kid-friendly activities! To celebrate the Mexican holiday Day of the Dead, keiki can make paper marigolds and skeleton masks, create watercolors, build with LEGOs, then go on a gallery hunt to learn art-related words in Spanish. Bring a photo or drawing of a loved one who has passed away to add to a display of flowers and offerings at the museum (the photos will not be returned, so please make a copy of the original). A similar program takes place at Spalding House in Makiki Heights. There, kids can listen to stories by Nancy Kulp from noon to 1 p.m. and make their own "alebrijes," which are brightly colored Mexican sculptures of mythical creatures. Please note that activities end at 2 p.m. at both sites, but the galleries remain open until 4 p.m.
---
Learn more about this monthly, free-admissions day at "Our Guide: Family Sunday at Honolulu Museum of Art."
---