Your Weekend: The Best Family Events-November 8
Wave flags, learn how to become a pilot, buy books at bargain prices, make a Thanksgiving craft or watch marching bands.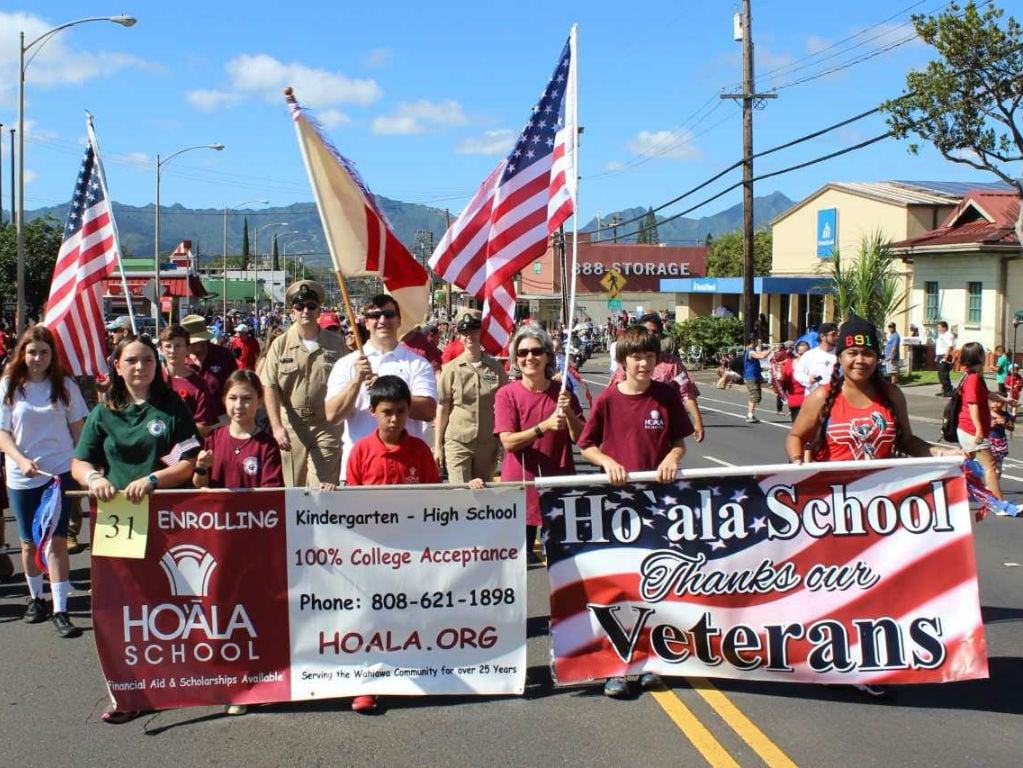 Photo: Wahiawā Lions Club
Wahiawā Lions Club 71st Veterans Day Parade
Honor veterans at the Wahiawā Lions Club Veterans Day Parade this weekend. The Royal Hawaiian Band will lead the parade as current and former servicemembers march alongside military vehicles and pass out American flags for keiki to wave. There will also be taiko drum and elementary school ʻukulele groups, JROTC, marching bands and scouts. After the parade, there will be a ceremony at Wahiawā Town Center inlcuding anthems, speeches and trophies for the best units. Arrive early to find a place to sit along California Avenue. Streets close at 9:30 a.m., but there should be ample parking on side streets.
Looking for more family fun? Subscribers to our free weekly eNewsletter also found out our family's 12 tips for snorkeling at Hanauma Bay State Park, where to go shopping in a WWII bunker and where to see tanks and learn about the history of the military in Hawaiʻi for free. Sign up at honolulufamily.com/yourweekend.
FAPA Future Pilot Forum
Do you have a future pilot in your family? If so, this event could help them learn how to get their wings. FAPA Future Pilot Forum is open to children and adults of all ages, but, with no hands-on activities, it is only for people who are serious about a future career in aviation. The afternoon starts out with a free showing of the film Living in the Age of Airplanes along with popcorn. Afterward, there will be presentations on the different paths to becoming a pilot. Prospective pilots can discuss their future plans with aviation college representatives and industry professionals. Southwest Airlines will be giving away two free tickets for a participant to visit an aviation college of their choice on the U.S. Mainland. Participants are asked to register here for the event by Friday evening. Walk-ins will be welcomed but the check-in process will be much easier for those who register beforehand.
Friends of the Library of Hawaiʻi Art and Book Sale
Look for bargains on books, art and crafts at this three-day sale. Go early on Friday to get first pick of around 2,500 gently used children's books, most of which cost $3 or less. There will also be CDs, DVDs, adult books and art to choose from. The art is all donated by the public and organizers say it is priced well below market value. Prices start at $5 and go up to $750. On Saturday, you can also shop for clothes, baked goods and crafts and buy plate lunches from the "You Hungry" food truck.
Pockets Full of Love Workshop
Get into the Thanksgiving spirit at this workshop at the Art Explorium. Keiki will craft a string of hearts with pockets out of paper, glue and ribbon. On Thanksgiving Day, families can write notes or draw pictures of what they're grateful for and tuck them in the pockets. The hearts can be kept out all year or brought out to share and add to at future family gatherings.
38th Annual Meadow Gold Rainbow Invitational Marching Band Festival
Kick off your three-day weekend at the Aloha Stadium this Thursday evening. Seventeen high school bands will be performing in a friendly exhibition at the Rainbow Invitational. The UH Marching Band will take to the field at the end of the night and play a mix of classical music. Two concession stands will be open from 4:30 p.m., selling Papa Johns Pizza, hamburgers, saimin, hot dogs, French fries, chili, nachos and Dippin' Dots. See if your alma mater is playing here. Parking at Main Salt Lake Gate 1 opens at 4 p.m. and costs $7 per car.
Looking for more events for adults? Click here for HONOLULU Magazine's picks for the weekend.