Your Weekend: The Best Family Events-November 15
Get in free for a seabird-themed scavenger hunt at Sea Life Park, welcome Santa in three spots across O'ahu, play in a giant garden and snag your free basketball tickets.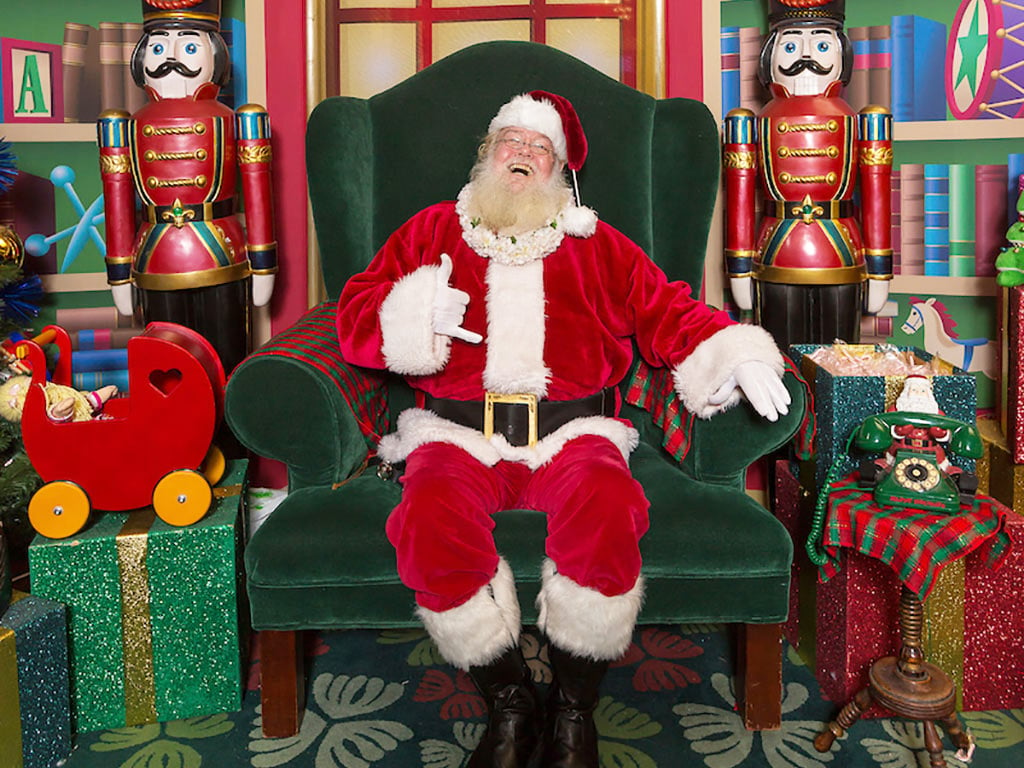 Photo: Aaron K. Yoshino
Santa Claus is coming to Kāhala Mall Saturday.
Getting Savvy About Shearwaters
Take four for the price of one to Sea Life Park this weekend. The park is allowing three kids to get in free with each paying adult as part of its first Shearwater awareness event. Kids can learn more about how to protect baby seabirds as the chicks hatch and begin to leave the nest through educational displays, a seabird obstacle course, a scavenger hunt, talks, arts and crafts, and games. Then, take some time to visit the birds, feed the turtles and pet pillow starfish. We tried it! Click here to read our 12 tips for making the most of your visit to Sea Life Park.
All ages
Three kids 12 years and younger are free with each paying adult. Kama'āina rate for adults is $19.99.
Saturday, Nov. 18, 10 a.m. to 2 p.m.
Sea Life Park, 41-202 Kalaniana'ole Highway, Waimānalo
(808) 259-2500, sealifeparkhawaii.com
Santa's Arrival: Across O'ahu
Santa Claus is rolling into spots across the island. Saturday, the jolly elf will arrive at Kāhala Mall with The Salvation Army offering free senior and keiki activities. You can also adopt an Angel Tree tag to start shopping for a kid or senior in need during the mall's event. Otherwise, you will need to wait until after Thanksgiving. Magically, Santa will also arrive Saturday morning at Windward Mall where kids who donate a canned good will make arts and crafts, get their faces painted and decorate a gingerbread man. The first 200 kids 3 to 12 years old will receive a stocking of goodies. Around sunset, Santa Claus will work his way to Ka Makana Ali'i. The Kapolei mall is celebrating with free balloons, glitter tattoos, princess and superhero appearances and a countdown to the tree lighting. Bring a canned good to donate to the Kroc Center Hawai'i. Ala Moana Center opened its Santa area last week.
All ages
Free
All events take place on Saturday, Nov. 18
Kāhala Mall-10 a.m. to 2 p.m.
Santa will be available starting at 10 a.m. most days.
Digital packages begin at $20.
4211 Wai'alae Avenue
(808) 732-7736, kahalamallcenter.com
Windward Mall-10 a.m. to 1 p.m.
Santa will be available from 10 a.m. to 7 p.m. Monday through Saturday and 10 a.m. to 6 p.m. on Sunday.
46-056 Kamehameha Highway, Kāne'ohe
(808) 235-1143, windwardmall.com
Ka Makana Ali'i-5:30 to 7:30 p.m.
Portrait packages begin at $25.
Ka Makana Ali'i, 91-5431 Kapolei Parkway, Kapolei
(808) 628-4800, kamakanaalii.com
Ready for more holiday fun? Our Holiday Corner launches on Monday with a roundup of fun family events, your parade schedule, crafts, festive food and fun ideas for celebrating at home. Watch for it starting Monday, Nov. 20 on honolulufamily.com.
Celebrate Hawai'i's Plantation Days and Plantation Plays
Walk back through time at two special events at Hawai'i's Plantation Village. Saturday, the museum that features more than 25 plantation-era homes will also have taro demonstrations, booths selling food and shave ice, lei and lauhala-making demonstrations. Then, at noon, you can catch one of the final performances of Leeward Community College's children's show Plantation Plays. Three short plays by local playwrights are performed throughout the village. Families will hear the stories of an 8-year-old boy who is transported back into the early 1900s to learn about the games of that era, a 10-year-old girl on the hunt for a missing chicken among plantation homes, and a brother and sister who discover an old box with a hidden treasure inside.
All ages
Admission to the museum is $8 for kama'āina and military adults, $6 for kids 4 to 11 years, kids 3 years and younger are free. Tickets to Plantation Plays are $5.
Saturday, Nov. 18, 10 a.m. to 2 p.m. Plantation Plays is at noon on Saturday and Sunday, Nov. 18 and 19 at noon.
Hawai'i's Plantation Village, 94-695 Waipahu St., Waipahu
(808) 677-0110, hawaiiplantationvillage.org
Lyon Arboretum Holiday Plant and Craft Sale
Shop for wreaths made from local greens, ornaments or new flowers, trees and plants for the holiday season at this annual event. Get there early so you can find on-street parking (a shuttle will take people to the arboretum), stop by the Keiki Activity booth for hands-on lessons in nature, then browse the handmade holiday decorations and Hawaiian honey products. Bring a picnic lunch, bug repellent and make sure to save some time to explore the hidden trails in one of our favorite free gardens. We tried it! See our guide for where to explore, what you'll find and why you may want to call before walking to the waterfall.
Register Now: UH Rainbow Wahine Basketball's Free Youth Games
UH is offering free basketball tickets to kids again this season. You missed the deadline to register for seats for this week's game against University of San Diego. Sign up by Sunday to reserve your spots at the Thanksgiving weekend's bout against USC. Bring canned food to donate to local nonprofit organizations to that game. While you're online, go ahead and register for other free youth games including matches against UC Irvine, CSUN and Cal Poly in the new year.
Tickets are free for kids in 8th grade and younger.
Register by Sunday, Nov. 19 for the Sunday, Nov. 26 game against USC. Tipoff is at 5 p.m.
Stan Sheriff Center, 1355 Lower Campus Road.
Read more about the program or register for tickets at hawaiiathletics.com
You can still buy tickets for this weekend's Bank of Hawai'i Classic. UH plays Northern Arizona on Friday at 7 p.m. and University of San Diego on Sunday at 5 p.m. Tickets are $7 for adults, $3 for kids 4 to 18 years on eTicketHawaii.
---
Looking for more events for adults? Click here for HONOLULU Magazine's picks for the weekend.