Your Weekend: The Best Family Events-May 23, 2018
Our picks for the weekend's best family events.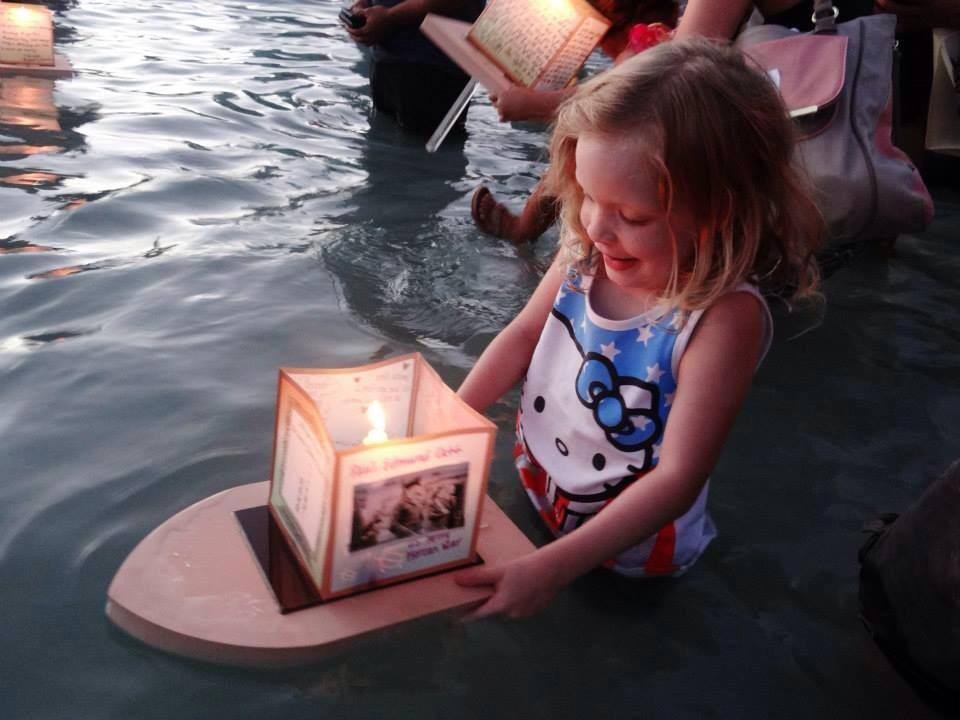 Photo: Christi Catt and Lantern Floating Hawai'i Facebook page
Bike to the Zoo Day
Pedal up to the Honolulu Zoo and get in free Sunday. The 10th annual event is one of the rare days where admission is waived at the zoo. Bike to the Monsarrat Avenue gate and you can take advantage of the free bike valet and enter to win prizes. If you haven't been to the zoo for awhile, see our seven tips to make the most of your visit.
50th State Fair
Summer officially kicks off for Hawai'i's keiki when the 50th State Fair arrives at Aloha Stadium. This year, the fair brings back Colton Farms Petting Zoo and the Amazing Anastasini Circus from Italy. For thrill-seekers, there's "Zero Gravity," a high-speed spinner that requires riders to stand against a wall, and "Black Out," an 80-foot-tall pendulum that hoists riders into the air. Small kids might enjoy "Lolli Swings," a candy-themed spinning ride with double-bucket seats for two passengers, and a tug boat ride called the "Rockin' Tug." Visit the fair on May 27 and May 28 from noon to 6 p.m. for discounted tickets on select rides. Admission is free on Monday, May 28, for active-duty and retired military personnel and their dependents.
Flying Monsters
Dinosaur-loving kids (who are able to stay up past 8 p.m.) will love this National Geographic documentary about flying creatures that lived on Earth thousands of years ago. Flying Monsters, a 40-minute film hosted by scientist Sir David Attenborough, will be shown inside the Hōkūlani Imaginarium (planetarium) at Windward Community College. Reserve tickets early, as the theatre only has 66 seats and four spaces for wheelchairs. Tickets may be purchased two ways: At the box office 30 minutes prior to the show, or reserved by phone then paid for with cash at the box office at least 15 minutes prior to showtime.
Movie Night: Stars Wars: The Last Jedi
Gather the family for a free showing of Stars Wars: The Last Jedi at Wahiawā Public Library. Moviegoers are welcome to bring their own food and drinks into the meeting room. Parents and caregivers must accompany small children. Contact the library (preferably seven days in advance) to request a sign-language interpreter.
Lantern Floating Ceremony
On Memorial Day, join more than 50,000 people at Ala Moana Beach Park to float lanterns in honor of loved ones who have died. The ceremony begins at 6:10 p.m. onstage with Japanese and Hawaiian rituals including taiko drumming, ringing of a bell, chants and blessings. After the opening ceremony, more than 7,000 lanterns are released into the ocean, casting an orange glow across the shoreline. (Volunteers later gather the lanterns, which are recycled for next year.) To float a lantern or write a message on one, visit the "lantern request tent" from 10 a.m. to 4 p.m. Lanterns are free and are first-come, first-served. Free parking is available from 7 a.m. to midnight at the Hawaiʻi Convention Center. A free shuttle for people with disabilities operates between the center and beach park from 3 to 5:30 p.m., and after the ceremony through 9:30 p.m. This event does not have concessions, so bring your own food and drinks.
---
Find more events for adults on honolulumagazine.com.