Your Weekend: The Best Family Events-March 14, 2018
Our picks for the weekend's best family events.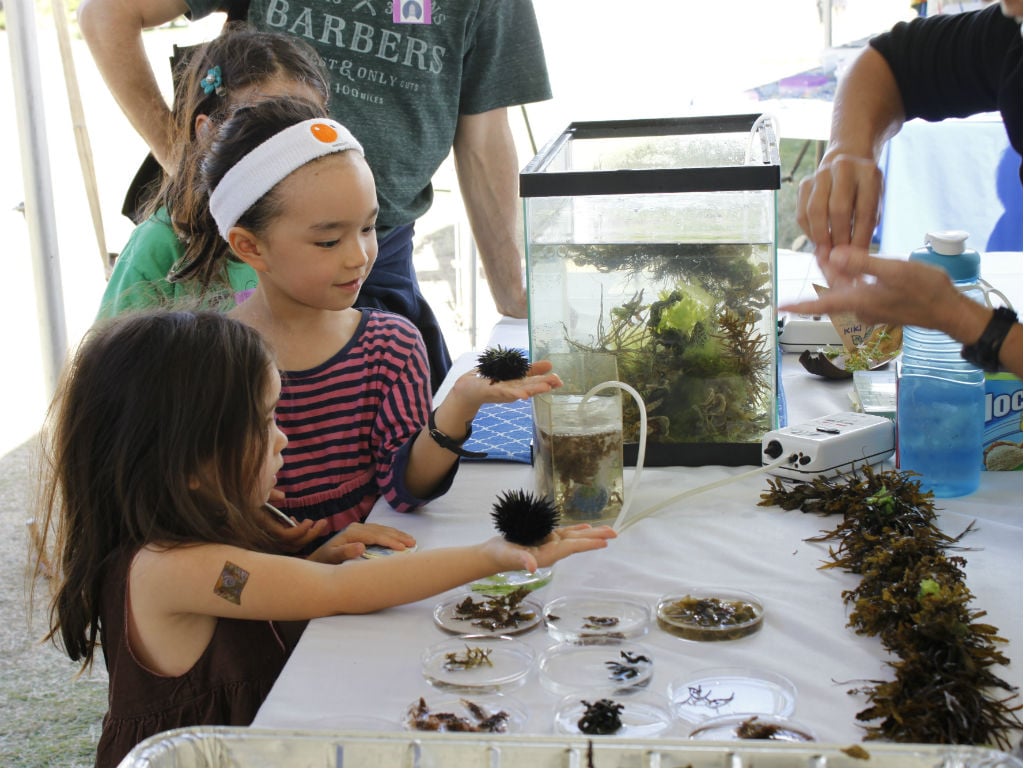 Photo: Bishop Museum
Fall in Love with Science
Preregister now to visit Bishop Museum for free and try out dozens of hands-on activities this Sunday. We tried it last year and our boys had a blast going from booth to booth, learning from local scientists and experts, and picking up pamphlets and prizes along the way. Organizers say this year's highlights include a "Creature Creation Station," "Slime Time" class on Hawaiian snails, a five senses "No Bones About It" activity and NOAA experts' "Science on a Sphere" presentations. A new "Land, Sea and Sky" exhibit will be unveiled in the Science Adventure Center, where families can also see rock melt into molten lava. You can purchase lunch from food trucks including Bao Boys, Kiawe Pizza, Sweet Revenge, Tea Girls, Uahi Island Grill and Uncle Lani's Poi Mochi, and stick around to see special Planetarium shows and the museum's new visiting exhibit Expedition: Dinosaur. We tried it. See our full review and tips here.
All ages
Kamaʻāina and military are free with ID if you preregister online here by 5 p.m. on Saturday, March 17. Admission on the day of the event will be 50 percent off for kamaʻāina and military with ID. Expedition: Dinosaur costs $4.95 per person and Planetarium shows are $2.95 per person per show.
Sunday, March 18, 9 a.m. to 3 p.m.
Bishop Museum, 1525 Bernice St.
(808) 847-3511, bishopmuseum.org
Subscribers to our free weekly eNewsletter also received tips to visiting a Butterfly Conservatory including what to wear to get them to land on you and how to feed them, 19 Spring Break camps and workshops, where to snap photos with the Easter Bunny and how to make a no-bake Easter treat at home. Click here to sign up.
Family Sunday: Sing Out
Make your own music and art at the Honolulu Museum of Art's Family Sunday event. Keiki will create bell tambourines and decorate them with colorful ribbons and scratch designs into CDs. Families can also listen to the Hawaiʻi Youth Symphony, cellist Jacob Staron and the jazz tunes of The Wade Cambern Trio. Remember the brave little mouse Fievel? You can watch An American Tail for free with your keiki. Or hop on the shuttle to Spalding House to play African drums and guitars.
All ages
Free
Sunday, March 18 10 a.m. to 4:30 p.m. (activities end at 2 p.m.)
Honolulu Museum of Art, 900 S. Beretania St.
(808) 532-8700, honolulumuseum.org
12th Annual Easter Egg Hunt at Watanabe Floral
Hunt for more than 1,000 eggs at Watanabe Floral this Saturday. Arrive early to register and make a keiki ID, eat popcorn and play free carnival games including ring toss, bean bag toss and miniature bowling. If you have an eager toddler, don't worry about him or her getting hurt in the scrimmage for colorful eggs. Keiki will be divided into groups by age to ensure their safety. There are no egg limits and some will contain Watanabe Floral gift cards and coupons for free baskets and discounts inside. Check out our list of this season's Easter egg hunts here.
10 years and younger
Free
Saturday, March 17, 12 p.m. registration opens, 1 p.m. games and activities start, 2 p.m. Easter egg hunt
Watanabe Floral, 1618 N. Nimitz Hwy.
(808) 832-9360, watanabefloral.com
James and the Giant Peach
Children from some of Hawaiʻi's public schools will be performing a musical version of Roald Dahl's James and the Giant Peach with Central Theatre Arts Academy this weekend only. The young actors range in age from 8 to 18 years old and will be telling the story of James Henry Trotter, his two horrid aunts, the Old Green Grasshopper and the rest of the insects aboard a giant, magical peach. Catch one of four performances with your 'ohana.
All ages
$27 for adults, $22 for students 18 years and younger. Purchase tickets here.
Friday, March 16 at 7:30 p.m., Saturday, March 17 at 2 and 7:30 p.m., Sunday, March 18 at 2 p.m.
Pearl City Cultural Center, 2100 Hoʻokiʻekiʻe St., Pearl City
(808) 307-4383, centraltheatreartsacademy.com
51st Annual Waikīkī St. Patrick's Day Parade
Get dressed in green and celebrate St. Patrick's Day with a parade down Kalākaua Avenue. The festive, Irish-themed parade will feature 800 participants, including marching bands, military groups, green floats and of course, bagpipes. The parade will end at the Kapiʻolani Bandstand where you'll find Irish food and entertainment.
All ages
Free
Saturday, March 17, noon to 1:30 p.m.
Parade starts at Ft. DeRussey, goes down Kalākaua Avenue and ends at Kapiʻolani Park
(808) 285-0847, friendsofstpatrickhawaii.com
---
Looking for more events for adults? Click here for HONOLULU Magazine's picks for the weekend.