Your Weekend: The Best Family Events-June 5, 2019
Our picks for the weekend's best family events.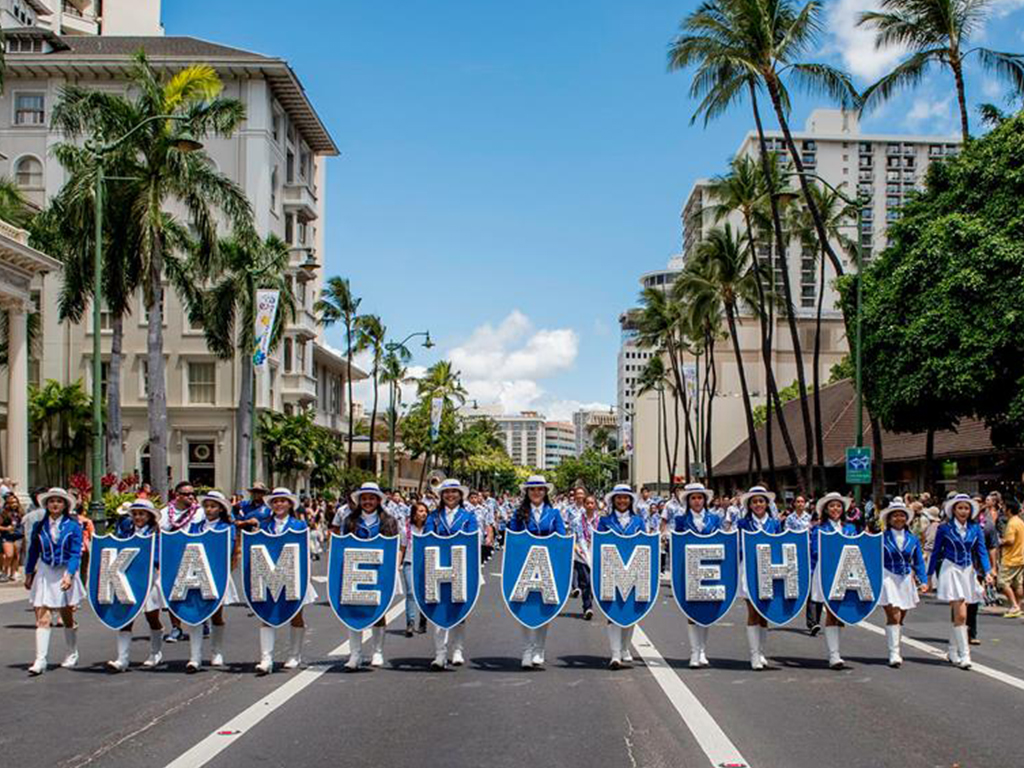 Photo: By Tina Mahina
Screen on the Green
Does your family want to watch a movie under the starry sky—while sitting in a lush rainforest? This Thursday, gather your tribe and head over to Waimea Valley's "Screen on the Green," a series of weekly free movies through July 25. This week, you'll watch the action-packed film Aquaman, starring Jason Momoa. Don't forget to bring a picnic blanket, low-back chairs, bug spray and light jackets for cool temperatures! And if you don't have time to make dinner, pick up snacks and take-out food from the Haleʻiwa Farmers' Market, which happens from 2 to 6 p.m. every Thursday at Waimea Valley. Can't make it Aquaman this week? Ralph Breaks the Internet and Hotel Transylvania are scheduled for June 13 and June 20, respectively.
Waimea Valley isn't the only place showing kid-friendly, free movies this summer! For other locations, click on "Our Guide: Fun Family Summer Events 2019."
King Kamehameha Celebration
Join a trio of events leading up to Kamehameha Day, a state holiday on Tuesday, June 11. The events kick off with a lei draping ceremony on Friday afternoon as the Royal Hawaiian Band performs in front of Ali'iōlani Hale. Then on Saturday morning, a floral parade starts at ʻIolani Palace, continues onto Ala Moana Boulevard and ends at Queen Kapiʻolani Park in Waikīkī. This ceremonial parade is famous for beautiful flower floats and pa'u riders. Saturday's festivities wrap up at a hoʻolauleʻa block party, featuring live entertainment at Aloha Tower, plus Hawaiʻi-made products and food for purchase. King Kamehameha the Great was the monarch who—between the late 1700s and early 1800s—established the Kingdom of Hawaiʻi, comprising the islands of Niʻihau, Kauaʻi, Oʻahu, Molokaʻi, Lānaʻi, Maui, Hawaiʻi and Kahoʻolawe.
There's another hoʻolauleʻa happening this weekend! Click here for details about the Pan-Pacific Ho'olaule'a on Kalākaua Avenue.
Public Star Parties
Summer vacation means no homework and no early bedtime routines for keiki! Having said that, this Saturday is the perfect evening to stay up late and go to a park to peer through telescopes provided by members of the Hawaiian Astronomical Society. The society hosts free star parties several times a year throughout the island, and Saturday's parties happen in two locations—Kāhala Community Park in East Oʻahu and Geiger Community Park in Leeward. Depending on how clear the sky is that evening, you might see double stars, globular clusters and other wonders. Please click here to read and share "star party etiquette" with your family before attending. An afternoon nap for the keiki might also be a good idea!
Ko Olina World Ocean Day
Dress up as your favorite ocean creature and celebrate World Ocean Day this Saturday at Ko Olina Lagoon. Activities at this free event include marine-themed lessons, live music by Mailani, hula performances, food for purchase and Disney's The Little Mermaid shown on the lawn at sundown. Don't forget to bring reusable water containers to fill up at free water stations, and of course, beach towels and picnic mats for your family. But please leave alcoholic drinks, tents, glass containers, coolers and pets at home (even if your pets are fish or turtles!). The World Ocean Day theme this year is "Together, We Can Protect and Restore Our Ocean."
Summer Craft and Collectible Fair
Kokeshi dolls, jewelry, kimonos and swords are among the treasures for sale this Saturday at the Japanese Cultural Center of Hawaiʻi. This is a chance for shoppers to meet with vendors and collectors from around Oʻahu. While there, take advantage of free admission every first Saturday to Okage Sama De, a kid-friendly exhibit dedicated to Japanese culture and Japanese history in Hawaiʻi. Parking is free in the garage with a minimum of $10 purchase in the gallery gift shop. You also might find metered parking along Beretania Street or free parking along one of the residential streets near the center.
Do you know that a real moon rock and mock village can be found in the Okage Sama De exhibit? Learn more about it at "We Tried It! Okage Sama De in the Japanese Cultural Center."