Your Weekend: The Best Family Events-June 1
Our roundup of the best family events on O'ahu.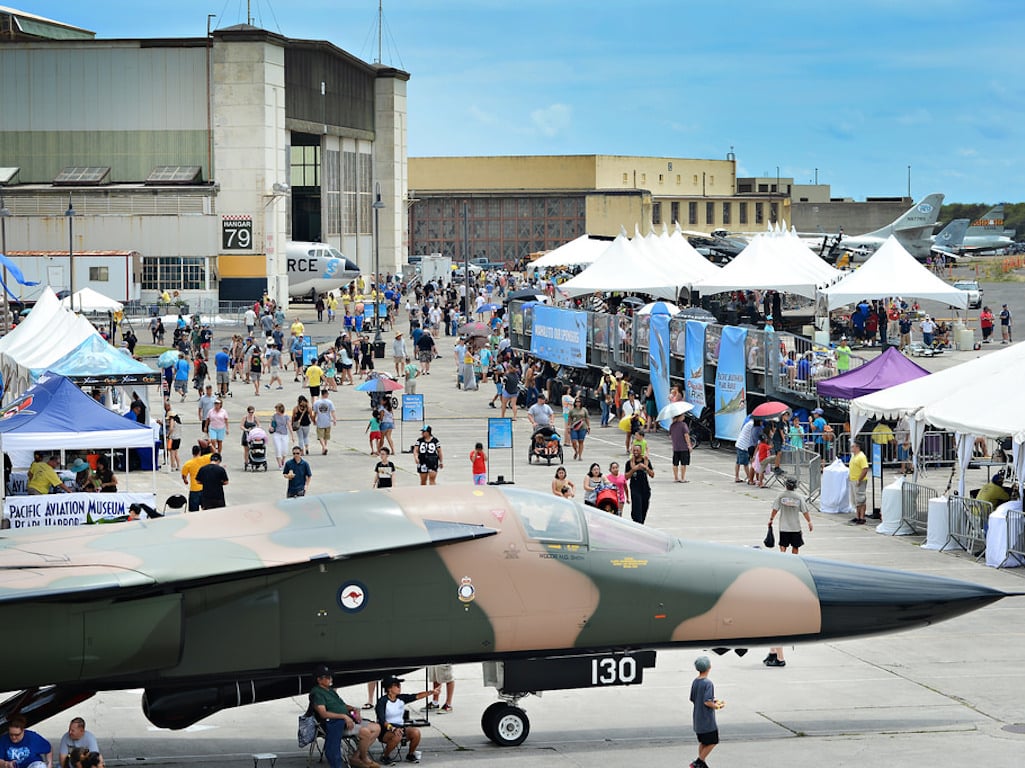 Photo: Pacific Aviation Museum
Biggest Little Airshow in Hawai'i
Future pilots can marvel at airshows and climb into cockpits at the Pacific Aviation Museum for just $5 this weekend. Giant-scale remote-controlled aircraft will soar overhead, flying in formation and performing aerobatic moves and dogfights. Pilots will reenact the attack on Pearl Harbor, Battle of Midway and drop candies out of a Jelly Belly Candy Bomber. Keiki can play in snow and climb into the cockpits of a C-47, Seabee (RC-3), SH-60 and an F-5. There will also be hangar tours, restored World War II aircraft displays and, for a fee, keiki can go on rides, bounce houses, slides and a rock climbing wall. No outside food or drinks are allowed, but food trucks will be selling plate lunches, pizza, hot dogs, shave ice and kettle corn. Visitors can drive onto Ford Island for the event or take shuttles that depart every 15 minutes from the Pearl Harbor Visitor Center.
Want more? Subscribers to HONOLULU Family's free eNewsletter also learned how to drown slugs and 10 other garden hacks, when their favorite musicians will be playing at the Honolulu Zoo and Waikīkī Aquarium this summer and about a free Ocean Fest this weekend. Subscribe now to learn more.
Summer Reading Program Kickoff Day
The Hawai'i State Library will celebrate the start of its 2017 Summer Reading Program with a free family event this Saturday. Activities include programming and racing robots, launching handmade paper rockets, making a birdseed feeder and taking part in a giant Jenga challenge. Keiki will also work together to create the city of Honolulu and some of its best-known landmarks out of 20,000 LEGO bricks. Space is limited, so sign up for a 30-minute building session here. There will be visits and photo opportunities with Lani Moo, Calci and Ronald McDonald, who will use music magic, skits and games to teach children the value of giving back.
Keiki Fun Sunday Team Echinoderm: Sea Stars, Urchins and Cucumbers
Children 12 years and younger can visit Sea Life Park for free and learn about spiny, briny ocean creatures this Sunday. In addition to the park's exhibits and shows, there will be special educational presentations on sea stars and their cousins: urchins and cucumbers. Keiki will also get to make their own echinoderm gyotaku prints, play games, snap photos with mermaids and listen to keiki performers including students from Roy Sakuma's 'Ukulele Studio.
Hawai'i's Plantation Village's 27th Obon Celebration
It's time to celebrate Obon season in Hawai'i. O'ahu's first bon dance of the year will be at Hawai'i's Plantation Village this Saturday. Families can get their fill of andagi from Da Andagi Guy and purchase happi coats and other handmade one-of-a-kind items there. Join in and dance with seven different dance groups. When you've worked up a hunger you can purchase food from K's Bento, Pastele Stew and Rice, Gandule Rice and Chorizo and Kona Ice Shave Ice. There will also be Spam and other musubi, mochi, baked goods and more. See our guide to Bon Dances.
Largest Lū'au Hawai'i
Habilitat is hosting its annual fundraiser at Kualoa Ranch and families had better come hungry. There will be beef stew, lomi salmon, chicken long rice, kālua pig, rice, poi, haupia and squid lū'au. Keiki can jump and slide on inflatables, get crafty with Art for Kids, have Color Whims paint their faces and take home swords and animals by Balloon Monsoon. 'Ukulele virtuoso Taimane Gardner will take to the stage as well as Moke Boy, Peni Dean and Malu Productions. If you're feeling lucky, you can enter live and silent auctions featuring more than 500 items including sporting goods, Neighbor Island vacation packages and works of art. Proceeds from ticket sales go to Habilitat, a nonprofit drug rehabilitation program.
Looking for more events for adults? Check out HONOLULU Magazine's Weekend Picks on honolulumagazine.com.