Your Weekend: The Best Family Events-July 6
Our roundup of the best family events on O'ahu.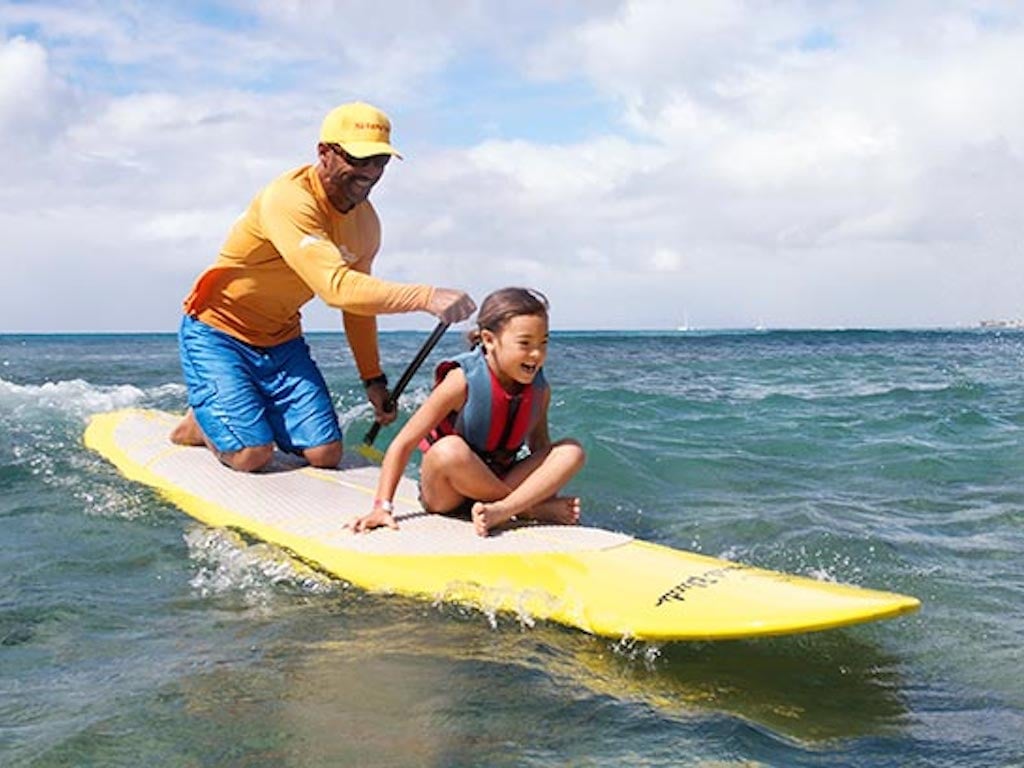 Photo: Nā Kama Kai Ocean Clinic
Nā Kama Kai Ocean Clinic
Your keiki can paddle a canoe, stand up paddle board and learn about ocean safety at Nā Kama Kai's Ocean Clinic at Hale'iwa Beach Park this weekend. Best of all? The event is free. Children of all ages will put on life jackets and work with dozens of volunteers to learn about ancient Hawaiian navigation, conservation and how to interpret beach warning signs. Be prepared to wait on the beach as parents need to be present but don't participate in the activities. Although registration for the even has ended, all walk-ons will be welcomed. But, be aware that you may have to wait awhile for a less-crowded time slot. If you can't make this clinic, mark your calendar for the next monthly event at Waikīkī Beach on Sunday, August 13. Registration for that event will begin at 7 p.m. on Sunday, July 30. Check out our full guide to Nā Kama Kai's Ocean Clinics and see our 9 tips to get the most out of the event here.
Want more? Subscribers to HONOLULU Family's free eNewsletter also learned how to see some hard-to-spot animals at the zoo after hours, where to see Elmo live, how to get kids in free to Wet'n'Wild and where to celebrate National Fried Chicken Day. Subscribe now to learn more.
DIY Toys and Movie Night
In celebration of Plastic Free July, the Art Explorium is offering a free, Friday night event. Keiki will watch a short film about marine debris called Trash Talk. Then, they will make eco-friendly toys by recycling items to create tin can robots or animal-shaped piggy banks. Finally, they will watch Plastic is Forever, a short film make by a child about how children can save the planet. No registration is required, but parents or care givers must be present.
UH KIDS FIRST! Film Festival
Learn about the life (and love) cycles of a bee, search for sea turtles in Saipan and see a cocoa-loving, snow-shoveling deer at the University of Hawai'i's free international children's film festival this Sunday with "Nurture Nature." The event will start out with door prizes, followed by eight short films from Mexico, Spain, Germany, Hungary and the United States, shown in 81 minutes. All of the films focus on nature and environmental themes. They were selected by the Coalition for Quality Children's Media, which means no gratuitous violence, prejudice or condescension toward children.
HiSam Second Saturday: Shadow Puppets
Visit this downtown museum on Saturday and make a free craft. Keiki will get to learn how to make and use shadow puppets from Bonnie Kim, who has worked with the Bread and Puppet Theater. The museum will provide all the materials. Keiki can start their puppet at any time, but should allow at least 30 minutes to complete the project. While you're at the museum, be sure not to miss the hands-on "I Love Art" room. Check out our full guide here.
Waipahu High School Robotics Showcase
Do your keiki like robots? The Marauder Rascals, Waipahu High School's robotics team, will be giving a hands-on, interactive presentation this weekend. Not only will the team be talking about the FIRST and VEX competitions, but participants will get to operate multiple robots and learn all about how they are made.
Looking for more events for adults? Check out HONOLULU Magazine's Weekend Picks on honolulumagazine.com.