Your Weekend: The Best Family Events-June 29
Our roundup of the best family events in Hawai'i.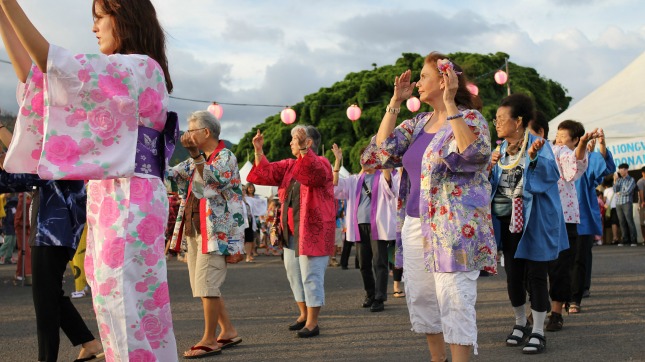 Photo: Courtesy Mō'ili'ili Summer Fest
Mō'ili'ili Summer Fest
Catch goldfish, make origami, decorate a fan and join a big Bon Dance at this annual festival near the University of Hawai'i-Mānoa. The Mō'ili'ili Summer Fest always has keiki activities, dozens of food vendors offering everything from lumpia and barbecue to traditional Bon Dance fare including shoyu pork and noodles. Park for free at UH and get there early before the crowds arrive. See our tips for cutting down your wait for andagi, a full list of all kids activities and a map of the event on our Inside Look at the festival.
All ages
Free
Saturday, July 1. 5 to 10 p.m.
Former Varsity Theatre parking lot and Coyne Street
Want more? Subscribers to HONOLULU Family's free eNewsletter also learned how to get in free to Wet 'n' Wild, a new spot serving up Creole-style red beans and chocolate-chip-cookie bread pudding and where the family can work together to escape a Hangry Caterpillar. Subscribe now to learn more.
Schofield Barracks 4th of July Spectacular
You don't need to be a member of the military to be part of the 4th of July celebration in Wahiawā this year. The Army is opening the field to the public in 2017. Parking will fill up early for the kiddie and pony rides, food booths and entertainment. Stick around until 3 p.m. to see Tyler Farr, then Natalie Imbruglia and the fireworks. Bring sunscreen, be ready for a bag search and expect a crowd.
All ages
Free. Some activities have a fee. Bring cash for ride tickets.
Tuesday, July 4. Festivities begin at 10 a.m. Fireworks begin at 8:30 p.m.
Weyand Field, Schofield Barracks. Non-military members with ID can enter through Foote Gate on Kunia Road. You will park at Watts Field and shuttle to the event.
Other 4th of July Fireworks
Ala Moana Beach Park-8:30 p.m.
Listen to KSSK 92.3 FM for the music synced up with the fireworks show set off from three separate platforms.
Hickam Air Force Base-9 p.m.
DOD and families only. Includes free train rides, petting zoo, balloon twisting, tattoos, putt putt golf and other activities.
Skydive Hawai'i air show at 6 p.m. with the Marine Corps Forces Pacific Band performance at 6:30 p.m. Parking at Lanikai, Kainalu and Kailua elementary schools and Kailua Intermediate. Shuttle stops at the Old Macy's Parking Lot to Kailua Elementary and Kailua Beach Center.
Parking opens at 2 p.m. for $10 a car. More than 30 Eat the Street food vendors open at 2 p.m. with slack key guitar performances starting at 2:30 p.m.
ESPN 1420 Sports Festival
Climb a wall, kick a ball and even play traditional Hawaiian games at this year's free festival. Little kids can jump around in inflatables while older kids can challenge themselves with football tosses, golf tests and get an autograph from UFC fighter and Mākaha native Yancy Medeiros. See what is new, how to avoid the crowds and a way to win prizes in our Inside Look at the festival.
All ages
Free
Saturday, July 1. 9 a.m. to 4 p.m.
Blaisdell Exhibition Hall, 777 Ward Ave.
Origami Fun with Yasu Ishida
Magician and storyteller Yasu Ishida brings his engaging art form to various libraries as part of the Hawai'i State Public Library's 2017 Summer Reading Program. On Friday, He uses balloon animals, origami and magic to tell tales for younger kids. Children will even learn a simple trick to try at home. On Saturday, Ishida will tell stories from around the world with origami and pop-up paper arts. Then, in the afternoon, he'll teach older kids how to make action origami with flapping birds, a flying bat and even a wiggling dinosaur. RSVP is required for this workshop at the Liliha Library.
Preschool through 5th grade
Free
"Story Circus with Yasu Ishida"-Friday, June 30. 10:30 to 11:15 a.m. Salt Lake-Moanalua Public Library, 3225 Salt Lake Blvd. (808) 831-6831, librarieshawaii.org
"Wondrous Stories through Magical Papers"- Saturday, July 1. 10:30-11:45 a.m. Hawai'i State Public Library, 478 S. King St. (808) 586-3500, librarieshawaii.org
"Origami in Motion with Yasu Ishida"-Saturday, July 1. 2 to 2:45 p.m. Lilha Public Library, 1515 Liliha St. (808) 587-7577, librarieshawaii.org
---
Looking for more events for adults? Check out HONOLULU Magazine's Weekend Picks on honolulumagazine.com.