Your Weekend: The Best Family Events-July 20
Our roundup of the best family events on O'ahu.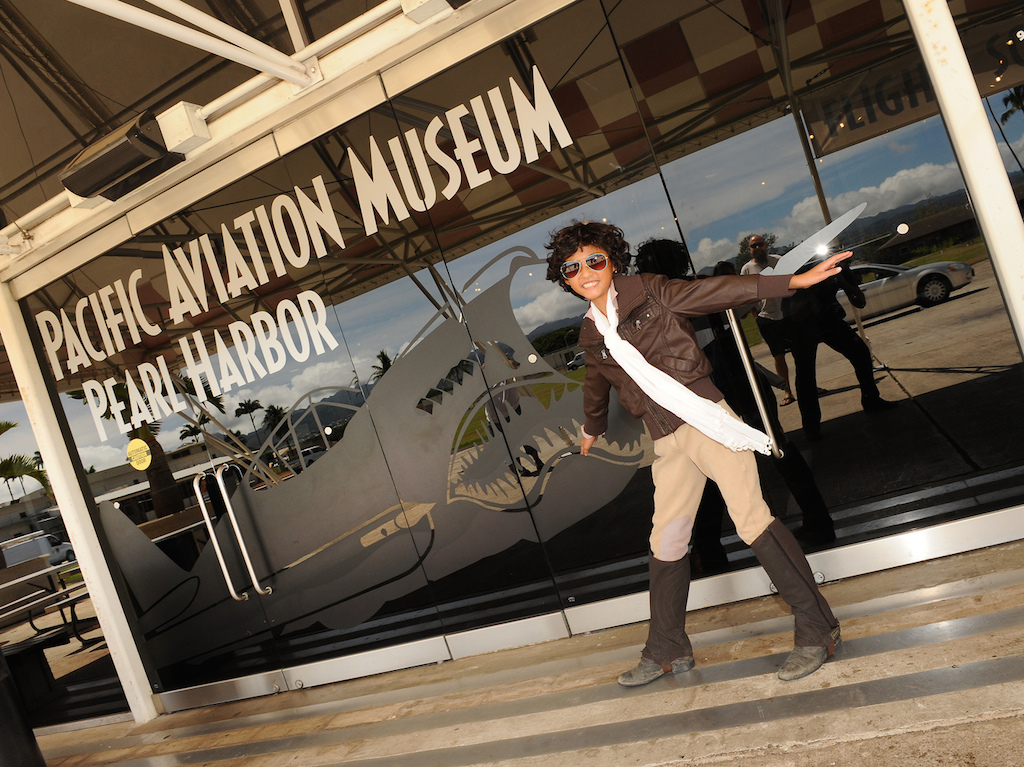 Photo: Pacific Aviation Museum
Happy 120th Birthday, Amelia Earhart
Want to visit the Pacific Aviation Museum for free? Dress up as Amelia Earhart or wear historical aviation attire and you can celebrate her birthday with free admission as well as cake and refreshments. The party is on Monday, but with Summer Fun over this could keep your little ones busy. Future pilots can also snap photos with costumed re-enactors, meet women aviators and tour the "Amelia Earhart in Hawai'i" photo exhibit. Arrive early, as the first 40 children will receive goodie bags. Park at Pearl Harbor Visitor Center and take a shuttle to the museum. Remember no bags or purses are allowed but cell phones, wallets and cameras are OK.
Want more? Subscribers to HONOLULU Family's free eNewsletter also learned all the insider tips for the first-ever HONOLULU Family Fun Run as well as where to buy books for 50 cents, see a double feature on a big screen for free and about a kid-friendly volunteer opportunity. Subscribe now to learn more.
UH Kids First! Film Festival
Learn how to "Be True to You" through 10 short films shown in 90 minutes at the University of Hawai'i's free international children's film festival this Sunday. The event will start out with door prizes, followed by films from Mexico, U.K., Brazil, Norway and the U.S. Each film focuses on children overcoming adversity, including dyslexia and difficulty finding friends. The kids go on to pursue their passions including jazz, trumpet and becoming a "Monster Doctor." All films are selected by the Coalition for Quality Children's Media, which means you don't need to worry about violence or adult content.
Keiki Day! At Kāhala Mall
Watch the musical Honu by the Sea, listen to Hoku Zuttermeister and learn about the ocean through free hand-on activities with organizations including Bishop Museum, Living Art Marine Center and Sea Life Park. Keiki can receive ocean-themed glitter tattoos and balloon animals and stay safe with the HPD's Keiki I.D. program. There will also be a chance to win an adventure with Dolphin Quest.
Kids, Inc. Business Showcase at Ka Makana Ali'i
Support child entrepreneurs and teach your keiki about money by shopping at two dozen kid-run retail booths at Ka Makana Ali'i this weekend. The kidpreneurs showcasing their businesses are the 6- to 16-year-old winners of the Kids, Inc. Business Contest. They will be selling everything from handmade jewelry, soaps, up-cycled crafts and inspirational T-shirts to liliko'i butter, banana treats and lollipops. And, of course, there will be lots of slime at shops called "Happy Slime," "Silly Slime" and "Mustache Slimes." See a full list of businesses here. The Kapolei mall also has a grassy area where you can run your keiki. Parent tip: Bring a change of clothes if you decide to let your little ones play in the colorful water fountain feature.
Back-to-School Craft and Family Fair
Celebrate the end of summer with free activities, games, a craft fair and an opportunity to see inside a fire truck and an ambulance at Aikahi Park Shopping Center. Keiki can decorate notebooks and drawstring backpacks and learn about safety from police, fire fighters, paramedics and lifeguards. Then play Go Fish, get their faces painted and receive balloon animals and glitter tattoos. A craft fair will feature accessories, bags, gift items and more and there will be merchant giveaways throughout the event.
Looking for more events for adults? Check out HONOLULU Magazine's Weekend Picks on honolulumagazine.com.