Your Weekend: The Best Family Events-February 28, 2018
Our picks for the weekend's best family events.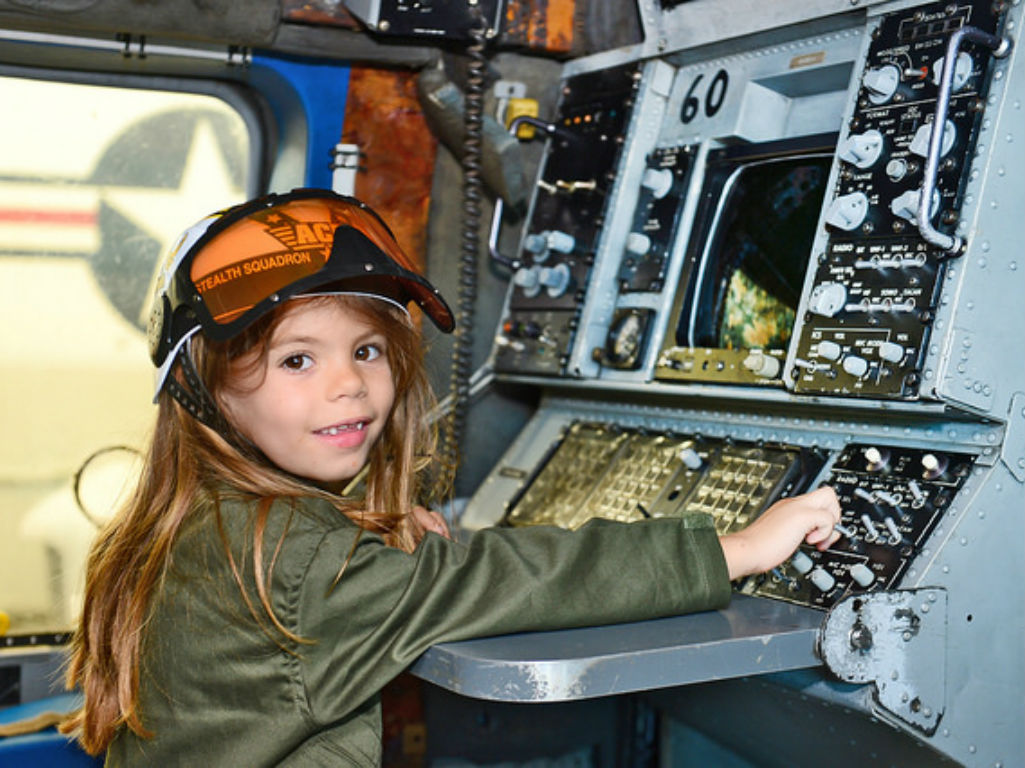 Photo: Pacific Aviation Museum Pearl Harbor
Open Cockpit Day
Dress up as a pilot and climb into historic aircraft this weekend. Save money with the Pacific Aviation Museum Pearl Harbor's online buy-one-get-one-free ticket offer. In addition to exploring the two battle-scarred hangers and 48 aircraft, families will get to talk story with pilots, ground crew and military volunteers. You can also celebrate Women in Aviation and Women's History Month by hearing Wally Funk's inspirational story. She was one of the Mercury 13 group of women who trained for the space program in the 1960s and she has logged more than 18,000 flight hours.
Subscribers to our free weekly eNewsletter also found out about 19 Spring Break camps and workshops, where to celebrate Dr. Seuss' birthday and about Hawaiʻi's largest anime convention. Click here to sign up.
Butterfly Conservatory
The butterflies are coming back to Pearlridge Center this weekend. See the life cycle of these colorful creatures – all raised on local farms – from egg to chrysalis to butterfly, first-hand. Everyone will get to feed a butterfly, and, if you're really lucky, one will land on you too. Stick around for a craft activity, listen to a storytime with the Hungry Caterpillar or purchase your own Caterpillar Kit to take home. We'll be checking out the conservatory this weekend. Check HONOLULU Family's website early next week for our review. While you're at the mall, you can also get photos with the Easter Bunny.
Keiki Fun Sunday–A "March" with Penguins
Get free child admission to Sea Life Park and learn about flightless birds. You'll get to see penguins swimming and walking in a parade – along with a Chinese lion dance, stilt walker, juggling clown on a unicycle and more. Other activities include a scavenger hunt, obstacle course, making a penguin hat and a coconut husk bird shelter. See our full guide to Sea Life Park here.
Little Big Eye
Follow a feisty fish with a curious eye for adventure as Little Big Eye opens at Honolulu Theatre for Youth this weekend. Get your toddlers excited as this is one of few plays recommended for keiki as young as 2 years old. It's filled with puppets, music and mystery and no-one will worry if your little one makes some noise or gets up and runs around. This play is also shorter – 35 minutes instead of HTY's usual one-hour plays and will only run for two weekends.
Spring Yoga and Art Workshop
Kids will get to play with poses, practice breathing exercises, learn how to balance and fully relax their bodies. Then, they'll make a bendy bug art project to decorate and take home as a fun reminder of the poses they learned.
---
Looking for more events for adults? Click here for HONOLULU Magazine's picks for the weekend.