Your Weekend: The Best Family Events-December 20
Snap photos with Santa at the Mighty Mo, play in snow, craft last-minute presents, learn about winter traditions on a dome screen or snack on free milk and cookies.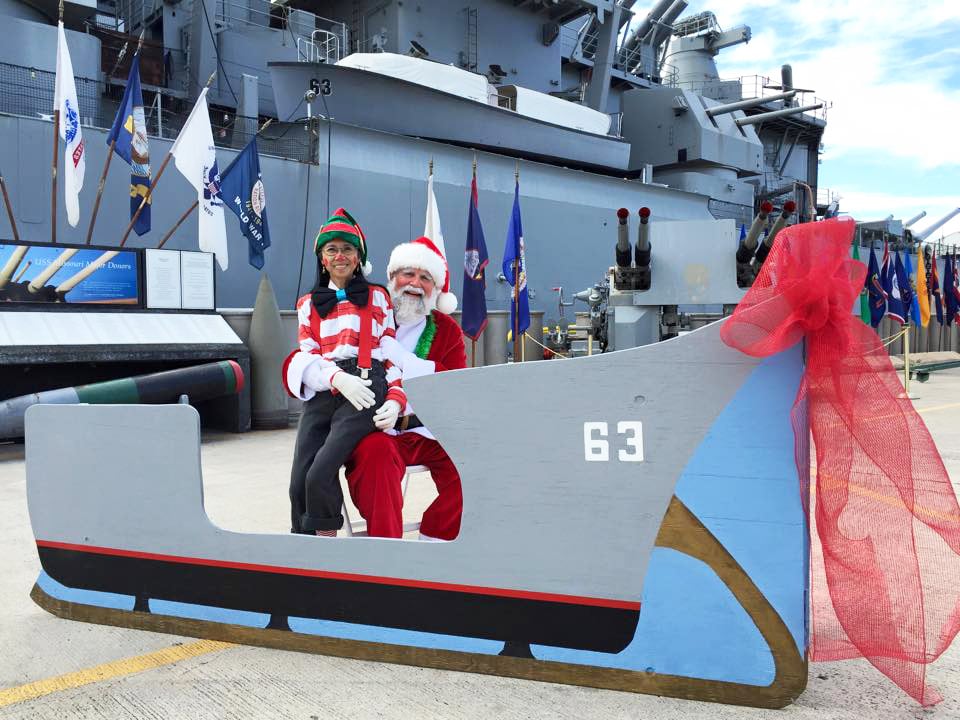 Photo: Battleship Missouri Memorial
Photos with Santa at the Mighty Mo
Santa Claus is coming early to the Battleship Missouri Memorial. The pier will be decorated for the holidays and jolly old Saint Nick will greet keiki on a sleigh resembling the bow of the Mighty Mo. Don't forget your wish list and a camera to snap free photos. Families can also receive an elf name, decorate ornaments at craft stations and taste seasonal goodies made by Santa's helpers. Hot food and gift items will also be for sale at the Battleshop. Families without base access should park at the Pearl Harbor Visitor Center and use the complimentary Battleship Missouri Memorial shuttle.
All ages
Free
Friday, Dec. 22, 8 a.m. to noon. The Battleship Missouri Memorial will be open for tours from 8 a.m. to 4 p.m. See ticket prices here.
Battleship Missouri Memorial, Center Pier, Historic Ford Island, Pearl Harbor, 63 Cowpens St.
(808) 455-1600, gohawaii.com,
Want to make frozen hot chocolates, snowball cookies or snowman handprint ornaments? Or do you need some Elf on the Shelf ideas? See our Holiday Corner for seasonal recipes and crafts.
Snow-Zone at the Hawaiʻi Bowl
Get to the Hawai'i Bowl early to take advantage of O'ahuʻs last snow day of the season. Make snowmen, receive balloon creations from Balloon Monsoon, get your face painted by Magical Touch and challenge your friends to a football toss. You'll find the free fun right in front of the Aloha Stadium Box Office. But, remember parking is $7. Will this be your first island snow day? See our tips for what to wear here. If you want to stay for the big game between Fresno State and Houston you can buy tickets here. Adult tickets start at $20 and youth at $15.
All ages
Free.
Sunday, Dec. 24, 1:30 to 3:30 p.m. Game begins at 3:30 p.m.
Aloha Stadium, 99-500 Salt Lake Blvd, 'Aiea
Christmas Crafts
Do you need a last-minute Christmas present? Want something handmade and original for grandma or a cousin? The Living Art Marine Center may have you covered. Attend their one-day craft day to make your own Christmas tree T-shirt ($10), carved shell magnet ($8), shell necklace ($18 and up), or an Opae Ula pet shrimp aquarium ($25). Admission to the center is free with the purchase of a craft activity. Reserve your crafts here. Walk-ins are welcome but some craft items may run out. Don't forget your wallet. Only cash in exact change is accepted.
All ages
Prices per craft are listed above.
Sunday, Dec. 24, 11 a.m. to 1 p.m.
Living Art Marine Center, 3239 Ualena Street #100
(808) 841-8080, livingartmarinecenter.com
Season of Light
Everyone knows Santa. But, have your keiki heard the history of St. Nicolas, Sinterklaas or Father Christmas? Do they know why we give gifts at Christmas or deck the halls with greenery? This film, shown on the Imaginarium's full-dome screen, explores the traditions around lighting up our lives at a time of year that is dark and cold for much of the planet. From burning the Yule log to Christmas tree lights and the Hanukkah Menorah, it explains the many religious and cultural rituals that take place each winter. Families will also learn about astronomy, constellations and possible explanations for the Star of Bethlehem. See a full description of Seasons of Light here.
All ages
$8 for adults, $6 for kids 4 to 12 years old, children 4 years and younger are free.
Friday, Dec. 22, 7 p.m. Show runs 35 minutes.
Hōkūlani Imaginarium at Windward Community College, 45-678 Kea'ahala Road, Kāne'ohe.
(808) 235-7433, aerospace.wcc.hawaii.edu
Free Milk and Cookies Night at the Honolulu City Lights
Enjoy a free snack of milk of cookies as you look at the Honolulu City Lights. Hawaiian Values Snack Company will be handing out the treats on the front steps of Honolulu Hale. Go inside to see the decorated holiday trees and wreaths or go for a spin on the keiki rides outside. Find out this year's theme as well as what to eat and buy with our full guide to the Honolulu City Lights.
All ages
Free
Friday, Dec. 22, Milk and cookies will be handed out from 6:30 to 8:30 p.m. The event continues on until 11 p.m.
Honolulu Hale, 530 South King St.
Mall Holiday Hours
In case you have last-minute shopping to finish up, here are the malls' holiday hours for the last weekend before Christmas.
Ala Moana Center – Saturday, 9:30 a.m. to 10 p.m., Sunday, 8 a.m. to 6 p.m.
International Marketplace – Saturday and Sunday 10 a.m. to 10 p.m.
Kahala Mall – Saturday, 9 a.m. to 9 p.m., Sunday, 8 a.m. to 6 p.m.
Ka Makana Aliʻi – 9 a.m. to 10 p.m., 8 a.m. to 6 p.m.
Pearlridge Center – Saturday, 9 a.m. to 10 pm, Sunday, 8 a.m. to 6 p.m.
Royal Hawaiian Center – Saturday and Sunday 10 a.m. to 10 p.m.
Ward Village – Saturday, 9 a.m. to 10 p.m., Sunday 9 a.m. to 6 p.m.
Windward Mall – Saturday, 9 a.m. to 10 p.m., Sunday, 8 a.m. to 6 p.m.
---
Looking for more events for adults? Click here for HONOLULU Magazine's picks for the weekend.