Your Weekend: The Best Family Events-December 13
Play with animation for free in honor of a princess, be coached by former pro baseball players, run through the festive city lights and try your hand at pounding mochi.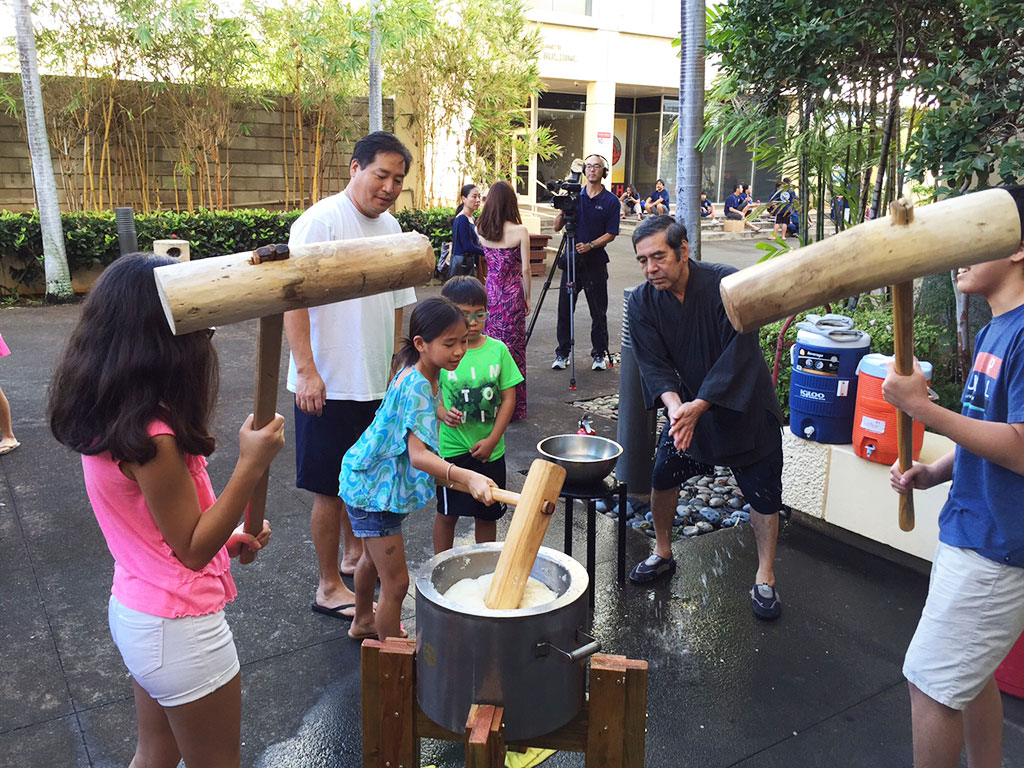 Photo: Courtesy of the Japanese Cultural Center of Hawai'i.
Kids learn the process of pounding mochi at the Japanese Cultural Centerʻs Mochitsuki.
Princess Bernice Pauahi Bishop's Birthday
The inspiration behind the Bishop Museum would have turned 186 this year. In honor of Princess Bernice Pauahi Bishop's day, which is Dec. 19, the museum is waiving admission for all kama'āina and military on Sunday. It's a great chance to see Animation Academy: From Pencils to Pixels before it closes in January; read our guide to this interactive exhibit before visiting. While you're there, stop by the museum shop for its 12 Days of Christmas sale. We have found everything from Dora books and mineral kits to locally made jewelry local children's books.
All ages
Free
Sunday, Dec. 17. The museum is open from 9 a.m. to 5 p.m. daily.
1525 Bernice St.
(808) 847-3511, bishopmuseum.org
Mochitsuki Workshop
Learn how mochi is made at this hands-on, hammer-pounding workshop for families. Adults and kids will try mochi pounding, then make their own komochi (plain) and mochi with azuki an (sweet red bean paste) to take home. You can watch for free but you do need to register before Saturday to try pounding and to take the treats home.
Age
$20 for Japanese Cultural Center of Hawai'i members, $30 for non members.
Saturday, Dec. 16, 11 a.m. to noon.
Japanese Cultural Center of Hawai'i, 2454 S. Beretania St.
(808) 945-7633 extension 28, jcch.com
Pilikoko Baseball Clinic
Little sluggers can get tips from local pros at the 20th year of this free clinic. Bring a canned good to donate to local nonprofits then join in for pitching, catching and batting practice with former professional players including former Met Benny Agbayani and the Sardinha brothers who played with the Detroit Tigers and Colorado Rockies. Bring your bat, glove and ball, and a pen and autograph book if you want signatures. Clinic creator and HPU assistant baseball coach Les Akeo Jr. says about 200 kids come out for the free coaching and fun at this laid back clinic. Try to get there just before the starting time to get the full experience.
18 years and younger
Free with a canned good donation
Saturday, Dec. 16. 9 a.m. to noon for kids 11 years and younger. 1 to 4 p.m. for 12 years and older.
Central O'ahu Regional Park, field number four.
(808) 861-2488
Family Sunday: The Most Wonderful Time of the Year
The final free family fun day of the year will teach kids about holiday celebrations in the Philippines. Keiki will be able to decorate holiday cookies, make felt wreaths and star-shaped lanterns. Walk across the street to the Art School to make flight-inspired paper airplanes and origami cranes. Take a break to watch the Grinch try to steal Christmas on the big screen of the Doris Duke Theatre. Then catch the shuttle to Spalding House for storytime to find out how the holidays are honored around the world.
All ages
Free
Sunday, Dec. 17, 10 a.m. to 4:30 p.m. Activities end at 2 p.m. Dr. Seussʻ How the Grinch Stole Christmas will show at 11:10 a.m., noon and 1 p.m.
Honolulu Museum of Art, 900 S. King St.
Looking for more holiday fun? We have more than 13 family-friendly and festive events this weekend as well as crafts and fun snack ideas in our Holiday Corner.
Jingle Rock Run
Get the entire family to don their gay apparel and join this evening run to benefit Make-a-Wish Hawai'i. Kids start the keiki run at 5:15 p.m. with the 5K to follow. But there will be free face painting, balloon animals and a bounce house for participating keiki starting at 3 p.m. Take time to enjoy the city lights as you make your way around the city grounds. Make sure to stop by the HONOLULU Family booth after the run for a free glow necklace and a chance to sign up for our 2018 HONOLULU Family Fun Run.
All ages
Prices start at $25 for kids 4 to 12 and top off at $40 for adults walking with pets.
Sunday, Dec. 17, the keiki sprint is at 5:15 p.m. with the 5K to follow.
Hawai'i State Capitol, S. Beretania St.
(808) 537-3118, raceroster.com/events/2017/13826/jingle-rock-run-2017
---
Looking for more events for adults? Click here for HONOLULU Magazine's picks for the weekend.