Your Weekend: The Best Family Events-August 24
Our roundup of the best family events on O'ahu.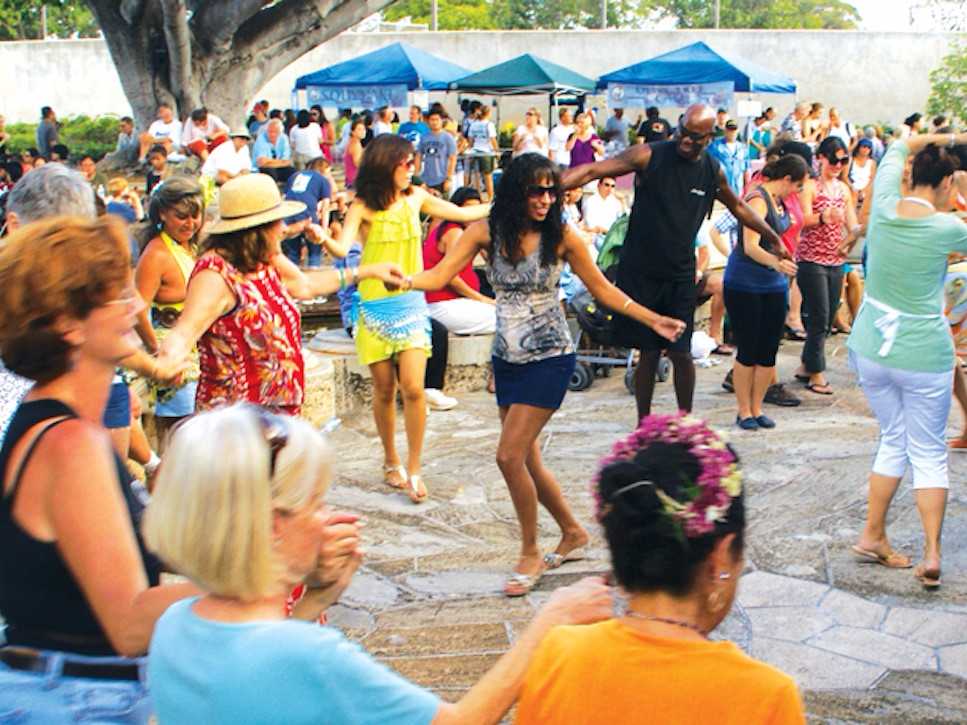 Photo: Hawai'i Greek Festival
Greek Festival
Put on your togas and head to McCoy pavilion for traditional Mediterranean music and food this weekend. Families can join lively dances and buy lunch or dinner from Greek restaurant booths including Olive Tree Café, Gyros, Taverna and The Agora. Greek clothing, fisherman hats, worry beads, pottery and more will also be for sale. Wear a toga for reduced admission (and fun selfie snaps). See HONOLULU's full guide to the festival here.
Saturday, our 2018 Cover Kids search travels to Mō'ili'ili as part of HOCU's Keiki Miracle Day, a fundraiser for the Ronald McDonald House Charities of Hawai'i. Come and smile for our professional photographer, then take part in circus-themed entertainment, games and food. Shop at local pop-ups, a craft sale and get free Keiki IDs. Read the full details here.
Family Night: Circus Under the Sea
Join Waikīkī Aquarium for an evening under the big top. Bring dinner for a picnic on the lawn and take part in circus-themed marine science actvities. Watch a freak show of sea spiders, upside-down jellies, nudibranchs (soft, neon-colored, sea slugs), sea monkeys and more. Keiki can also visit an Adaptation Station featuring fish that spit, clams with 1,000 eyes and animals that change gender. The aquarium galleries will be open so you can look for Nemo, Dory, sea horses and sea dragons, or wind down with paper crafts and fake tattoos. See our guide to the Waikīkī Aquarium here.
Helumoa Pool Party Benefiting Children's Miracle Network
Ever wish you could swim in a fancy hotel pool without splurging to stay the night? Now you can. For the first time ever, non-guests will be allowed to splash in the Sheraton Waikīkīʻs Helumoa Playground which has two fresh water swimming pools, two whirlpools, an interactive keiki fountain area and a 70-foot-long water slide, for a one-day fee. This special opening is part of a Family Fun Day fundraiser for the Children's Miracle Network. Keiki can also race rubber duckies down the slide and visit with costumed characters while parents check out a silent auction. Remember it's in Waikīkī so parking will be pricey. You can self-park for $13 or pay $15 for valet at the hotel.
The Amazing Hawai'i Comic Con
Calling all Trekkies: William Shatner and the cast of Star Trek: The Next Generation will be in Honolulu this weekend for the Amazing Hawai'i Comic Con. For those not familiar with Klingon or Starfleet costumes, the event will also feature creators and stars from Disney, Star Wars, Spider-Man, Power Rangers, My Little Ponies and more. Sunday is Kids' Day and will feature free sketches for keiki, cartoons, a coloring contest and classes on drawing, making a comic book and becoming a Youtuber. Don't forget to dress your keiki up for the kids' costume parade at 5 p.m. Sunday.
Kidz for a Cause: Leaders Wanted Volunteer Opportunity
Learn how to dream big and do good. Kidz for a Cause is an all-kid movement that encourages elementary, middle and high school students to raise money to help children in need. Each kid is challenged to come up with his or her own "FUNraiser," such as a bake sale, sports clinic, dance, gourmet dinner or a film festival. This year, all the money raised will go to the Ronald McDonald House Charities of Hawai'i. Register online here and receive your KFAC 2017 packet at the kickoff event. This Sunday, your keiki can get inspired by other leaders, including 17-year-old Nicki Lee who started the organization as a third-grader in 2008. They will be sharing their stories from previous fundraisers. Call or email to receive your packet if you can't attend the event.
Looking for more events for adults? Check out HONOLULU Magazine's Weekend Picks on honolulumagazine.com.