Your Weekend: The Best Family Events-August 31
Our roundup of the best family events on O'ahu.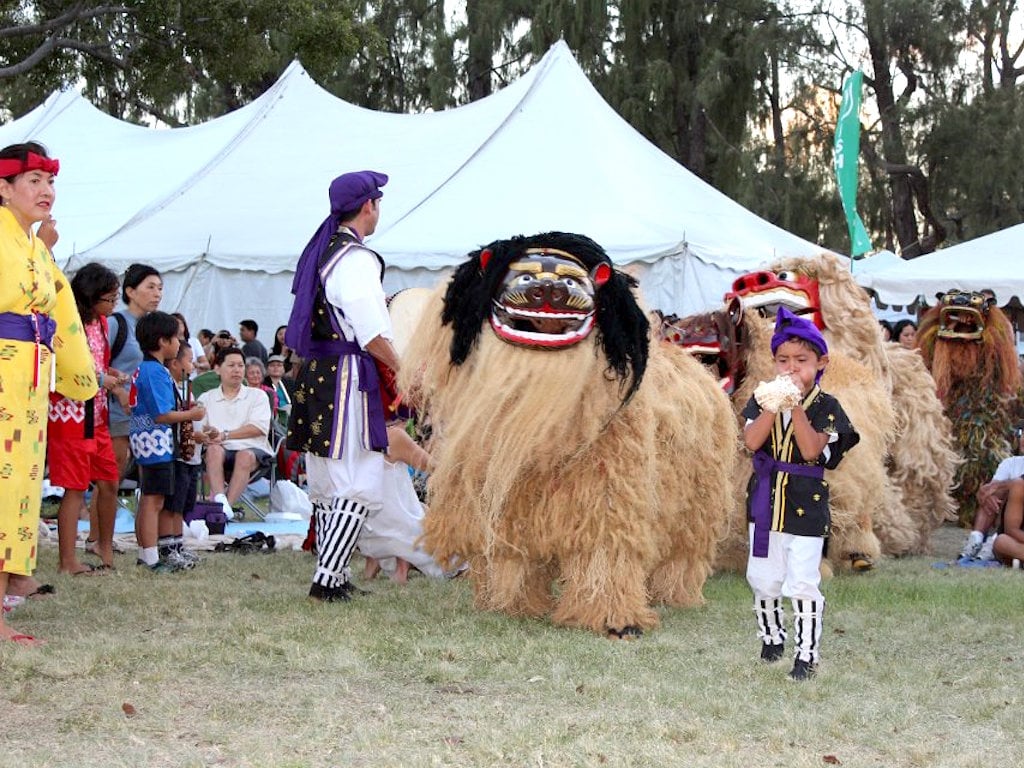 Photo: Okinawan Festival
Okinawan Festival
Get your andagi fix this weekend at the Okinawan Festival with an eating-contest, themed T-shirts and a mobile andagi cart. The event will kick off Saturday morning with taiko drums and dances by shishimai (curly maned animals that are half lion and half dog) and continue into the evening with a Bon Dance. Keiki can "Learn How to be Okinawan" in free 30-minute classes on everything from cultural singing and dancing to whistling. Or, for a fee, they can dress up in elaborate kimonos or burn off energy in seven Xtreme Fun inflatables. Parking in Waikīkī can be a challenge, but you can also park for free at Kapi'olani Community College and take a shuttle ($3 return) to the event at Kapi'olani Park . Find out the busiest time, what to eat and buy with our full guide to the event here.
Want more weekend events? Subscribers to HONOLULU Family's free, weekly eNewsletter learned about a date night opportunity, how their keiki can enter a HONOLULU Family drawing contest and where to watch The Incredibles on a big screen under the stars for free. Subscribe now to learn more.
Keiki Fun Sunday: Year of the Monk Seal
Kids can visit Sea Life Park for free this weekend and learn all about a native species. NOAA has named 2017 the year of Hawaiian monk seal and Sea Life Park is celebrating the success of efforts to help the endangered animals with activities, games and crafts. Keiki will get to hunt for food like a seal, learn how to survive in the wild through an obstacle course and snap photos with Lambchop, one of the park's resident seals. There will also be mermaid meet and greets, live entertainment and more family activities.
Hardware Science at the Hawai'i Children's Discovery Center
Would your keiki like to make and shoot an air cannon? In this STEM class, an instructor will lead keiki and their parents through the steps to build and fire a safe and educational gun. Watch a video of how it's done here. The shot of air can even knock a cup off someone's head several feet away! Registration is required as space is limited. There were six spaces left when we called on Wednesday. Afterward, you can explore the Hawai'i Children's Discovery Center for a separate fee. Or, return on Sunday for Grandparent's Day, and make crafts with your family at numerous stations set up around the galleries.
The Machine Inside: Biomechanics
This weekend is your last chance to see "Sue," a life-size replica of the largest T. rex skeleton ever found. She is just one part of The Machine Inside: Biomechanics. The exhibit, which investigates how animals are engineered to swim, run, fly, catch prey and more, is leaving Bishop Museum after Labor Day. Head to the museum to try hands-on displays that mimic pumping a giraffe's heart, flying with short versus long wings and helping a cheetah run. We tried it! See our full guide to The Machine Inside: Biomechanics here.
The Wizard of Oz: Consolidated 100
Celebrate Consolidated Theatre's 100th birthday by watching one movie for each decade of the last century. Best of all, tickets only cost $4 and the money goes to local non-profits. This week your 'ohana can head down the Yellow Brick Road with Dorothy, the Tin Man, Scarecrow and Cowardly Lion in The Wizard of Oz. Mark your calendars for upcoming films including Willy Wonka and the Chocolate Factory, E.T. – The Extra-Terrestrial and Moana. Find a full list here.
Looking for more events for adults? Check out HONOLULU Magazine's Weekend Picks on honolulumagazine.com.