Your Weekend: The Best Family Events-August 17
Our roundup of the best family events on O'ahu.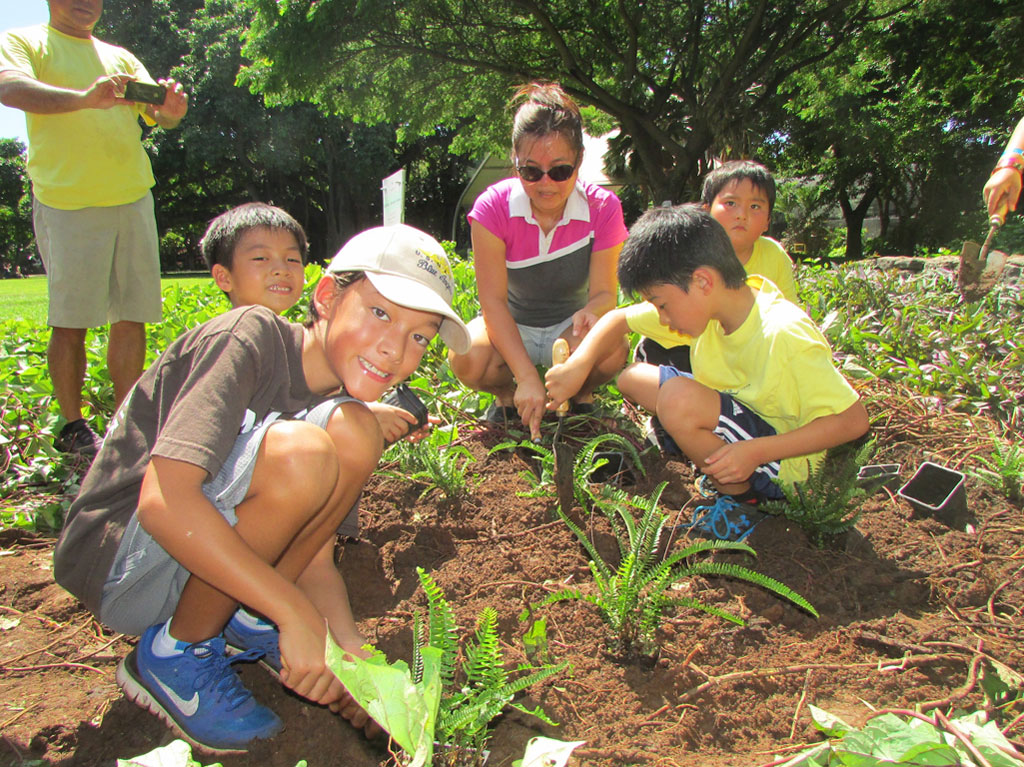 Workday at the Honolulu Zoo Children's Discovery Forest. Photo: Courtesy of Hawai'i Forest Institute
2017 Partial Solar Eclipse
Here's a reason to wake up early Monday morning. Aug. 21, there will be a total solar eclipse. In Hawai'i, families will see just part of the sun hiding behind the moon. But it will occur during sunrise and last about an hour, meaning you'll have enough time to catch a glimpse before heading off to school. The total eclipse will be visible in other cities a little later, as the shadow of the moon moves across the planet, so you can watch that phenomenon in NASA's live webcasts. It's worth setting your alarm. We won't see another total eclipse over the state until 2106. See our guide to viewing the partial eclipse, including where you can still buy eclipse-safe viewing glasses, here.
All ages
Free
Monday, Aug. 21, 6:15 to 7:20 a.m. The live webcasts will be continue until about 9 a.m.
Read more about the solar eclipse in Hawai'i on the Bishop Museum's website.
Saturday, our 2018 Cover Kids search travels to Kapolei as part of the Touch a Truck event at Kapolei Commons. Come and smile for our professional photographer, then take more photos with emergency and army vehicles, construction trucks and even take a behind-the-scenes tour in a food truck. Little princesses will be able to meet Moana and more. Read the full details here.
National Sʻmores Day Celebration
Melted marshmallows, chocolate and graham crackers are just the start of this free event hosted by the Girl Scouts of Hawai'i. Kids of all ages will also be able to try hands-on outdoor- and STEM-related activities including playing with chocolate-scented slime, marshmallow launchers and trying out sʻmores codes. Interested keiki can also learn about and sign up for Girl Scouts programs and opportunities.
All ages
Free
Friday, Aug. 18, 5 to 7 p.m.
Central Union Church, 1660 S. Beretania St.
(808) 675-5534
Honolulu Zoo Childrenʻs Discovery Forest Community Work Day-Volunteer Opportunity
Plant seedlings, weed and spend a morning outside at this volunteer opportunity for all ages. Kids and parents will tend to the Childrenʻs Discovery Forest, which is designed to teach keiki about traditional Hawaiian forest ecosystems and Hawaiian plants. RSVP by Friday to lmduling@hawaii.edu.
All ages. Children under 12 years will need parental supervision.
Free
Saturday, Aug. 19, 9 to 11 a.m.
Honolulu Zoo. Volunteers meet near Gate 6, off of Monserrat Avenue.
Duke's OceanFest
The big water sports festival in honor of the great Duke Kahanamoku kicks off this weekend with some of the smallest athletes hitting the waves. The Menehune Surf Fest will showcase keiki as young as 6 years old competing on longboard, shortboard and body boards. Grab a seat on the sand on Saturday to watch the preliminaries, or arrive Sunday just before noon for the finals. Vendors will also be set up on Kūhiō and Queen's Beach. Other events to pencil in include the Dog Surfur Competition Thursday at 11 a.m., music and a movie near the Duke Kahanamoku Statue Friday at 7 p.m., and beach volleyball tournaments next weekend.
All ages
Free
Events begin Saturday, Aug. 19 at 8 a.m. and run through Sunday, Aug. 27 at 3 p.m.
Various locations. The Menehune Surf Fest is at Kūhiō Beach/Queens Surf.
See the full schedule and details at dukesoceanfest.com.
Made in Hawai'i Festival
One of the biggest marketplaces for locally made fashions, products, and, of course, food takes over the Blaisdell Center this weekend. Everything sold at the festival must have at least 51 percent of its value added in the islands, meaning it was made or assembled here by local people. For kids, the biggest selling point is the food samples offered throughout the exhibition hall and arena. Parents will want to take advantage of special deals often offered just for the event. Note that seats for the popular cooking demonstrations often start filling up as early as 30 minutes before it starts as the audience gets samples of the dishes by Hale 'Aina award-winning chefs from MW Restaurant, Tiki's Grill and Bar and more. And, bring a recyclable bag for shopping. Believe us, you'll need it.
All ages
$6 general admission. Kids 6 years and younger are free. Look for $1 off coupons at First Hawaiian Bank locations.
Friday, Aug. 18, and Saturday, Aug. 19, 10 a.m. to 9 p.m. Sunday, Aug. 20, 10 a.m. to 5 p.m.
Neal Blaisdell Exhibition Hall and Arena, 777 Ward Ave.
Find the full list of vendors and entertainment schedule at madeinhawaiifestival.com.
Looking for more events for adults? Check out HONOLULU Magazine's Weekend Picks on honolulumagazine.com.