Your Weekend: The Best Family Events-Aug. 29, 2019
See a cute-baby contest, dance with a lion dog, and witness a royal re-enactment.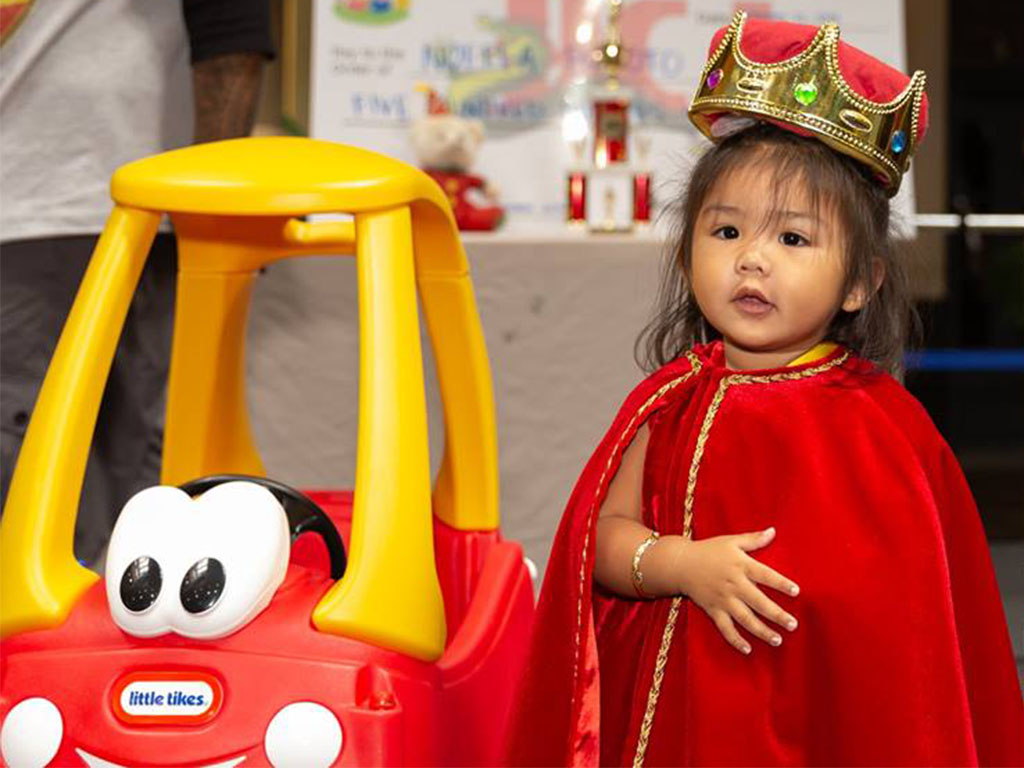 Photo: Courtesy of Honolulu Chinese Jaycees/Edmar Castillo Photography
This is the 66th year for the Healthy Baby Contest.
Okinawan Festival
The world's largest festival of Okinawan culture happens this weekend at the Hawaiʻi Convention Center. There's so much to see and do at the event, so we've culled a few ideas for your family: Visit the Mura Village to play Okinawan-themed games for kids, then dress up in kimonos and take photos; hang out at the Okinawa Street Market to eat kokuto (black sugar candy) and goya champuru (a sautéed dish with bittermelon, tofu and meats); relax in the 600-seat movie room to watch cultural films; participate in a bon dance on Saturday evening; and see a karate demonstration on Sunday morning. Whatever you do, don't forget to bring cash to buy scrip for food, merchandise and activities. One scrip at the festival is worth 50 cents each. Click here for a downloadable list of food prices. For covered parking, leave your car in the Hawaiʻi Convention Center's lot for $10 per vehicle, or you can park for free at McKinley High School and ride the shuttle round-trip to the convention center for $3.
---
SEE ALSO: "Your Ultimate Guide to the Okinawan Festival" on honolulumagazine.com
---
Healthy Baby Contest
If your keiki were born between March 14, 2017, and Sept. 14, 2018, they're qualified to enter the Healthy Baby Contest, a 66-year-old island tradition that "celebrates the health and wellness of keiki." All contestants receive a goodie bag and certificate of participation, and the winner takes home a scholarship toward early childhood education. The first preliminary round is this Saturday, Aug. 31, and the second round is one week later. The final contest—featuring top scorers from the first two rounds—is on Saturday, Sept. 14. To register your baby, visit the contest's Eventbrite page.
Aloha Festivals
This weekend marks the start of the month-long Aloha Festivals, a celebration of Hawaiian dance, music and history. We suggest taking your kids to at least one of four family-friendly events to get a taste of Hawaiian culture: Saturday afternoon, Aug. 31, gather at The Royal Hawaiian's Royal Grove to watch the newly appointed royal court re-enact a traditional ceremony of the aliʻi (royal class). Saturday evening, Sept. 21, head to Waikīkī for the hoʻolauleʻa block party along Kalākaua Avenue featuring food and live entertainment. The hoʻolauleʻa for keiki—featuring conch-shell blowing kids, chanting and hula—is on Saturday, Sept. 14, at Pearlridge Center. And the floral parade, where lei-wearing horses prance through Waikīkī, is on Saturday, Sept. 28.
---
SEE ALSO: Our Guide: Mark Your Calendar for Oahu's Ethnic Festivals
---
POP ART Painting-Doodles-N-Dots Workshop
International Dot Day (Yes, there is such a thing!) is on Sept. 15. To celebrate, Art Explorium kicks off the month of September with a Doodle-N-Dots Painting workshop inspired by the works of pop artists Keith Haring and Yayoi Kusama. Kids can create their own colors using paint, then experiment with dots, lines and shapes. The last time we checked, a dozen spaces still were available. Click here to register.
All-Breed-Dog Show
New York is home of the Westminster Dog Show. California has the World's Ugliest Dog Contest. And in Hawai'i, we've got the All-Breed-Dog Show this weekend at the Blaisdell Exhibition Hall. Bring your family to the contest to watch purebred pooches preen for judges, and, while there, talk to dog breeders if you have questions. You also can find a handful of booths selling dog-related merchandise. Canines that are not entered in the competition are not allowed to watch. Sorry, mutts, you gotta stay home.